Win a Ferran Adrià-inspired dinner party
Yes you read that right - Phaidon, Williams-Sonoma and Kitchit have your next modernist dinner party sorted
We've teamed up with Williams-Sonoma and Kitchit to offer you the chance to win a multi-course modernist dinner party for 8, inspired by Ferran Adrià and elBulli 2005-2011 in one of four different cities across North America.
After carefully studying Ferran's creative process in elBulli 2005-2011, Ryan Baker (San Francisco), Kevin Meehan (Los Angeles), Kevin Lasko (New York), and Richie Farina (Chicago) are pulling out all the stops to wow one lucky winner and seven friends with their modernist culinary creations served up in the test kitchen of a Williams-Sonoma store in each city.
If those names sound familiar it's probably because you've seen them behind the burners of some of the most acclaimed kitchens in North America. Richie Farina is the executive chef at Chicago's Michelin-starred modernist Mecca, Moto. Our American readers might also recognize him from his celebrity stint on Season 9 of Bravo's Top Chef.
Ryan Baker is a fixture of the Bay Area food scene having spent time in the area's top kitchens, including Manresa and Daniel Patterson's Coi, which any dedicated Phaidon foodie should be quite familiar with by now.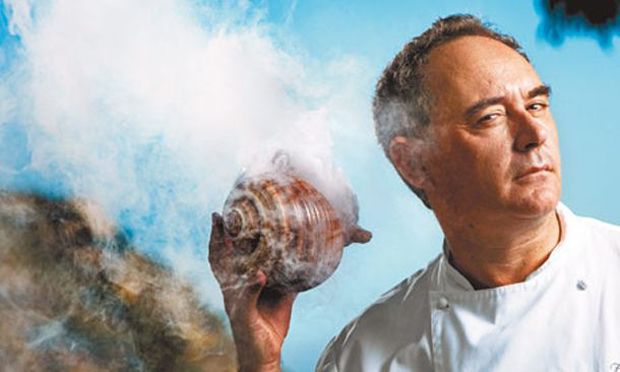 Kevin Lasko burst onto the New York scene in 2013, snagging two stars from The New York Times and the titles of Best New York Restaurant 2013 (New York Magazine) and Best New York Eatery 2013 (Forbes) for his brilliant work as Executive Chef at Park Avenue Seasons.
Kevin Meehan is no stranger to the epicures of Los Angeles having worked at some of the city's best restaurants, including Mirabelle, L'orangerie, Bastide and Patina before landing as Executive Chef at the acclaimed Café Pinot, where he's been honing his take on modernist cuisine for the past few years.
In addition, the lucky winner will receive one copy of elBulli 2005-2011 to take home and unleash their own creative potential. Travel to and from dinner is not included so be sure to enter to win for your closest city! To enter, click on the city link closest to you. New York, Los Angeles, San Francisco and Chicago. Good luck!
Of course, if you aren't lucky enough to win the grand prize, you should still check out the modernist inspired dinner party menus available from Kitchit. Pick a menu, gather some friends and host an evening no one is likely to forget, all in the comfort of your own home. Or stop by your local Williams-Sonoma store and stock up on the latest gadgetry and professional grade cookware to build a kitchen rivalling elBulli's.