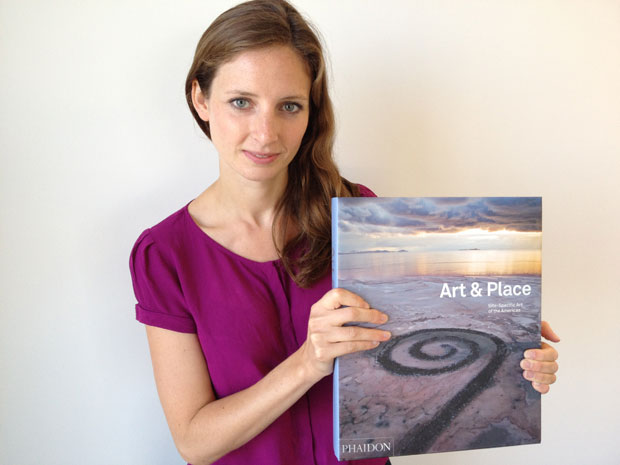 Introducing Art & Place
Phaidon editor Rosie Pickles previews our forthcoming book on Site-Specific Art of the Americas
ART & PLACE
Art & Place is the first book to offer an in-depth and extensive look at major works from all periods that are inextricably linked with their site. From Isamu Noguchi at Storm King Art Center or Donald Judd in Marfa, to the Toltec warriors at Tula and the moai on Easter Island, all the featured works are specifically made for, or installed in, a particular place - landscape, interior or urban environment.This is art to experience - in an immersive way - presented together in a single unique collection for the first time. From the first scratchings on desert rocks to the monumental sculptures of Richard Serra, and from the grand land art of Walter De Maria to the oversized public art installations of Claes Oldenburg, Art & Place is the only book to focus on the best examples of site specific art of North, Central and South America.
THE CREATION OF THE BOOK
Phaidon production manager Alenka Oblak oversaw Art & Place, ensuring that the book is both visually compelling and physically robust. This, she reveals, involves delicate colour adjustments, as well as some more perfunctory stress tests.
"One of the most challenging things to with a book like this is to make the images look homogenous. We might have, for example, five pictures of a large-scale work, which could all have been taken in different years, at different times of the day, on different film stocks, and so on. We wanted a sense of continuity, to make it clear that they're all pictures of the same thing, so we had to adjust the colours, the lighting, and perhaps erase the odd bystander or power line cable. The artists themselves sent some images to us. Richard Serra's studio supplied some wonderful black and white photographs of his Shift piece in King City, Canada which we reproduced very accurately. We did eight or so trials with different printers to get the cover right. The dust jacket is wrapped around the book with a French Fold, which means the sheet is larger than the book and is folded over at the top and the bottom to match the cover's dimensions. It's an uncommon technique these days, but is characteristic of a Phaidon book, and has a real look of quality about it. The paper is very high grade too with a good opacity; even in strong light you can't see through it. We also had to make sure the binding was suitably strong. It's a heavy book, and that places greater stresses on the spine. We needed to reinforce the first and last sections. There's no easy way to guarantee this. You have to work with printers you know, establish relationships, and, when you get the first few test samples in, shake them around, throw them up and down. If they don't break, they're doing something right."
WHAT IS SITE-SPECIFIC ART?
Site-specific art is a term applied to artworks that are conceived and created for a particular location or environment - one where the observer's experience and interpretation of the work is unavoidably, and usually intentionally, framed by the political, social or geographic aspects of the location. The definition encompasses works created from the earliest and simplest materials - plant pigments, wood or earth - to complex structures of polished steel and LED panels you might see today. The term 'site-specific' gained currency in the 1970s when critic Lucy Lippard coined the phrase to define the output of a generation of artists tackling the art object as commodity and the systems that gave art value and separated it from the world at large. In a way this focus on location was taking art back to its roots - but with some crucial differences. Until the 20th century, art was a social animal, flourishing in the public realm thanks to its memorial or celebratory function. Works commemorating everything from military victories to church patronage or civic pride glued history and social concerns to place. Broadly speaking, Modernists cut those ties with their vision of art as an autonomous, self-contained creation, where formal qualities ruled. Then, in the 1960s, Minimalists expanded the terms, bringing what surrounded art - light, space and vision - back into the equation. The intentions of the artists involved in site-specific art and their purposes vary dramatically. However, all serve to inspire us, create a sense of place and provide a crucial reflection of our ever-changing societies.
Couple Art & Place with these books for a library with a site-specific focus
SOME SITE-SPECIFIC ART LINKS