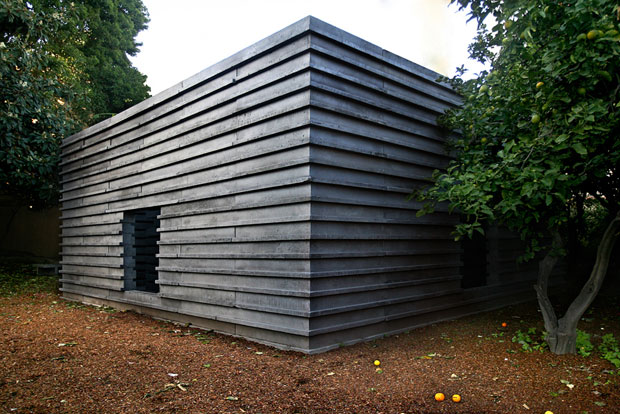 See Lisbon's incredible slot-together pavilion
Kairos Triennale pavilion eschews screws or glues and is formed instead by some rather clever concrete panels
We're very keen on the Lisbon Triennale, which takes place in the Portuguese capital from 12 September to 15 December this year. On 13 September, we're hosting our own Phaidon Atlas Talk, at the MUDE Auditorium, in the city. This is the first event in a worldwide series of public discussions, wherein prominent architects and commentators will talk over current global issues related to the built environment; the Lisbon talk also marks the launch of the Phaidon Atlas, our first dedicated digital project for contemporary architecture.
Yet, we're equally taken with some of the Triennale venues, which includes this concrete pavilion, assembled from prefabricated concrete blocks. It's called Kairos, which is the Greek word for an opportune moment, and its pieces simply slot together, without the need for glue or fixings. It was designed and built by the architects Joao Quintela and Tim Simon, a Portuguese and German architectural duo, and it will host site-specific events and exhibitions during the Triennale.
Kairos is a square building, measuring 7.2 metres by 3.6 metres, and consists of a two-storey outer, covered walkway surrounding an open-air inner courtyard. The design is intentionally simple; space, say the architects, is the central theme of Kairos. "It's an investigation into proportions and the relationship between the small scale of the isolated module and the large scale of the whole building itself in relation with the context."
And as for that construction technique, visitors will have to trust to gravity. "The space is built by a very easy and primitive constructive system of overlapping and joining pieces, taking advantage of their own weight," say Simon and Quintela.
The Triennale, say the organisers, "will provide a platform for emerging practitioners and protagonists whose work and interests are far from a traditional client-architect model." Kairos, which is a non-profit project partially funded by the local concrete firm Gracifer, seems like an apt inclusion here.
To find out more about Kairos go here. To learn more about the Triennale, go here. Lastly, for further reading on other ingenious architectural uses of aggregate and cement, take a look at our great book on the grey matter - Concrete.