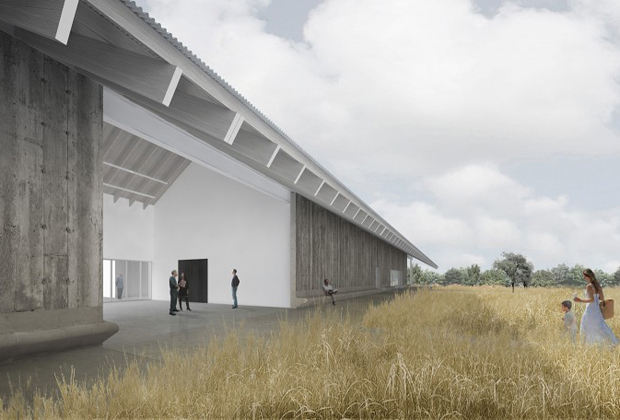 Herzog & de Meuron's new art museum almost ready
Herzog & de Meuron's long awaited Parrish Art museum on Long Island will finally open this November
After a long and occasionally difficult design process, Herzog & De Meuron's Parrish Art Museum is set to open in Southampton, Long Island on November 10. The project will become the first art museum to be built on the East End of Long Island in more than a century, and will become the most recognisable architectural landmark in the region.
"We could not be prouder of this amazing accomplishment," Director Terrie Sultan said. "The new building is a beautiful embodiment of the creative legacy of the East End. The Parrish will take its place as a real center for cultural engagement for the entire East End." The 34,400 sqf building is nearly double the size of the existing facility in Southampton, allowing the museum to showcase some of its collection of more than 2,600 works to be shown for the first time in the museum's 115-year history.
The project includes a flexible 2,400 square foot multipurpose room, a café which can open onto an expansive covered terrace, and a walkway to allow for contemplation of the surrounding landscape designed by Reed Hilderbrand. The museum rests within an environment of meadow, wetland and scrub woodland, and affords expansive views of the sky and horizon. The galleries are the heart and soul of the new Museum," said Alicia Longwell, Chief Curator of Art and Education. "Now, for the first time, the Parrish will have the wherewithal to make available on a permanent basis our distinguished collection of American art, while simultaneously presenting special exhibitions."
While at 3,200 sq m the Parrish Art Museum seems a surprisingly low-key project for the internationally renowned practice, its rich context set in the Hamptons' artist community, which blossomed during the Sixties and Seventies with residents that included Roy Lichtenstein and Jackson Pollock, is closely aligned with Jacques Herzog and Pierre de Meuron's approach to design - also inextricably linked to art. Says critic and former curator at the Parrish, Alastair Gordon. "It is a convergence of creativity and invention in one place."