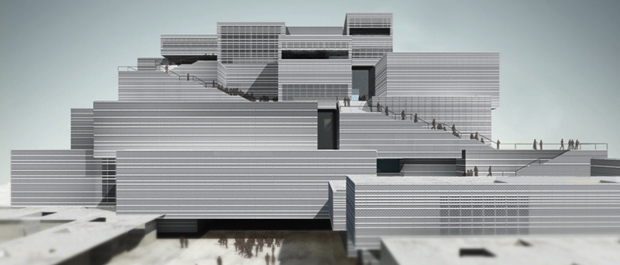 Herzog & de Meuron's artistic Indian debut
Do these designs for the Kolkata Museum of Modern Art remind you a little of Denys Lasdun's Southbank Centre?
India seems to be marking the fiftieth anniversary of London's National Theatre with a brutalist arts building of its own. Work started this month on the Kolkata Museum of Modern Art (KMoMA), designed by the Swiss firm and art-space specialists, Herzog & de Meuron. Indeed, the echoes of Denys Lasdun's National Theatre designs are greater than you might initially think, as KMoMA is made up of differently sized concrete grey blocks, stacked up and against each other.
Yet, rather than having to squeeze the building onto a modest site on London's South Bank, the Swiss practice has been given plenty of space, alongside a new superhighway linking the city with the international airport.

The building will be "a cultural hub on a grand scale free from any parochial agenda", say KMOMA's organisers. Its objective is to bring under one roof "collection, preservation and exhibition of fine art objects, both from India and abroad, dating from the late 18th century to the contemporary times; and the promotion of art education and research".
Herzog & de Meuron's design is rather fitting, as Kolkata - or Calcutta as it was known up until 2001 - has a long history of creativity, and played a formative role in the development of Indian Modernism.

The architects say their rectilinear forms will be arranged "to express the complexity and diversity of the program. It draws on traditional Indian construction principles of stacking individual elements," the firm goes on, "producing a coherent and legible whole through the collection and compression of diverse, unique elements."
And while the building may look sparse and spare from a distance, up close the façade will reference traditional Indian filigrees, so that natural light will seep in. This is the Basel firm's first project in India, and bodes very well indeed for any future undertakings in the country.

Find out more about the project here. For greater insight into architectural developments from around the globe download our Architecture Travel Guide app, and for greater insight into emergent cultural hubs around the globe, consider our new book, Art Cities of The Future. Buy them from the people who made them, here.