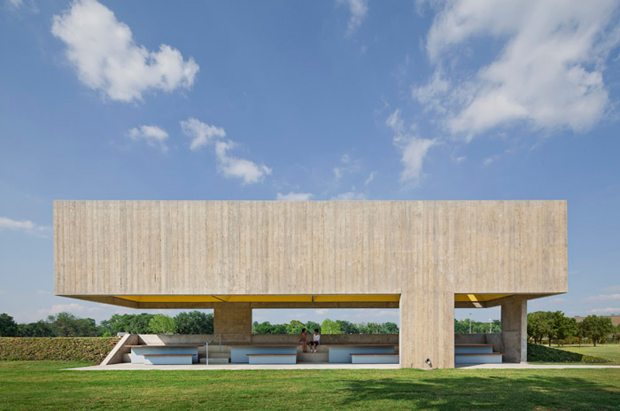 Texas pavilion borrows from Mexican beach huts
Cooper Joseph Studio creates deceptively light box on three columns in our favourite material - concrete!
There are few things more uplifting than the sight of a public sector body commissioning some really top-notch design. It's happening at the moment in Dallas, Texas, where the Department of Parks and Recreation is busy replacing the 1960s tatty, institutional shelters in its city parks.
One such example is the Webb Chapel Park Pavilion by New Yorkers Cooper Joseph Studio, which stands between a football pitch and a children's playground. Theirs is a deceptively light box on three columns in our favourite material: concrete. Above the partially-open roof are seating and picnic benches.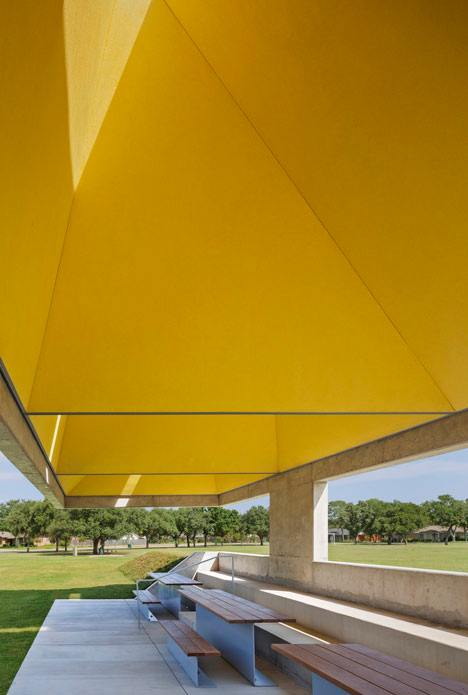 Shelter from the strong sun is a big issue in these parts, and so the practice borrowed an architectural trick from Mexican beach huts, known as 'palpa' huts. Within the boxy structure are four pyramidal chimneys, which draw warm air up and out, keeping the ground level cool.
According to Greg Evans at Cooper Joseph Studio: "The palapa is a time-tested mechanism for creating shade and encouraging passive air flow in a hot climate. Many state parks use a similar form for picnic structures. We took the geometry and embedded it within a different volume, gaining the cooling benefits without the prescribed aesthetic."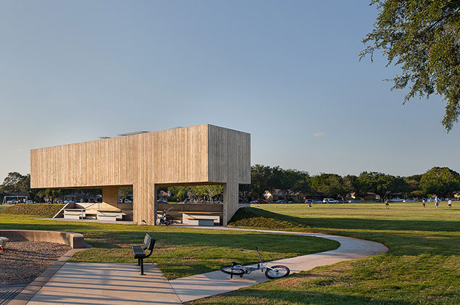 The shelter's quartet of chimney-like slits have been painted in bright yellow. "We carefully selected a colour that could resolve itself with both the green landscape and the blue sky visible in the apertures," Evans adds.
And as for their chosen material, "The use of raw concrete as both structure and finish makes the shape both expressive and efficient," say the architects. You'll probably be interested to know that there are a ton (quite a few tons in fact) of concrete structures in our wonderful book by that name. Check it out in the store.