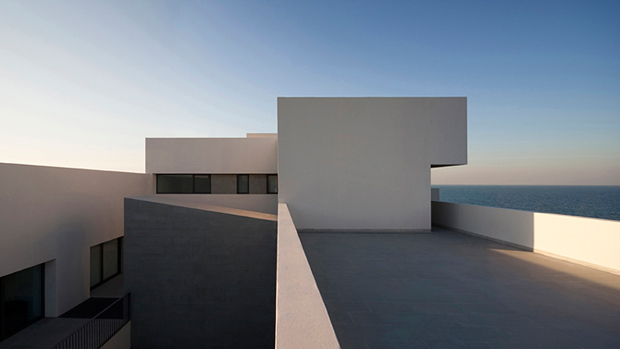 A beach house for all the family
If you really love your family why not grow old by the sea with them? That was the brief for the S Cube Chalet
AGI Architects' brief for this series of three seafront houses in Kuwait came from a family who wanted to grow old together. The S Cube Chalet is, in fact, three small houses connected by walkways and a central staircase, each with a private terrace overlooking the sea.
Two of the houses are mirror images of each other and are separated by the staircase, which leads up to the third house on the upper level. The floors, stairs and a dividing wall between two of the houses are clad with Indian sandstone.
The architects say: "S Cube family chalet is made up of three intertwined beach houses. The owners – two brothers and their sister each with their own families – want to continue enjoying the same exceptional environment in which they grew up, but with complete independency and privacy from each other. For these reasons, the design of these three small houses calls for a duplicated programme that maintains privacy while benefiting from outdoor areas and sea views by the use of several terraces. See more images on the architects' website.