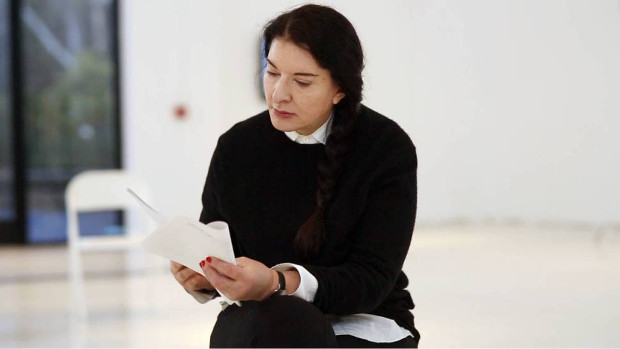 A Marina Abramović space odyssey
Ever wondered what an interstellar flight with the world-famous artist might be like? Of course you have!
Marina Abramović has undertaken many things as part of her artistic practice. She's been a body-art pioneer, a visionary performance artist, even a dance partner for Jay-Z. Now, however, we can hear her in yet another new role, as she takes on the mantle of sci-fi narrator.
In 2015, Abramović hosted a three day workshop at the Arthur C. Clarke Center for Human Imagination in San Diego alongside the highly regarded science fiction author Kim Stanley Robinson.
Participants improvised readings and performances from one of Robinson's short stories, The Hard Problem. Some audio elements from Marina's workshops went on to form part of her contribution to the 2015 Venice Biennale. However, the workshops' sounds have never been paired up with Robinson's full story - until now.
The new episode in the Clarke Center's podcast series Into the Impossible, is dedicated to Robinson's story and is accompanied by Abramović's workshop recordings. The tale, a sort of first-person account of an artificially intelligent spacecraft voyaging to another star suits the format, as the story seems to drift from singular to multiple narrators; listen out for Marina's deep dulcet tones a couple of minutes in.
You can watch some of the workshop above; listen to the full story here; download it here; and to understand how sci-fi workshops might fit into Abramović's work, track down a copy of our Contemporary Artist Series book on the artist, and also buy Body of Art.