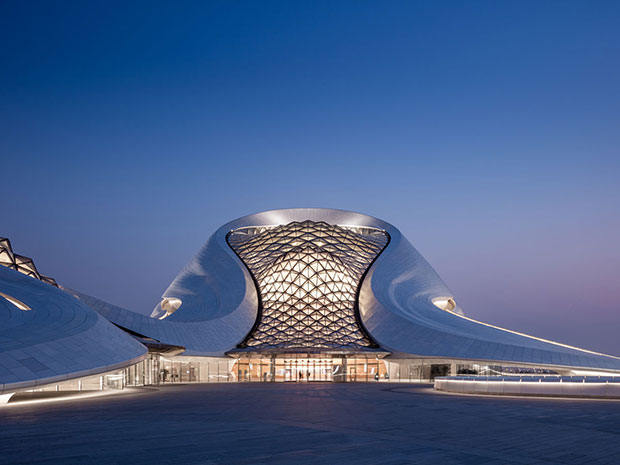 What links MAD and Benjamin Britten?
MAD's new music venue in China has something in common with composer's one in Suffolk. Can you guess what?
Though it might seen an odd statement The Chinese architecture practice MAD seem to have done for northern China what Benjamin Britten did for Suffolk. While the British 20th century composer created a music venue on the wetlands of the River Alde at Snape, the Beijing-based architects have now completed the Harbin Opera House on marshland.
Located on Harbin's Songhua River, MAD were responsible for the masterplan of the 444-acre cultural island, which includes a cultural centre as well as the pristine, undulating opera house. The new music venue sits on the riverbank like a twisted amphibious form, accessible by a bridge across the water and grasses.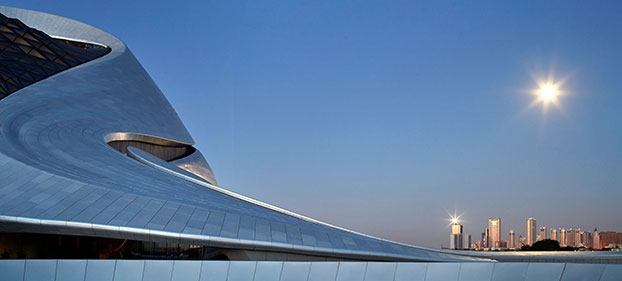 "We envision Harbin Opera House as a cultural centre of the future," says MAD's founding principal Ma Yansong, "a tremendous performance venue, as well as a dramatic public space that embodies the integration of human, art and the city identity, while synergistically blending with the surrounding nature."
The building's curved façade comprises hundreds of white aluminium panels, which are complemented by glazed walls and skylights. The team at MAD explain that it "was designed in response to the force and spirit of the northern city's untamed wilderness and frigid climate. Appearing as if sculpted by wind and water, the building seamlessly blends in with nature and the topography."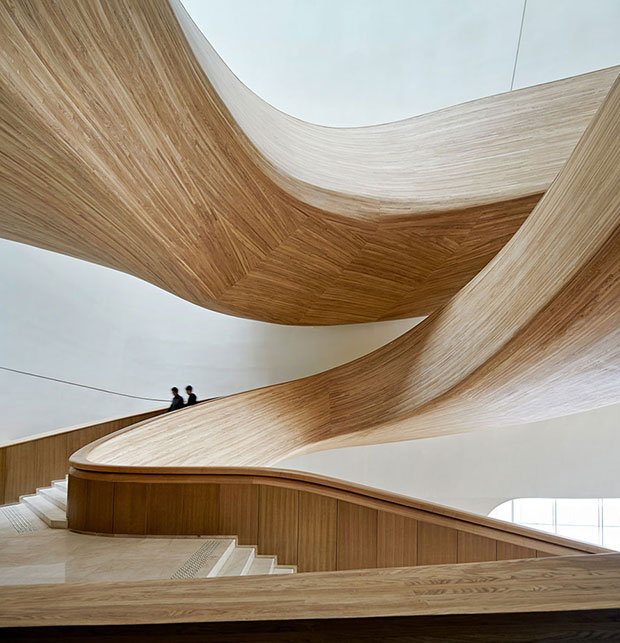 Inside, the sinuous elements continue with a grand twisting staircase in timber. The same smooth timber – Manchurian Ash - adorns the main theatre, which seats 1600. A second smaller auditorium holds an audience of 400. The warmth of the wood contrasts with a crystalline glass curtain wall made of pyramid shapes, that soars over the grand lobby space.
We're happy to say that we're currently working on a book with MAD which will be published next year. We'll be bringing you more news of that in the coming months as well as more stories on what this fantastic practice are up to around the world. Take a look at our architecture books to see the many ways in which the form is being pushed forward all over the world.