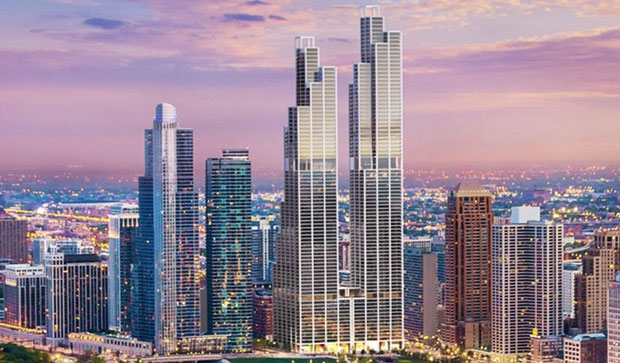 Rafael Viñoly's Sears Tower homage
Architect unveils new Chicago South Loop proposal - to be built one tower at a time
Chicago's skyline is to get not one but two new additions with the unveiling of a pair of skyscrapers by Rafael Viñoly.
The glassy duo, which would be joined for the first several floors, are similar in form, though one is slightly taller than the other. The heights of sections of each block are staggered to create a step effect. That 'stepping gesture' is an intentional mirroring of the city's most famous skyscraper, Sears (now Willis) Tower which was designed by Skidmore Owings and Merrill, and is still America's tallest. Built in the 1970s, its 108 storeys reached 1,451 ft, compared to 829 ft for the taller of Viñoly's double act.
"The building will include a diverse mix of dwellings, ranging from studios to three-bedroom units," says the developer Crescent Heights. In total 792 rental units would fill most of the 76 storeys of the first block which is scheduled to be built over the next two years. Another 648 condos are slated for the second tower. The ground-level podium they share would contain the inevitable retail space. They would sit on the edge of Grant Park in the city's growing South Loop area.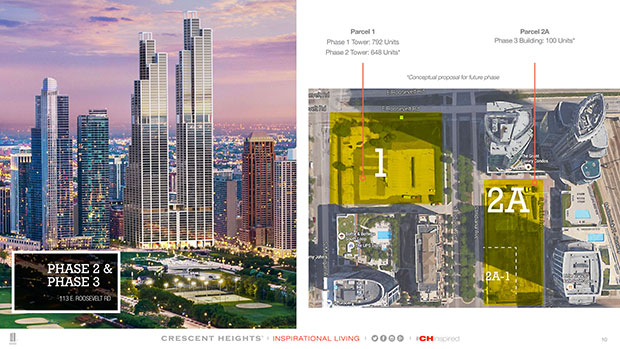 The Uruguay-born architect already has form in Chicago, having designed two buildings for the university of Chicago. Residents will be hoping the new additions will fare better than Viñoly's Walkie Talkie, aka 20 Fenchurch Street, in London, which, it's fair to say, has not endeared itself to the critics (though let's not knock its Sky Garden restaurants and bars, which are at least fun for their wow-factor.)
Check out the fantastic array of architecture books in the store here, including great new titles featuring Steven Holl, The High Line and the brilliant Jutaku: Japanese Houses