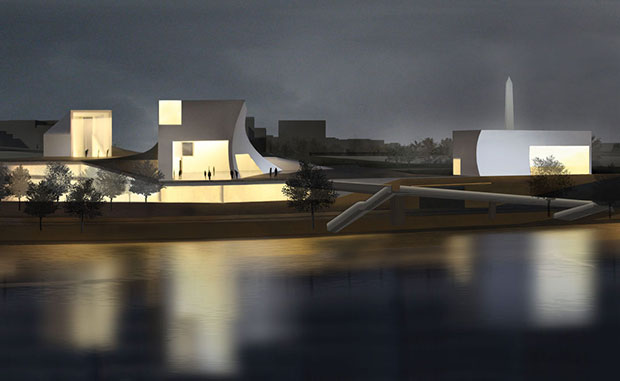 Steven Holl designs expansion of Kennedy Centre
Architect breaks down the barriers between artists and public in Texas, Virginia, Iowa - and now Washington
One of our favourite architects is helping to break down the barriers between artists and their fans - a great thing we think you'll agree. The renowned American architect Steven Holl is the designer behind the engaging expansion of the John F Kennedy Center for the Performing Arts in Washington DC. The firm intends to create new spaces where "visitors can more actively engage with artists", they say.
The center – designed by Edward Durell Stone – opened in 1971 and stands on the banks of the Potomac River near the Lincoln Memorial. Despite its proximity to the water, visitors have previously had no direct access to it. This is one thing that Holl's team's design, which starts construction in September, puts right. They have introduced a pedestrian bridge from the south corner of the site where his new additions will sit, over a road to the Rock Creek Parkway pedestrian path running along the riverbank.
Holl's buildings, which echo the silhouette of the bigger existing structure, will include much-needed rehearsal space and classrooms, as well as flexible indoor and outdoor spaces which "will allow the centre to continue to play a national and global leadership role in providing artistic, cultural, and enrichment opportunities for all", according to the Center.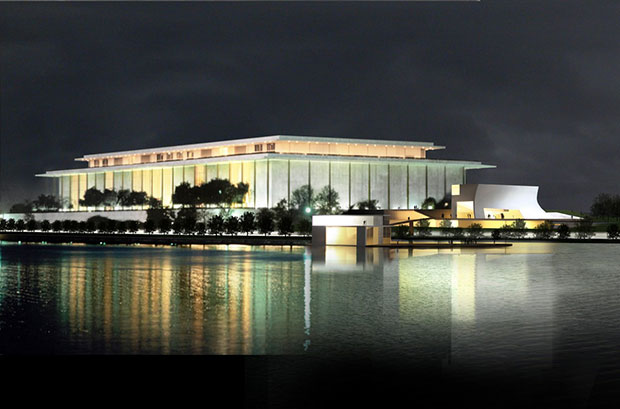 One of the new pavilions will have a convertible, smaller venue that will serve as a performance space, workshop, gathering space for patrons and café. "Large windows and a retractable wall offer an opportunity for visitors to witness artists in the creative process within the bright and open space," explain the architects.
This is not the only major arts venue on the go at the New York- and Beijing-based firm. Recent wins include projects at the Houston Museum of Fine Arts in Houston, Texas, and the Institute for Contemporary Art at Virginia Commonwealth University in Richmond, Virginia, and the new Visual Arts Building at the University of Iowa. With such a hefty and impressive workload you might expect that some illustrated publisher with their finger on the pulse would be releasing a monograph on the architecture practice. And you'd be right. Check out and pre-order our forthcoming Steven Holl monograph in the store here.