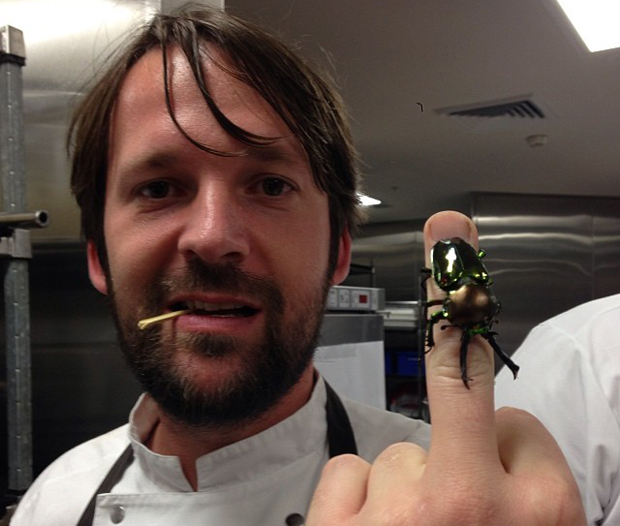 Watch René Redzepi at work in the Noma kitchen
As we count down to Friday's opening in Tokyo, we film the chef at one of his infamous Saturday Night Projects
Yesterday we brought you a sneak preview of the ingredients René Redzepi has been experimenting with in the lead up to the opening of Noma Japan at the Mandarin Oriental Hotel, Tokyo this Friday.
Today we've been cutting some videos we shot with René around the publication of his most recent book, A Work in Progress, and we'd like to share the first of these with you. It captures René in the kitchen at the tail end of one of Noma's infamous Saturday Night Projects where chefs riff on ideas and ingredients as they attempt to come up with what they hope will be the menu items that push Noma's reputation to even more dizzying heights.
In a way, it's a domestic version of what the chef has been doing over the last few months in Japan, as our story yesterday (left) revealed. It's this constant pushing of the boundary that's seen Noma voted Best Restaurant in the world a record-breaking four times.
That Redzepi has managed to do all this while hanging on to his ego is just one of the endearing things about this particular success story. As René says in our video. "I don't want the despot in my place. The Saturday Night Project was a reaction against that. It's a training camp for intuition and the sharpening of our sensibilities."
Watching the eager chefs trying to outdo each other with their innovative dishes, we're sure you'll agree it looks like a great place to both learn then reinvent the art of high end gastronomy. As René says to one chef who presents him with a kale dessert: "You're totally challenging everything that people know. That's really putting yourself out there. Chef, you've got guts. Super guts! Five years ago kale was horse food. Now it's in desserts, because of you. That's cool!"
Watch the video above and buy our René Redzepi Collection consisting of Noma, A Work in Progress and Coco at a special low price for a limited time only.