Phaidon's winning window display on show at Foyles
Emma Fearn and Sarah-Ines Dridje's design takes pride of place in Foyles Charing Cross Road window
A few weeks back we invited budding fashion marketeers to send us their window designs to grace the Foyles flagship store during London Fashion Week. Here's the first look at the winning window display.
The theme was 'Books in Fashion' and Emma Fearn and Sarah-Ines Dridje from the London College of Fashion came out on top with their winning entry 'The Design Studio' showing the process of fashion design from drawing through to creation.
Their winning design will grace the Foyles window during the Fashion Week shows and up until February 24. Jeff Clark, designer at Foyles said of the winners:
"This is a very strong and clear design. It has a central focal point that tells the viewer what the window is about in an instant. The colour is very well balanced giving a cohesive appearance to the window as a whole. It is an intriguing design, not something you would normally expect to see in a bookshop and I think this will make people stop and take notice. It is also exceedingly practical and careful thought has been given to the budget and installation of the window.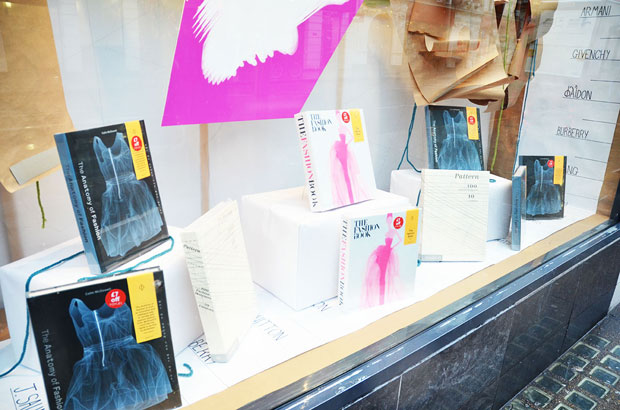 The judges included Clark, Colin McDowell MBE, fashion writer, founder of Fashion Fringe and author of The Anatomy of Fashion and Phaidon editorial director Amanda Renshaw. You can read an interview with Colin on The Anatomy of Fashion here. Thanks to Phaidon's Aideen Greenlee who braved the inclement weather to get the pictures today!