David Bowie Is - part two of our curator interview
V&A curator Geoffrey Marsh on why he thinks Bowie's disappearance was a Duchampian act, what that Song of Norway teeshirt might mean and how you compress Bowie's 'incredible magpie interest' into one exhibition
Happy Monday to you and we hope you enjoyed your weekend. If you're in the UK maybe some of you were lucky enough to catch the public opening of the David Bowie Is exhibition at the V&A. The show has broken all records for the museum and has already pre-sold over 50,000 tickets. Last week we brought you the first part of our interview with co-curator of the show and Director of Theatre and Performance at the V&A, Geoffrey Marsh. Now it's time for part two which we begin with Marsh talking about Bowie's tremendous magpie interest in picking up inspiration from all over the place - a fact which makes any kind of curatorial overview tricky to say the least, and makes David Bowie Is even more of an artistic triumph. Geoff takes up the story.
'Yes, Andy Warhol, JG Ballard, William Burroughs - you name it, he's picked it up. But it's harder to define because it's not like he's made a cut and paste job of anything, so trying to convey that to the public is quite a difficult thing. And you can add in the fact that a huge amount of what's written about Bowie is either inaccurate or just plain wrong.
Here's just one example: Everyone goes on about Space Oddity being done in conjunction with the moon landings. On one level that's true but on another it's not. A photograph of earth taken by one of the Apollo astronauts orbiting the planet was Time magazine's end of year cover in 1968. It was published in The Times newspaper in the UK on January 6 1969. Within a week Space Oddity had been written. But the interesting thing is that if you listen to the lyrics it's nothing to do with landing on the moon. It doesn't mention the moon at all – it's about looking back on earth. Then the moon landings were announced, he reissued it and the BBC chose it as the song for their coverage. So it became associated with the moon landings but it has nothing to do with them.
Now, you might say that's all very interesting but so what? Well the interesting thing about it is that by then Bowie had clearly become very interested in ideas that Andy Warhol had had, and JG Ballard had had - particularly about us being astronauts of inner space and how what's inside our heads is what's really important. So Space Oddity is not about going out to space it's about the future being in your head. How you actually explain that in an exhibition though is very difficult - it's a complicated story!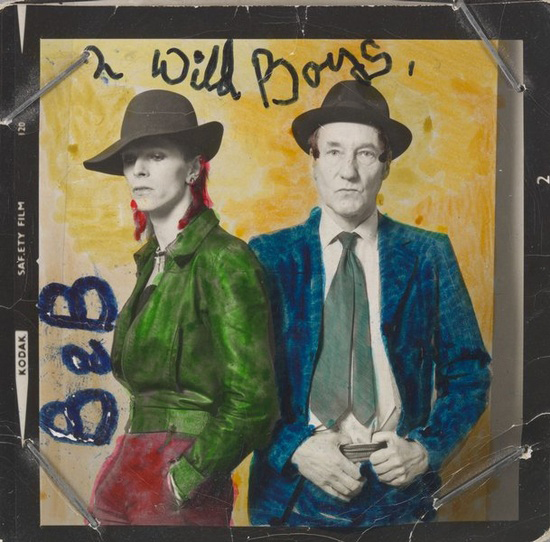 Bowie's career just invites these readings though, doesn't it? People were commenting on his 'domesticity' because of the dog and the fact he appeared to be wearing a tee shirt advertising a cruise liner (The Song of Norway) in Tony Oursler's Where Are We Now? video. Yes, and the other thing is famously, Hermione (Farthingale), his late Sixties dancer girlfriend, the big love of his life, went off to appear in the Song of Norway film and never came back, so God knows what that all means.
I think one of the interesting things is that people reflect onto Bowie what they want. Initially, we tried to show all his influences and in the end we had to give up. Then we met a remarkable guy called Paul Robertson who came up with an extraordinary periodic table of Bowie. It anchors on Oscar Wilde, Andy Warhol, Basquiat and Iman. There are all sorts of things in it – the noble gases, the lanthanides and transition metals etc.:
What's interesting in terms of communication is that people start in different places in it. And actually what you realise is that when people talk about Bowie they're actually not talking about Bowie but about themselves. People project onto him; he's like a shaman. The truth is, when you get Bowie fans in a room they have absolutely nothing in common.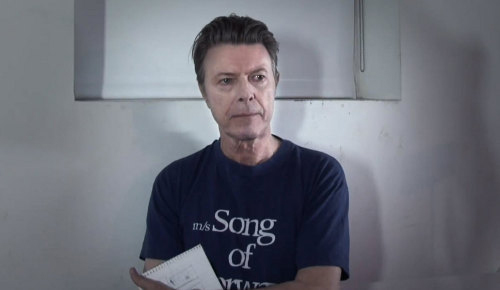 He was an enabler though wasn't he, he allowed you to be yourself or create a version of yourself – which the exhibition points out at every opportunity. Yes. It's weird in a way because unlike, even artists when they're not being political, their art is in fact political because it tends to focus on just one thing. And so in a way at some level they're saying I paint landscapes because I like the countryside. But I don't think Bowie has ever said Save the Rainforest, or Save the Whale. At one level he's apolitical but in another way he's more subversive than anybody because he says 'be yourself'. And that's not a very popular line in a lot of places around the world.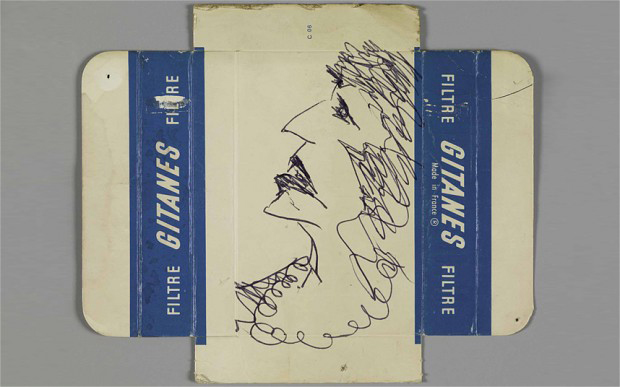 We have this question we ask in the office: which cities in the world could Ziggy Stardust or Aladdin Sane walk through? If he was in London, Paris, New York people wouldn't bat an eyelid. But there are many cities where he'd get in major trouble. And the fact that he would demonstrates that even if he hadn't made a new album, actually he's as relevant now in 2013 as he ever was. It's this weird mixture of pessimism about the human race but extraordinary optimism. The other interesting thing of course is that David Bowie is a complete construction. We imagine that he's David Bowie but he is still David Jones and everything is a construction. That's the thing that I found it hardest to get my head round.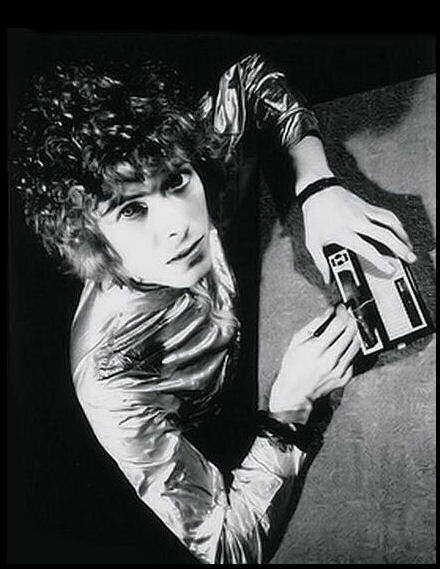 Do you have a view on his disappearing act? Yes, for what it's worth! Obviously he was ill for a bit. But he's always been fascinated with Marcel Duchamp and Duchamp famously stopped working and painting in 1923. It's a very strange story (and some people deny that it's true) Duchamp decided he was going to get into the French chess team. He claimed, "chess is much purer than art". In fact, he didn't stop painting and famously the work he painted for years and years is in Philadelphia now.
So I think that Bowie had a sort of down time for a period and because he was very into the internet early on what with the rise of YouTube and Facebook, actually not appearing to him became a form of performance. There are endless examples – ancient Greek theatre being just one - where performance is about not appearing. And I think he just got it. I think he thought I'll try it for a year and then actually it became an artistic statement.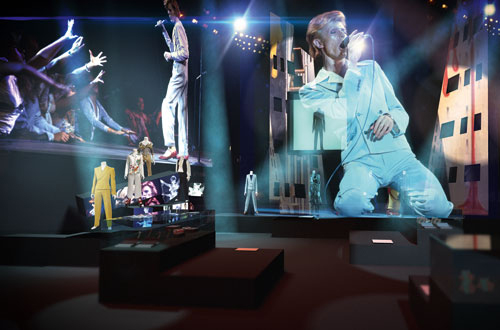 I think it's interesting that nobody could accept that somebody as famous as him would do nothing. Everybody thought he was dying or looking after his daughter. I think he thought, 'I'll do it to a point where anybody else would never dare'. To give up work for years for most people is artistic death. And you don't know if you can do it even if you thought you could. Why he decided to start again I don't know. Maybe he thought he'd done it for long enough. I think at some level he wants to move on. I personally think that's part of what it's about. He's decided he wants to have as exciting a time in his sixties, seventies, eighties and even nineties as he did earlier on. And you can only do that by dumping everything. Because most people as soon as they retire they're in this box. You could have run some vast Footsie 100 company and suddenly you're nothing. Which is extraordinary really. And I think that he's been wrestling with that issue. It's obviously one of the big issues for all of us.
I think a lot of what this is about is about the nature of – and it may sound pretentious – the western world and a very rich world where health seems increasingly linked to your DNA. We're reaching a point where we'll know when we'll die based on our DNA and that's quite a weird thing, particularly in a fairly irreligious world where most people's view is that there isn't a heaven. I think that's actually what he was doing. Also I think that's why I think he was interested in an exhibition because for most people you get an exhibitions when you're going into your dotage and he wanted to get it out of the way.
You can buy tickets for David Bowie Is and the various talks and events around it here. Look out for the final part of our interview in the coming days.