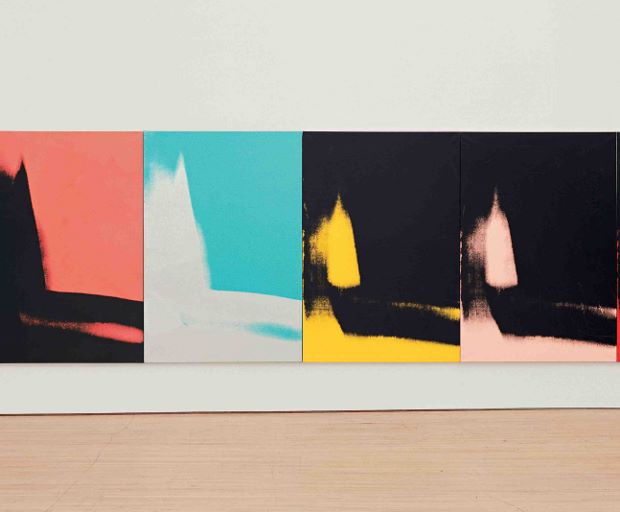 You really need to see Warhol's 'disco Rothko' chapel
If you're in LA you're in luck. Andy's serial take on site-specific, abstract painting gets a rare airing at MOCA
Few artists are as closely associated with a key movement as Andy Warhol is with pop art. This heady, 1960s take on figurative painting is sometimes seen as a reaction against the sombre, abstract-expressionist works of an earlier generation.
Yet, not everything produced by Warhol fits neatly under the pop rubric. Take this 102-strong series of painted screen prints, on show at LA's Museum of Contemporary Art until 2 February 2015. Entitled Shadows, the series is, some say, Warhol's attempt at abstract painting.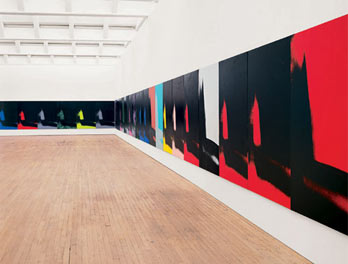 According to MOCA's director Philippe Vergne , Warhol, having distanced himself from straightfoward painting in the late 1960s and early 1970s, fell back in love with the medium after visiting the opening of Paris' Pompidou Centre in 1977.
Vergne tells the LA Times that, upon his return to New York, Warhol began to make this series of works, specifically to be hung in his favourite New York disco, Studio 54. Hence Vergne's description of these works as "disco Rothko," which alludes to Rothko's propensity to make large, abstract-expressionist paintings for specific sites, such as the Rothko Chapel, a non-denominational ecclesiastical building in Houston Texas.
Yet a close comparison for this Shadow series might be Rothko's Seagram Murals, originally commissioned for the Four Seasons Restaurant in New York, yet never hung in that august dining room. Similarly, Warhol's Shadows came too late for Studio 54, which shut temporarily in 1979. Instead, this series of works were acquired by the Dia Art Foundations and now get their second ever group showing this month. Hung together, almost as a single work, Vergne says "they evoke experimental film and the drones of the Velvet Underground."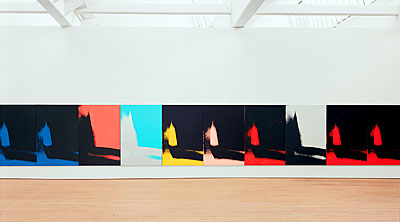 Certainly, they prove that there's more to Warhol than starlets and soup cans. For a greater understanding of the artist, consider our books, including our Focus overview, our Giant Sized survey and our on-going Catalogue Raisonné, the fourth volume of which we've just published.