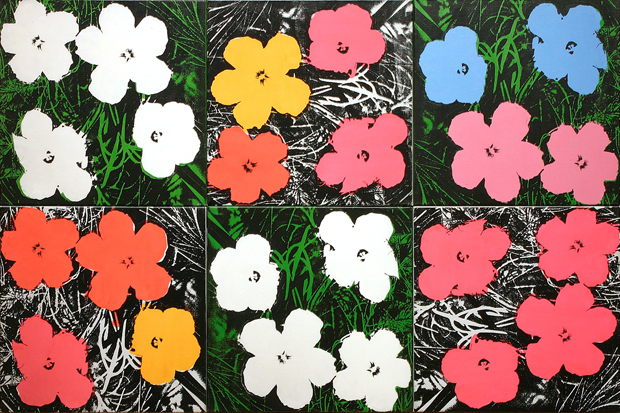 Warhol's flowers are out again in New York
The 1960s series of paintings are brought together in Manhattan once more - 48 years after they first appeared
It might be cold outside, yet in New York's Eykyn Maclean, the petals are blooming, as the gallery hosts a comprehensive survey of Andy Warhol's Flowers paintings. The paintings, produced in 1964 and 1965, introduced Europe to Warhol and Warhol to photography. Now, nearly half a century after they were first shown, Eykyn Maclean has collected them together in a show that will, according to gallery director Kristy Bryce "bring together prime examples of Warhol's Flowers in a variety of media to explore the series in a depth not previously addressed in an exhibition format."
Warhol produced the series in five different sizes, from five inches square up to 48 inches square. The larger pieces were shown at his debut exhibition for New York's Leo Castelli gallery, while the smaller paintings appeared at Paris show the following year.
He based the images on a photograph of hibiscus blossoms taken by Patricia Caulfield, executive editor of Modern Photography magazine. Caulfield - who had not given Warhol her permission - brought a legal action against him. Warhol offered Caulfield two sets of Flowers paintings by way of payment. Caulfield declined, preferring a cash payout. Whoops.
While Caulfield might regret her choice, Warhol fans should be thankful for the litigation, as the case is credited with pushing him towards photography, a new area for him. Perturbed by Caulfield's case, he decided to generate his own screen-print imagery, and began to shoot his subjects, opening an entirely distinct medium of expression. To find out more about the show, click here. To learn more about the Pope of Pop, consider our wide array of Warhol books, for a thorough guide to his work.