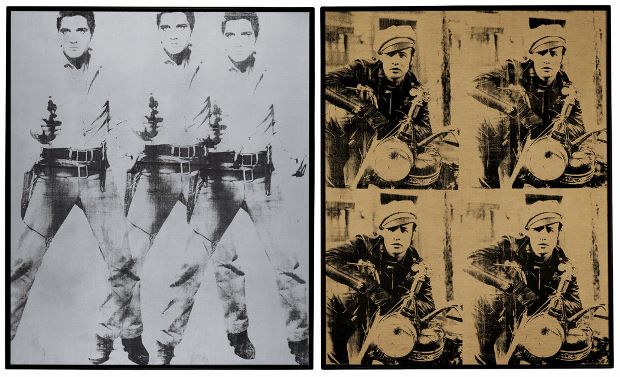 Where have Warhol's Elvis and Brando been?
In a West German casino, since the seventies, of course, but this autumn they're going back to New York
Given Warhol's position within the art market, it's hard to conceive of a time when a German, state-run institution could afford to buy not one, but two of the artist's seminal screen prints, simply to decorate its premises. Nevertheless, at some point in the 1970s, the Germany's WestSpiel casino group, which is owned and overseen by the western German state of North Rhine-Westphalia, bought a pair of large Warhol prints from the Swiss art dealer Thomas Ammann, for a little under $200,000 to add a a touch of flair to the firm's Aachen casino.
The works, pop-art depictions of Elvis Presley and Marlon Brando, were a good way to bolster the glamour and machismo of a gambling spot in one of West Germany's tertiary cities during the booming, post-war years.
Yet the purchase may well prove to be the soundest bet anyone ever made at WestSpiel, when the paintings, TripleElvis [Ferus Type] (1963) and Four Marlons (1966) go to auction at Christie's in New York on 12 November. Together, the pair are expected to fetch around $130 million. That's a hell of a return.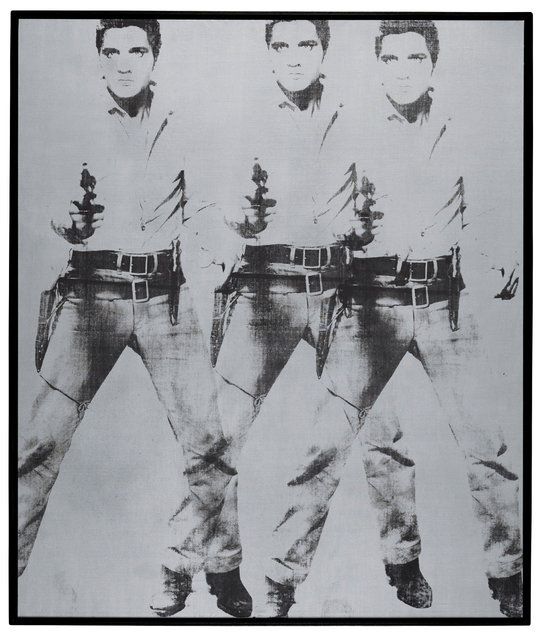 Each work's provenance, period and quality accounts for much of this price; both were made during Warhol's most fertile period. Yet their rarity also raises auction estimates. Despite the familiarity of these images, the auction house says the paintings have never been seen at auction before, and so it's unclear just how much they will fetch. Indeed, it's been said that WestSpiel only realised the works' true value in 2009, when the paintings were removed from the casino's walls and placed in storage.
Of the two, the earlier work, Triple Elvis, made by Warhol shortly after establishing his Factory studio, is perhaps the best known. The artist produced this series from a film publicity image of the singer, printing it continuously across a roll of canvas, which was then cut and stretched into single paintings. Gallerist Irving Blum recalls being sent the rolled canvas in 1963, for a show at his LA gallery, Ferus, in 1963.
"Andy sent a roll of printed Presley images," he said in an interview reproduced in the first volume of our Warhol catalogue raisonné, "an enormous roll, and sent a box of assorted size stretched bars, and I called him and said, 'Will you come?' And he said, 'I can't. I'm very busy. Will you do it?' I said, 'You mean, you want me to cut them?...' And he said, 'Yes, cut them any way that you think you should. They should be cut. I leave it to you. The only thing I really want is that they should be hung around edge to edge, densely – around the gallery…' And I said, 'Well, if you're sure, if that's what you want.' And he said, 'Yes. Absolutely.' And that's exactly what I did… I sent what was left on the roll back to Andy." WestSpiel's triple print, shown at the Ferus exhibition, is among the rarest, though another version, Eight Elivses, sold in 2008 for $100 million.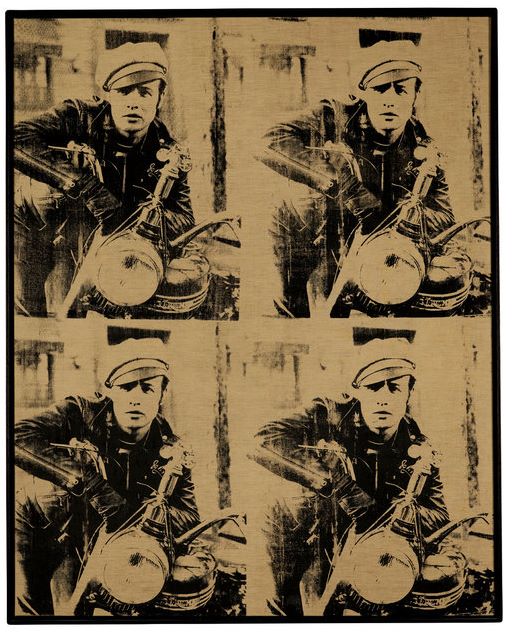 The Marlon Brando print, although taken from a better-known film, the 1953 biker movie The Wild One, is a less prominent painting, though a strong piece from the artist's best-loved years. As Brett Gorvy, Christie's worldwide chairman of post-war and contemporary art, tells the NY Times, both have the potential to breach the $100, million mark this autumn. Who knows where the pair will end up next.
If you'd like to take a look, Christie's is offering previews of the works in London, Hong Kong and New York throughout October and November. To find out more, go here, and for a richer understanding of Warhol and his work, take a look at our books. We're proud to work with the Warhol Foundation on a number of titles, including the artist's on-going Catalogue Raisonné.