Few place are as closely associated with a particular art form as 20th century street photography and New York City. The streets where Alfred Stieglitz set up his camera are the same as those where Elliott Erwitt and Stanley Kubrick fired off their first few roles, and where Stephen Shore and Joel Meyerowitz shot early material.

Director Cheryl Dunn's documentary, Everybody Street, isn't the first to place New York's finest street photographers in front of the camera, yet it is one of the most comprehensive and engaging photography documentaries of recent times.

The 90-minute feature, which debuted at Toronto's HotDoc's festival in April and has just now been made available to buy and rent, features interviews with Erwitt, Meyerowitz, Mary Ellen Mark and others.


Dunn, who is a photographer herself, was inspired to make the film after working on an Alfred Stieglitz retrospective. Many regard the photographer and New York gallery owner as an early street photographer.
"I wanted to make a film about the people who followed in his path and were inspired by the uniqueness of the street life of New York City," she says. "The way people move, the architecture, they way the light falls, the steel and glass structures – just the volatile proximity and the condensed amount of people walking the streets."

While her film does feature a few relatively young photographers, most are mature practitioners. As Dunn says, "I wanted to reach out to people who had a major body of work that deals with the streets of New York. Artists that were alive, which is why the artists in the film tend to be older – some of them are in their 70s, 80s and 90s."
Still, advanced years haven't dulled anyone's clarity. In her Mary Ellen Mark interview, for instance, the photographer reveals that, in spite of shooting in a rough city during a macho era, being female sometimes helped. "I can walk down the street and knock on the door, and someone will let me in," Mary says, "I'm less threatening than a man."

Meyerowitz too is his usual, perceptive self. "There's this kind of sensibility where you understand not only something about the person you're photographing, but also the culture at large," he says of the form. "They help, in an aggregate way, you, the artist, become more of yourself."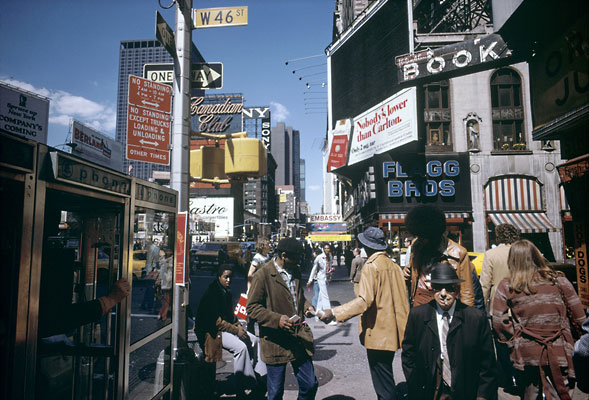 Great insight, in both words and pictures. Find out more about the documentary here. For more on Joel, Mary and Elliott, buy their books from the people who made them, here.