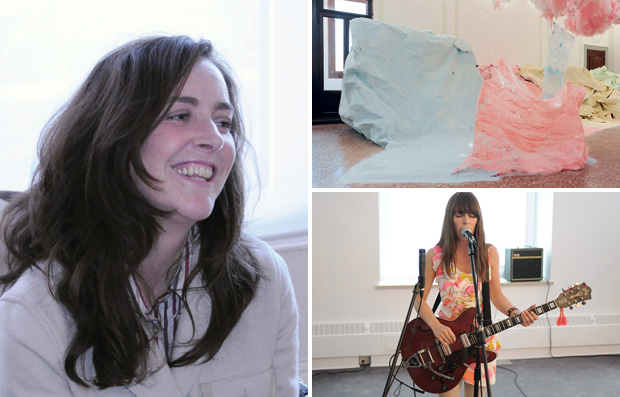 Karla Black's Muse Music
The 2011 Turner Prize nominee on the music that gets her in a creative mood
Friday is smiling upon Phaidon HQ which means it's time for another Muse Music to soundtrack what we hope will be a leisurely weekend for you. This week Karla Black, one of this year's four Turner Prize nominees (the winner will be announced on December 5), has put together our playlist. Black was selected for the prestigious prize for her solo exhibition at Galerie Capitain Petzel in Berlin along with various contributions to group shows.
There's no denying Black's works are beautiful to look at. Her scattering of powders, use of transparent cellophane, towels and paper, along with the muted pastel colours of her sculptures imbue them with a sense of ethereal fragility and reflect her interest in psychological vulnerability.
The time Black spends creating each work is important to her. She combines traditional artist materials such as paper and paint, with carpets, vaseline and make-up in a process that is largely about exploring her own subconscious. Her use of cosmetics, the 'feminine' appearance of her delicate works and her commitment to challenging conventions of interpretation reflect her interest in feminism.
But before you listen to Karla's Phaidon Muse Music playlist on Spotify. Read what she had to say about the role music has played in her life and work:
"Music has been transformative for me, like art and literature have. Especially when I was young - in my late teens and early twenties. Songs by Bob Dylan and Bruce Springsteen helped me drag myself out of the place I grew up in and a life I could have led. Bob Dylan's audacious honesty and penetrating intelligence astounded me and I wanted to be a 'proper person' like him. The emotion and the crude rawness of the desperation in some early Bruce Springsteen songs, especially that sort of wailing that he does on Darkness on the Edge of Town, is something I identified with. That was when I first started listening to music, I've branched out a bit since then."
Bruce Springsteen Factory - It's a heartbreaker. Everything it expresses is integrally held within it. The deadened menace builds through the lyrics, the rhythm, the pace and the tone. You couldn't pick it apart. It was a useful song for me when I was really young. It focused my anger, and galvanised my determination.
The Ramones Sheena Is A Punk Rocker - It's got a lot of rock and roll in it but it's much more exciting than that.
Bob Dylan It's Alright Ma (I'm Only Bleeding) - At this point, I suppose Bob Dylan's words were much more important to me than his music. Like a lot of the amazing songs he wrote when he was young, this is an absolute eye-opener. I love the sarcasm and the wit that's in there. It makes the seriousness all the more serious, like my next choice that's also by him,
Bob Dylan Don't Think Twice It's All Right - In a way, it's funny, but it's very cutting, and so razor sharp because it's so true.
Feist Mushaboom - I feel completely delighted that Feist exists. I first heard her a couple of years ago. I can't believe how good she is. Her voice is just incredible - like cut glass, but you can hear how much she's honed it, how knowing she is with it, what she allows it to do and what she holds back. I love listening to her, hearing a very agile musical intelligence at work.
Feist The Circle Married The Line - This is from her album Metals that just came out. It's my favourite song from that album at the moment. I like how it builds and breaks and builds and breaks.
Jessica Lea Mayfield For Today - I think she's brilliant. She's so young and it's astounding how good she is. I love her disenchanted, dark sort of drawl. I particularly like this song, it's so self-reliant.
Kelis (featuring Marc Dorsey) Ghetto Children - There's so much to this. The way the music changes throughout it is what makes it so great and upbeat. The positivity never fails.
Dolly Parton Here You Come Again - Dolly Parton is an amazing songwriter. Her voice is so affecting, so clear and it has all that sweetness to it. I particularly like her harmonies and warblings - when she goes off on one and isn't actually singing words is when I like her voice best.
Bo Diddly Say Boss Man This is definitely one of the best songs I've ever heard. My boyfriend Tony played this to me about a year ago and I could hardly believe how good it was.
You can also listen to these creatives' Phaidon playlists:
John Pawson
United Visual
Simon Fujiwara
Samuel Wilkinson
Alex Hartley
Brian Griffiths
Michele Howarth Rashman
George Condo
Martin Boyce
George Shaw
Piers Secunda
Mark Titchner
Chris Johanson
Edmund de Waal
Haroon Mirza
Sign up to the Phaidon newsletter to get future updates.