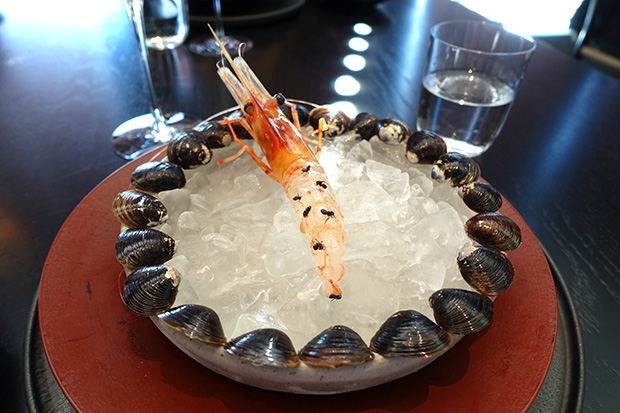 The first reviews of Noma Japan
Waiter, is that an ant on my shrimp? No, its Noma's stunning seafood dish that opens restaurant's new menu
"This is like a restaurant that's going to exist for the next 10 years," said René Redzepi when describing his five-week Tokyo pop-up restaurant at the city's Mandarin Oriental hotel to the Japan Times. "We are trying to think, 'If we were going to open a permanent restaurant, what would we put into it?'"
The answer, after weeks of research and preparation, turns out to be live shrimps, seaweed oil, wild duck, and chocolate dipped mushrooms, among other creations.
Redzepi and his Noma staff, all of whom had relocated to the Japanese capital towards the end of last year to prepare for the temporary restaurant's opening on the ninth of January, have worked hard to create a menu that both reflects the Danish restaurant's emphasis on locally sourced ingredients, its preference for vegetables, and its reputation for gastronomic innovation; as well as a selection of dishes that accurately reflect Japan's varied and unique produce and terroir.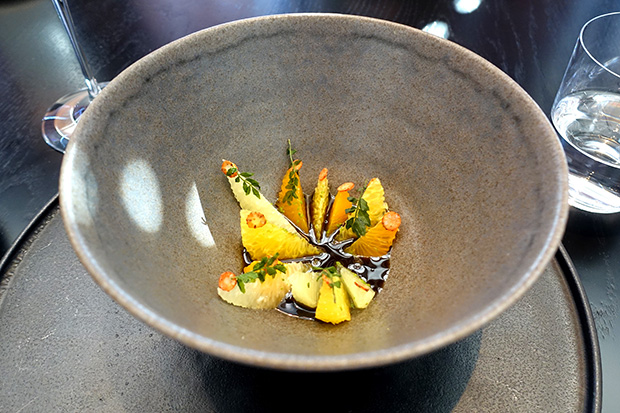 Some notable diners have posted early dining reports and reviews, including New York restaurateur Ivan Orkin, and dance music DJs Richie Hawtin and Dubfire, both of whom were booked to play the city's Womb nightclub last Friday.
However, the most authoritative report so far appears on the Japanese gastronomy blog and Instagram account Kayoubi Desu. Desu, who has also dined at Noma in Copenhagen, believes this Japanese meal was better, and that many of the Tokyo dishes have been developed from Noma Copenhagen creations.
For example, this stunning 'live' botan ebi, or raw botan shrimp, served with local ants, which opens the meal, brings to mind Noma Copenhagen's beef tartare with ants. Kayoubi Desu says that, on Noma Japan's first day langoustine were used instead of botan shrimp, as the local fish market were out of suitable botan specimens – though the dish still had a delightful sweetness with citrus notes.
This was followed up by citrus fruit with long peppers and kelp oil; Noma's local sourcing principles meant it could not serve oranges and lemons in its Copenhagen restaurant, and so it comes as no surprise to see they've majored on these fruit now they're cooking in warmer climes.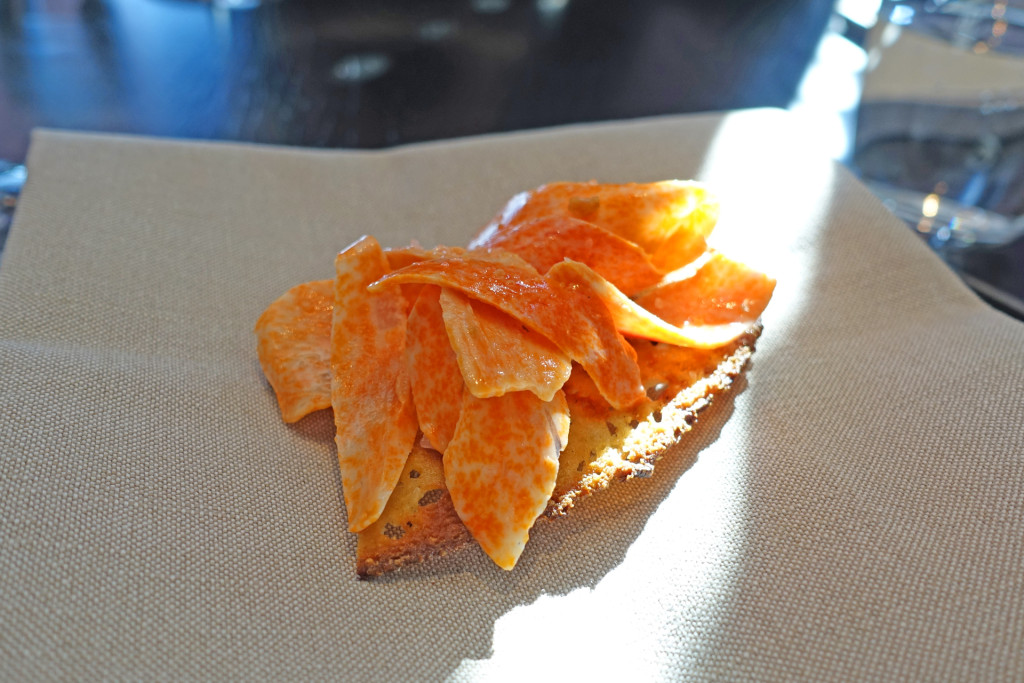 After this came shaved monkfish liver; then it was cuttlefish soba; then a shijimi tart of wild clam and kiwi, with the shellfish sourced from a lake in Aomori prefecture.
Next came steamed tofu with wild walnuts; then dried scallop with beech nut and kelp; then pumpkin simmered with kelp and salted cherry blossoms – Noma seemed pretty proud of the look of this dish, posting a shot on Instagram.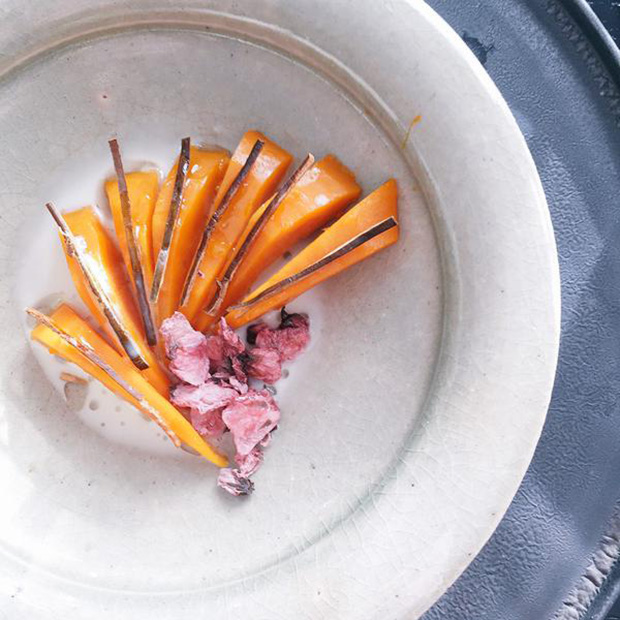 This was followed by an equally impressive black, garlic creation with lemongrass, ants and juniper berries; then a dish of roots, including lotus root, with starches with ginger.
Carnivores can breathe easy though, as the menu also includes wild duck, roast whole with a mastubusu berries dipping sauce; this was followed by a turnip served with yeast and shitake mushroom; and, to round things off, rice crisps with sake ice cream, followed by sweet potato simmered in raw sugar, served with a kiwi dipping sauce, and finally wild chocolate-dipped mushrooms.
Sounds amazing. Want to eat here too? Well, the restaurant is fully booked now. However, if you're an eligible bachelor from the Bay Area in California, you might want to contact Stephanie Robesky. The San Francisco tech entrepreneur has a booking on her 39th birthday, at the last week of January, but, alas, no date, and has posted an open call for a suitable date on her site, nerdgirl.com. Suitors must be single, aged 28 – 46, 'easy on the eye' and be able to cover their own flight and accommodation; Stephanie is picking up the Noma tab.
And if that doesn't sound like a good fit for you, why not check out our René Redzepi book Collection consisting of Noma, A Work in Progress and Coco.