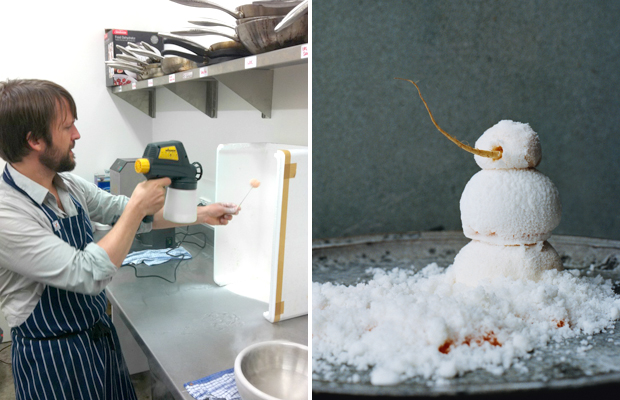 Redzepi's dish 'The Snowman' is the decider for Masterchef Australia 2011 winner
The finalists re-create the most difficult dish from Noma's menu under the watchful gaze of the chef
René Redzepi, the head chef of Noma, voted the best restaurant in the world, set the finalists of Masterchef Australia 2011 the ultimate challenge. The contestants were tasked with re-creating 'The Snowman', the most technically difficult dish on Noma's menu.
Redzepi was on hand to guide the contestants through the complex preparation and different elements of the dish which included a vinegar meringue, carrot sorbet, passionfruit mousse and yoghurt granita. For those watching the show and thinking they could do better, 'The Snowman' is one of 90 recipes included in Redzepi's book Noma, which provides an exclusive look at one of the most interesting restaurants in the world and details Redzepi's reinvention of Nordic cuisine, his obsession with fresh and local produce from across Scandinavia and his never-ending experimentation.
Of the two finalists, it was Kate Bracks, mother-of-three from Orange NSW, who beat fellow contestant Michael Weldon in serving up the better dish and winning the title of MasterChef 2011; Bracks' snowman elicited judge Matt Preston's praise: "You've pretty much nailed it, the number one dish from the number one chef in the number one kitchen in the world."