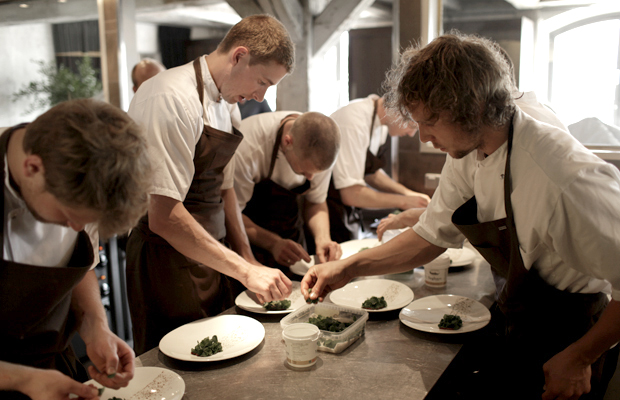 Noma wins Best Restaurant in the World for the second year running
Now in its 10th year, the San Pellegrino World's 50 Best Restaurant Awards placed Copenhagen restaurant Noma best in the world
The San Pellegrino World's 50 Best Restaurants Awards were announced last night at London's Guildhall. Phaidon.com is delighted to announce yet another accolade for two Michelin star Copenhagen restaurant Noma to add to its impressive list of awards and honours; for the second year running Noma is officially the Best Restaurant in the World, which proves yet again that head chef René Redzepi has one of the most distinctive and unrivaled approaches to cookery in the world. This award further highlights why the book _Noma: Time and Place in Nordic Cuisine _is the definitive guide to exploring the restaurant.
The Awards were attended by the world's most prestigious chefs, restauranteurs, food critics and gastronomes, and were decided by an academy of over 800 experts from the international restaurant industry. They recognise and honour exceptional innovation, unique dining experiences and the best gastronomic creations.
Redzepi's culinary philosophy champions locally sourced and sustainable produce from the Nordic region. Having been credited with reinventig Nordic cuisine, his imaginative creations reflect the atmosphere and natural gifts of the Danish landscape. Redzepi always combines his seasonal ingredients with a creative twist, making Noma a restaurant quite unlike any other in the world.
Noma was officially named the Best Restaurant in the World in 2010, knocking five times winner elBulli into second place. Ferran Adrià, head chef and genius of elBulli, will close the restaurant in July this year and will re-open it as the elBulli Foundation in 2014. (You can watch a video with Ferran Adrià talking more about the Foundation with his biographer Colman Andrews, and read his English biography: Reinventing Food).
Both Redzepi and Adrià have selected their choice of the ten most exciting chefs working today in the book Coco. Follow the link to find out how Phaidon's Coco chefs placed in this year's World's Best Restaurants Awards.
For more information please visit the San Pellegrino World's 50 Best Restaurants.