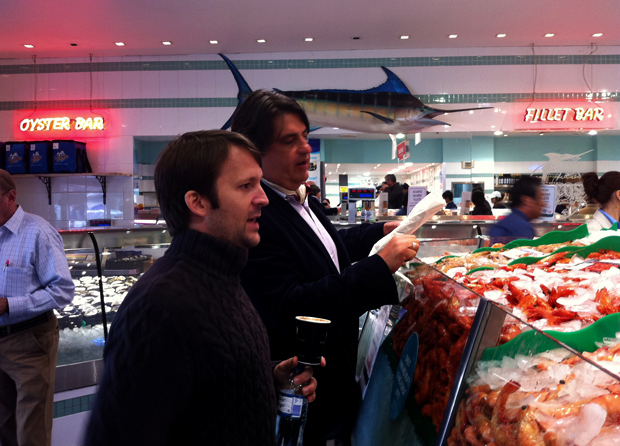 Day 3 - the fish market, foraging in a car park, and at the Sydney Opera House
Fish for breakfast and foraging in unexpected places, Laura Gladwin reports from her adventure with the chef
René Redzepi travelled to Sydney, Australia, for the start of the Crave Sydney International Food Festival (until 31 October) during which he also promoted his book Noma: Time and Place in Nordic Cuisine. Cookbook editor Laura Gladwin went with him and reports on the days, dinners, fish markets and foraging that took place in Sydney and beyond, out in the bush.
Day 3
Friday 1 October - René's third day in Sydney - started with an 8:00am meeting with Masterchef presenter Matt Preston at the fish market in central Sydney. Breakfast consisted of a double-strength cappuccino, a large platter of Tasmanian oysters, local mussels with chilli and black bean sauce and huge grilled Queensland prawns with garlic.
Next, a tour of the markets, where the range and quality of the seafood is remarkable, from beautiful blue swimmer crabs to Balmain bugs (a type of small slipper lobster). René buys squid, prawns and marrons, which are large freshwater crayfish local to New South Wales. Then, to the puzzlement of passers-by and curious pelicans, he proceeds to pick leaves from gum trees and bottle brushes in the car park.
He cooks the seafood at the market's fish school kitchen, brushing them with a marinade of oil, soy sauce and lime juice before steaming them lightly in a large bamboo steamer filled with the gum tree leaves, bottle brush flowers, lemon grass, coriander, strips of lemon and lime zest and Asian greens. After four minutes he opens the lid cautiously and inhales the strongly fragrant, eucalyptus-tinged steam: 'the smell of Australia', he says.
That evening René is the opening act of the Food Festival at the Opera House. He holds the stage for an hour, discussing the origins of Noma and its cuisine, and describing the creative process behind five of Noma's dishes. He speculates about possible definitions of 'cuisine' in the light of both Noma's food and of Australian cuisine.
Every guest in the audience has been given a sample of three different highly aromatic leaves foraged from the bush: aniseed myrtle, Tasmanian pepper and lemon myrtle. Admiring the sheer range and variety of Australia's indigenous ingredients, René wonders why such richness is not put to greater use, and asks the audience to smell the three leaves and imagine their culinary possibilities.
Next, René invites three luminaries of the Australian food scene onto the stage: food writer and critic Terry Durack, Sydney chef Mark Best, and Ben Shewry, head chef of acclaimed Melbourne restaurant Attica. Ben has brought a range of spectacular fresh ingredients he'd foraged from the Melbourne coastline earlier that morning, including sea succulents, wild fennel and many others. The chefs taste them and discuss why the use of indigenous ingredients is not more widespread in Australian cuisine. Afterwards, in the book signing queue, the mood is invigorated and people seem quite inspired following the talk.
After a stroll around the harbour, chef Peter Gilmore of renowned restaurant Quay hosts a special dinner with a menu of new signature dishes in honour of René's visit. The food is thoughtful and delicious, and shows a particular interest in texture, notably in the southern rock lobster with pearl oyster, shaved squid, lobster velvet, oyster cream and tapioca. A dish of Berkshire pig jowl with maltose crackling, prunes and cauliflower cream perfumed with prune kernel oil is also excellent.