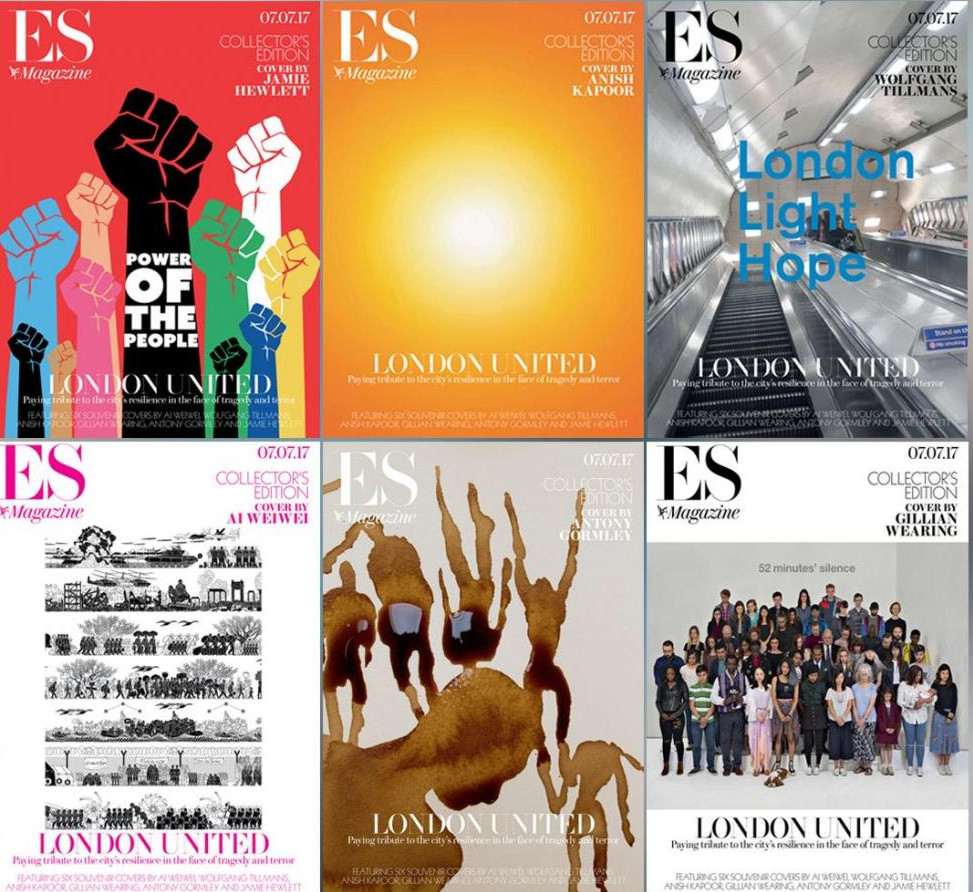 Ai Weiwei, Anish Kapoor, Wolfgang Tillmans and Phaidon artists create ES covers to celebrate London's resilience
Antony Gormley, Gillian Wearing, and Jamie Hewlett make up all star cast of contemporary art talent
Within the past six months, London has endured a series of terror attacks, and the worst fire since World War II. How should the city recover from all this? The capital's newspaper, the London Evening Standard, feels the answer might lie in art.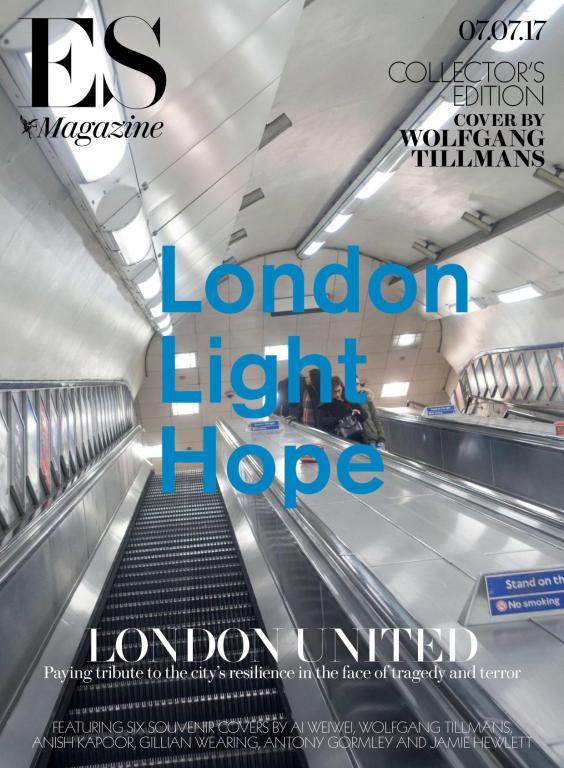 The paper, now edited by George Osborne, the former Chancellor of the Exchequer, has commissioned six leading artists to create six covers for today's edition of its ES supplement, each "celebrating London's resilience in the face of recent tragedies."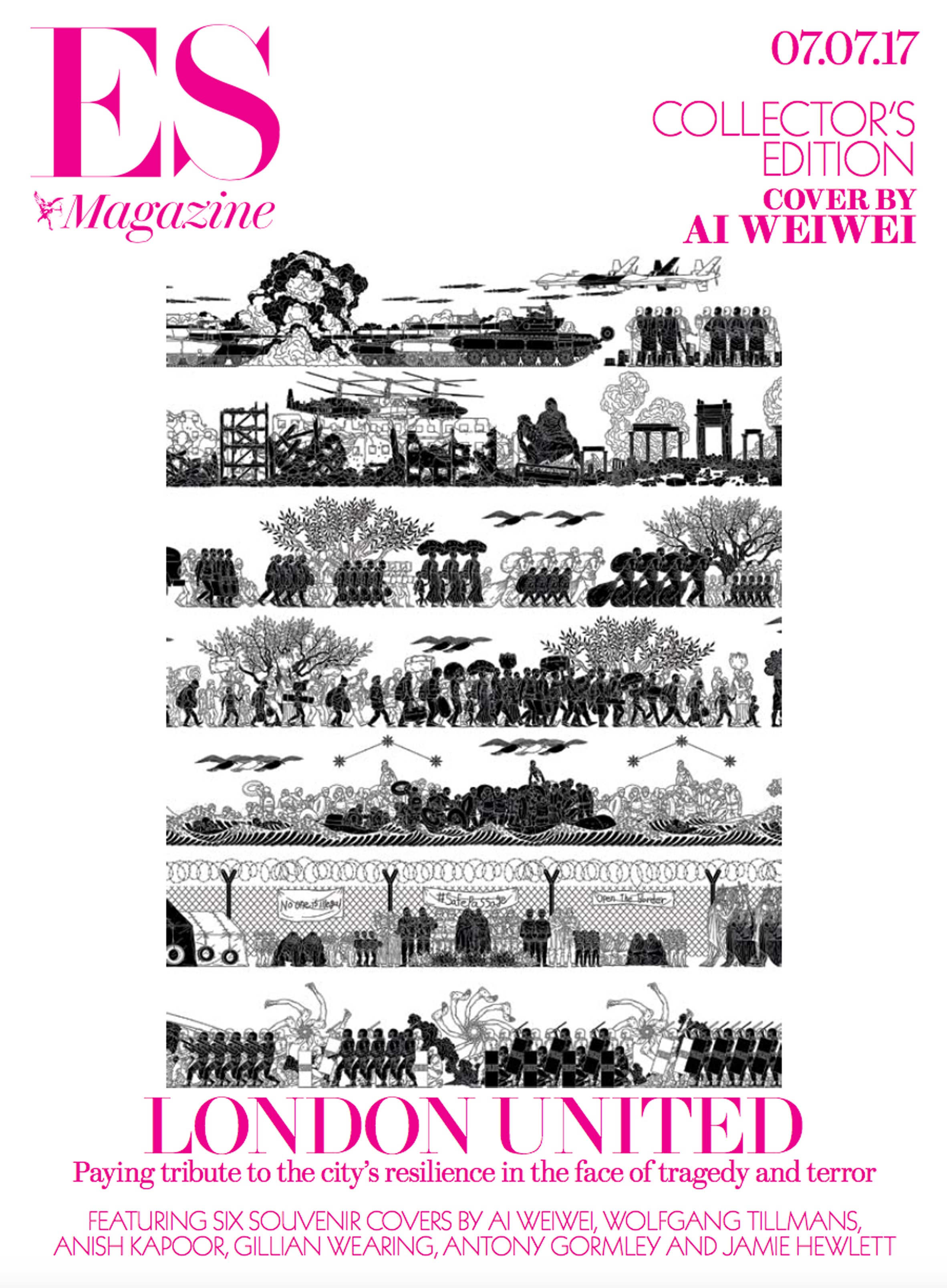 Ai Weiwei, Sir Anish Kapoor, Gillian Wearing, Jamie Hewlett, Sir Antony Gormley and Wolfgang Tillmans have all drawn up cover images which commemorate the lives lost at the Westminster, London Bridge and Finsbury Park terror attacks and the Grenfell Tower blaze, and also mark the 12th anniversary of the 7/7 bombings.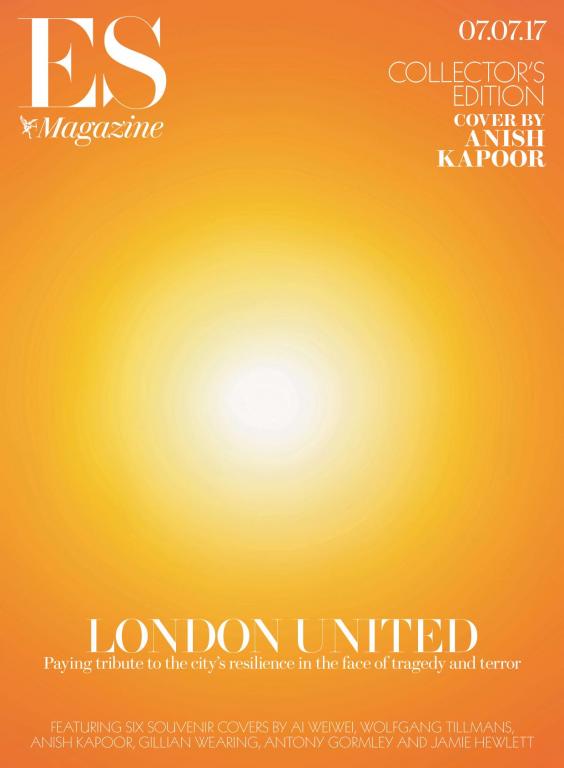 Kapoor's simple, sunny image expresses an "optimistic sensibility" says the artist; Ai's images are drawn from the artist's monumental 2017 frieze, Odyssey, which depicts the experience of migrants over the years; Gillian Wearing reprises her Turner Prize winning work 60 minutes silence (which also appears on the cover of her Contemporary Artist Series book) with an image of 52 Londoners observing a minute's silence for the 52 Londoners who lost their lives in the 7/7 attacks.
Meanwhile, Antony Gormley has created a figurative piece from a coffee spill, after "trying to think how resilience and common sympathy occurs with every precious existence potentially held in the mind of all and all held in the mind of each,"; Jamie Hewlett has drawn a multicoloured series of fists raised in solidarity; and Wolfgang Tillmans has overlaid his photograph of a underground station with a simple message: London Light Hope.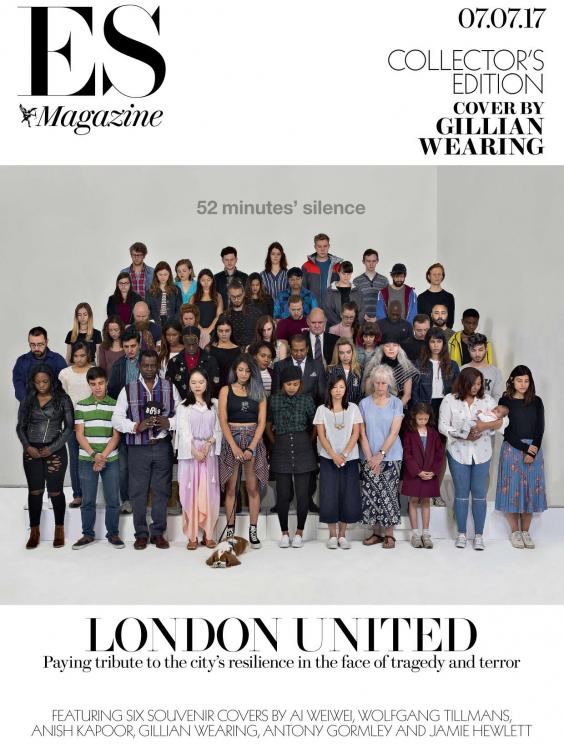 Londoners can pick up the covers, and perhaps their spirits, when ES magazine is distributed this evening. For more on Wolfgang Tillmans buy this book; for more on Jamie Hewlett read this interview; for more on the early works of Ai Weiwei get this one; for a great overview of Antony Gormley buy this title; to fully understand and luxuriate in the work of Anish Kapoor invest in this beautiful volume; and for more on Gillian Wearing get this one.