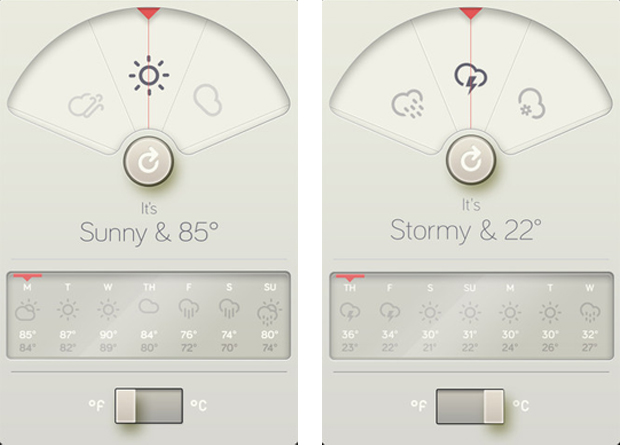 As little rain as possible
Dieter Rams-inspired weather app is the perfect accompaniment for your Phaidon Wallpaper* City Guide
Naturally if you've downloaded our wonderful Wallpaper* City Guide apps and have decided on your weekend away you'll be wanting to know what the weather is going to be like. Now while there's nothing particularly wrong with the weather app that comes with the iPhone here's one that really stands up to the style set by our City Guides. We think you'll agree with us when we suggest that designer David Elgena may have taken more than a passing glance at the work of this guy.
However, while most Dieter Rams copyists usually miss the point of the legend's 10 Principles of Design, Elgena seems to have taken them properly to heart. WTHR is as minimal as its vowel-free name suggests and follows Dieter's as little design as possible principle in that it has just two buttons - only one of which needs to be used regularly.
On hitting the update button the dial at the top wobbles pleasingly before settling into place like the dial on an old-fashioned bathroom scale. On it are various weather conditions, ours seems stuck on 'overcast' in London's right now though we suspect it's absolutely baking everywhere else). At the bottom you'll find the conditions and temperature predictions for the coming week, along with a switch to choose Fahrenheit or Celsius. In keeping with its design heritage it looks much better on white rather than black iPhone but for a dollar or 69pence why worry? Get it in the app store then splash out on the best book about the man whose clever designs inspired it.