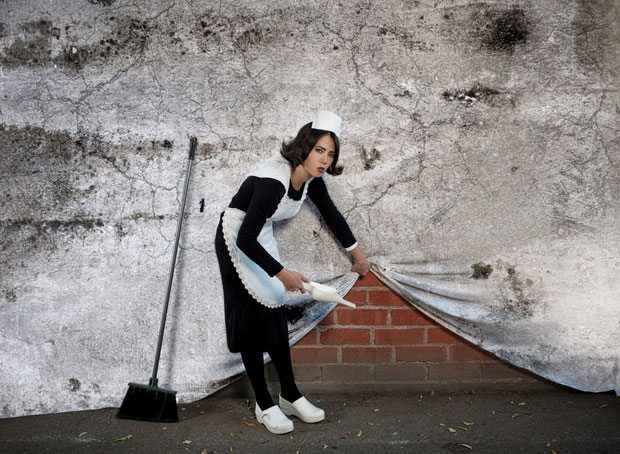 Phaidon's eye on the photography world
Our international roundup takes in Russia, America, France, Morocco, South Africa, the UK and Hungary
He is not Banksy Imitated by street artists everywhere, Banksy's influence has now stretched to the photographic world. Los Angeles-based photographer Nick Stern has recreated many of the artist's greatest works in his series You Are Not Banksy. With Banksy already referencing existing imagery in his work, Stern's photos add another welcome layer of obfuscation to the continuing conundrum of the elusive street artist.
Russia's first photography auction Russia held its first auction made up entirely of photographs this week. Prints by Soviet Constructivist artist Alexander Rodchenko, German photographer Leni Riefenstahl, and Bauhaus professor László Moholy-Nagy went on sale at Russia's biggest auction house in Moscow. Many exceeded their estimates, including Rodchenko's The Yard in Summer (1928), which received the highest winning bid for 460,000.00 RUB (£9,066.11/$14,088.58). Although these are far from the highest prices seen for photographs recently – last month Phillips de Pury in London saw Peter Beard's Hunting Cheetahs on the Taru Desert sell for £325,250 ($516,562) – it's further proof of the rise of the photograph as art collectible.
Ákos Major for sale Hungarian photographer Ákos Major, who we featured back in January has been taken on by Lumas, the affordable art gallery. Where some photographers wait for blue skies and sunny days, Austrian-based Major waits for gloomy, rainy days before he goes out and captures his lonely landscapes. Prints of Major's pedal boats, piers and mirror-like lakes are on sale through the Lumas website and its galleries around Europe from £400 ($620). Our picture above is copyright Akos Major, www.lumas.com
New talent added to VII Photo VII Photo agency added four new photographers to its mentor programme this week. Gazi Nafis Ahmed, Laura El-Tantawy, Jošt Franko and Amanda Rivkin - who were individually selected by existing members of the agency John Stanmeyer, Ed Kashi, Christopher Morris and Ron Haviv respectively - will receive guidance over the two year long programme to help build their professional practice and develop the necessary skills to succeed in photojournalism. These new additions follow changes made September last year when 13 new photographers, including Davide Monteleone, were made full members, many after being on the VII Photo mentor programme themselves.
Paris Photo's Atlantic Crossing After the success of Frieze New York, another European art fair is making its move stateside. Paris Photo will hold its first US show in April 2013. Paris Photo LA will see a selection of 80 French and international galleries gather at the Paramount Studios on Melrose Avenue. Organisers of Paris Photo say that LA is now an international art capital and making the city a second location for the fair offers a promising context to affirm its position of championing the most forward thinking photography.
Thought for the day Every photographer knows they have to do the money jobs to be able to do the projects they love and believe in. But at what point does one draw the line? This debate has recently been highlighted by a row between Ron Haviv and Lockhead Martin. A photograph of Haviv's was purchased by the arms manufacturer whose ad execs then added smoke and text - within their rights - to adapt the image. Haviv was not best pleased and it's become a hot topic on photography blogs such as Duck Rabbit and (Notes on) Politics, Theory & Photography. Haviv and his agency VII Photo has commented on the situation. We sense the subject's not quite done yet as the question remains, are photographers responsible for the use of their photographs once they have been fairly paid for?
Jet art is soaring There's been an increase in art using aircraft lately, as we reported at the beginning of May but the photography world was there first. In 2005 Berkley educated Jeffrey Milstein published the book AirCraft: The Jet is Art. It featured highly detailed images of the undersides of planes that had flown over Milstein as he waited at various airports including his favourite, the 24R at Los Angeles International Airport. Now, the photographs from the book have now found their way onto the walls of the Smithsonian's National Mall Building in Washington, D.C. until November 25.
First time in London Moroccan artist Yto Barrada's photographs are being shown for the first time in London. The Deutsche Bank Artist of the Year 2011's work is on show at Pace Gallery until July 14. Mobilier Urbain examines the relationship between the urban development and the natural landscape and gives UK fans of the Tangier-based photographer's work the chance to see both photographs and sculptures by Barrada presented together.
Second chance for Cindy Sherman Those who missed Cindy Sherman's latest show at MOMA in New York will have another chance to see it - this time on the West Coast at SFMOMA from July 14. The major retrospective brings together many of Sherman's most well-known works including the now classic series Untitled Film Stills from the late seventies to her more recent Society Portraits from 2008. The larger than life photographic mural at her NYC show will also be recreated.
Chanel's Little Black Jacket The Little Black Jacket by Karl Lagerfeld and ex-Paris Vogue editor Carine Roitfeld a touring exhibition about the iconic piece of Chanel clothing and the different women who wear it is in New York for a very short time until June 15. Such is the allure of Chanel - even more concentrated when the show only lasts for a week - the opening party drew stars from the fashion, art and photographic worlds. Lagerfeld and Roitfeld joined photographer Cindy Sherman and fashion designers Olivier Theyskens and Zac Posen at the 18 Wooster Street gallery. It will move to an as yet undisclosed destination next week.
And finally… Photographer Peter Dench, currently taking part in The Great British Public exhibition reminisces about the first time he met the Queen and why he probably won't be meeting her again any time soon: "It didn't go well. I was on assignment shooting her royal tour to South Africa. As she has done on many tours, Her Majesty took time to meet the press. While she began to work the room, I began to panic; my gin had run dry. I excused myself to the bar for a refill. On return my monarch gave me a stare I'll never forget or am likely to experience again; perhaps I should have offered to get her a drink? When she had shuffled on, a royal aide firmly affirmed, 'One does not behave this way in front of the Queen.' More than a decade after, we've never shared that gin."
If you love photography check out the store where many of our best selling photography titles are available at 50% off for a limited time.