What Ed Ruscha sees in the Wild West
San Francisco's de Young museum looks at the artist's relationship with the Great American West
Ed Ruscha's road trip from Oklahoma to Los Angeles in 1956, at the age of 18 was, like many of the best elements of his work, pure Americana.
Driving a 1950 Ford Sedan, the young artist and his friend, the musician Mason Williams, more or less followed Route 66, shadowing the fictional journey John Steinbeck's character Tom Joad began a couple of decades earlier in The Grapes of Wrath.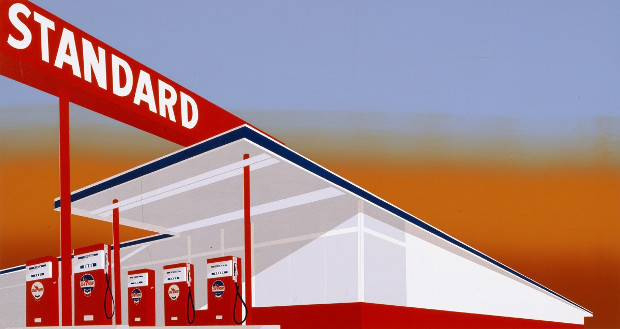 Both Joad and Ruscha appreciated the appeal of the American West. Although Steinbeck's character may not have seen that promise come to fruition, Ruscha certainly has. Sixty years on from his fateful relocation, Ruscha has become both a hugely successful artist and more or less an adoptive Californian. A new exhibition Ed Ruscha and the Great American West, on at the de Young museum in San Francisco until 9 October, looks at the artist's relationship with western promise.
The show's 99 works include obvious choices, such as Ruscha's versions of the Standard Oil filling stations, his photos of Sunset Strip his paintings of the Hollywood sign, and his macabre closing-titles painting The End, as well as less overtly western works. Karin Breuer has chosen to hang Ruscha's 1979 landscape, America's Future, in the exhibition, since she believes it may have been inspired by the kind of attraction California held for the young artist, driving over two decades earlier to accept a place at art school.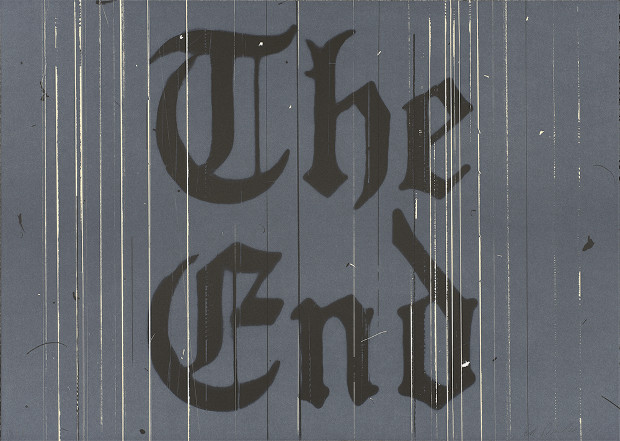 Yet this isn't simply a nostalgia trip, and includes prints made as recently as 2015. Ruscha, now aged 78, maintains a studio in the California desert and remains an active, thoughtful artist. This might be an all-American show, but Ruscha hasn't quite reached his Hollywood ending.
For more on Ruscha's Californian work and much more besides consider this comprehensive monograph and this overview of his well-known word works, They Called Her Styrene, etc.