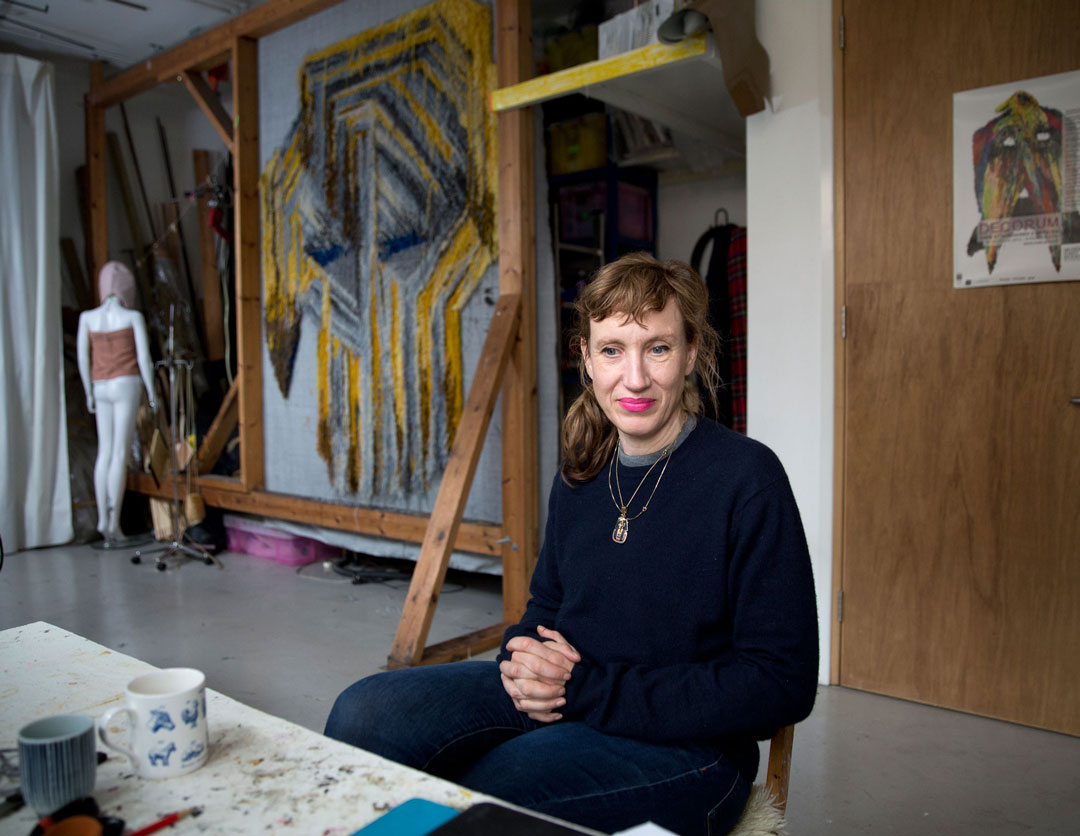 Caroline Achaintre - Why I Create
Exploring the inspirations and attitudes of artists working with clay and ceramic, featured in Vitamin C
Originally training as a blacksmith before moving to London, Caroline Achaintre's work encompasses not just clay but a diverse range of media. Across her practice, she focuses on handcrafting techniques and her work has often been described in terms of the primitive or the carnivalesque.
Achaintre has a preference for paper clay (normal clay reinforced with fibre), and her ceramic sculptures are divided into three groups: masks hung on the wall, sculptures displayed on a plinth or on a stand, and combined works made of a leather head to which a ceramic mask is attached. In contrast to her often highly coloured textile works or her drawings, the glazed surfaces of her ceramics resemble animal skins; indeed they sometimes incorporate leather or fake snakeskin. Spontaneous and quickly worked in quite a crude way, her ceramics still look malleable, soft and vulnerable.
Grouped together for display on plinths and structures designed by the artist, they form a theatre of the absurd. Isolated, they radiate a sense of solitude and abandon, and yet they keep an inner sense of humour. In 2009 she enrolled in an evening class to explore how she could turn her paper sculpture into solid objects – and her work with clay began. Here the Vitamin C: Clay and Ceramic in Contemporary Art featured artist tells us why she works in the medium, what particular challenges it holds for her and who she thinks always gets it right.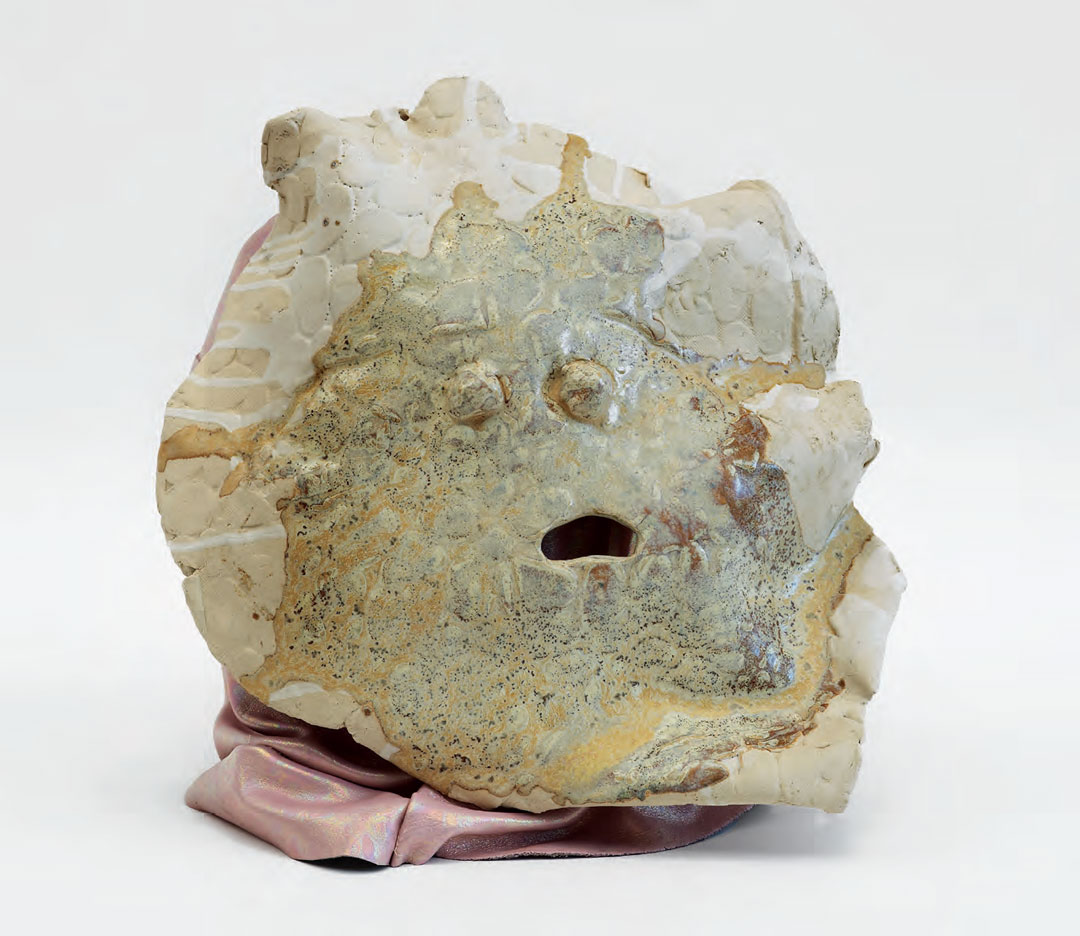 Who are you and what's your relationship to clay and ceramics? I am an artist who started to add clay and ceramics in 2009 to my practice. I started making paper mask-like objects from discarded drawings and prints but decided paper's lifespan wasn't long enough and thought I should try clay. I haven't trained in ceramics, but I have been using them for eight years now and I have learned a lot. For me they sit in that interesting middle ground between art and craft.
Why do you think there's an increased interest around clay and ceramics right now? I think there is more interest in process-based work now. After post conceptualism maybe some sensuality got lost, and now we're allowed again to let the material speak, to let the process be the goal.
Ceramics is sometimes regarded as decorative, rather than fine arts. Does the distinction bother or annoy you? I'm not even sure that's true anymore, quite a few ceramics made by artists are anything but decorative, they can be quite visceral or willingly abject. I think the decorative is more often associated with functional ceramics, but luckily even there the distinction is not made so much anymore. And decorative doesn't have to be negative anyway, it is also a tool. Perhaps now we are learning from Japan, where they seem not to make the distinction between art and craft in relation to their ceramics.
Whose work in this field do you admire? Not one individual piece comes to mind, but for example I like Jessica Jackson Hutchins - the pieces where she combines entire sofas with ceramics - they're great energetic pieces. I love Norbert Prangenberg's ceramics. And of course the Memphis (and other) ceramics made by Peter Shire.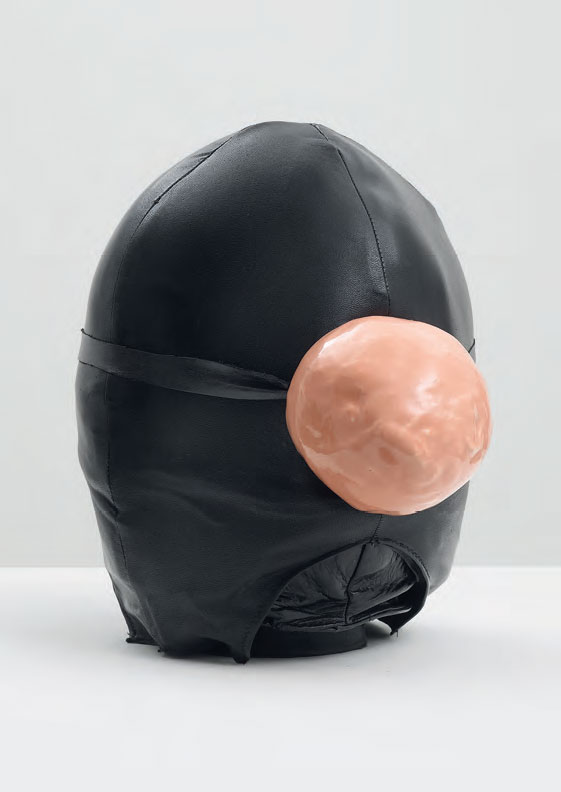 What are the hardest things for you to get 'right' and what are your unique challenges? To make the work look effortless, not forced. I want my pieces to appear full of life, not constructed, but as clay imprints any touch this is either achieved easily and quickly or not at all.
What part does the vulnerability of the material play in things? It depends which vulnerability we are talking about, the one before or after the firing. The unfired clay is very specific in what it likes or doesn't like, so one has to react and work with that. That gives clay its specific quality and defines the outcome, so those characteristics I would see as an attraction. The vulnerably of the fired clay in terms of sculpture can be simply annoying as it can break easier then most other materials. Especially as I still associate my pieces with paper and like them to be quite thin. I can see that this visible fragility has an appeal, but is simply a nightmare in terms of handling and especially transporting.
Is how you display a piece an important element of the work itself? Do you ever suggest how something might be displayed? How I display my pieces plays a crucial part, especially if I group my ceramics. The display furniture I design for my 'characters' becomes their habitat. Usually the display is a dialogue with the exhibition space, and the same pieces shown in a different space would be shown in a different way. I usually don't tell a buyer/collector how to display them but prefer him/her to find their own way. They like the company of other artworks and it results in interesting dialogues.
What's next for you, and what's next for ceramics? I have been invited to make work in response to the amazing Museo del Alabado in Quito, Ecuador. There I fell in love with the Valdivian Sculptures made from clay and stone around 3000 to 1500 BC. They are ancient and futurist at the same time, looking backwards and forwards, just like clay!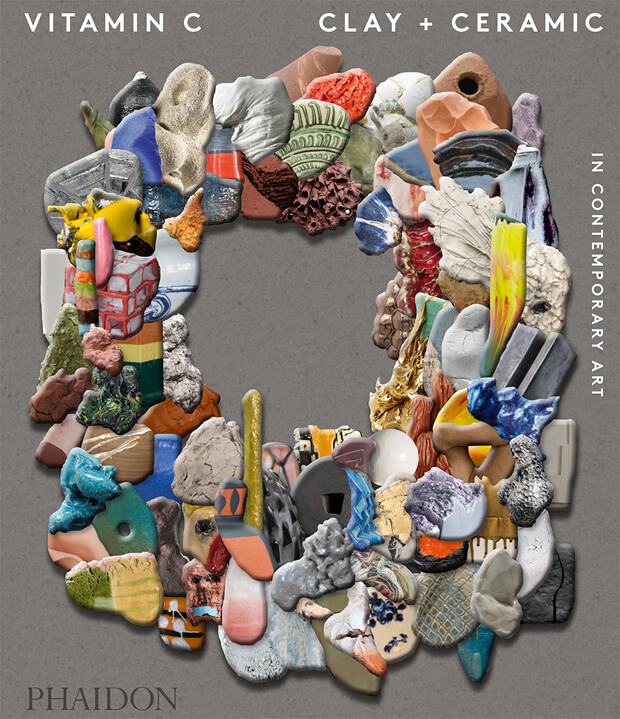 Clay and ceramics have in recent years been elevated from craft to high art material, with the resulting artworks being coveted by collectors and exhibited in museums around the world. Vitamin C: Clay and Ceramic in Contemporary Art celebrates the revival of clay as a material for contemporary artists, featuring a wide range of global talent selected by the world's leading curators, critics, and art professionals. Packed with illustrations, it's a vibrant and incredibly timely survey - the first of its kind. Buy Vitamin C here. And if you're quick, you can snap up works by some of the artists in it at Artspace here.