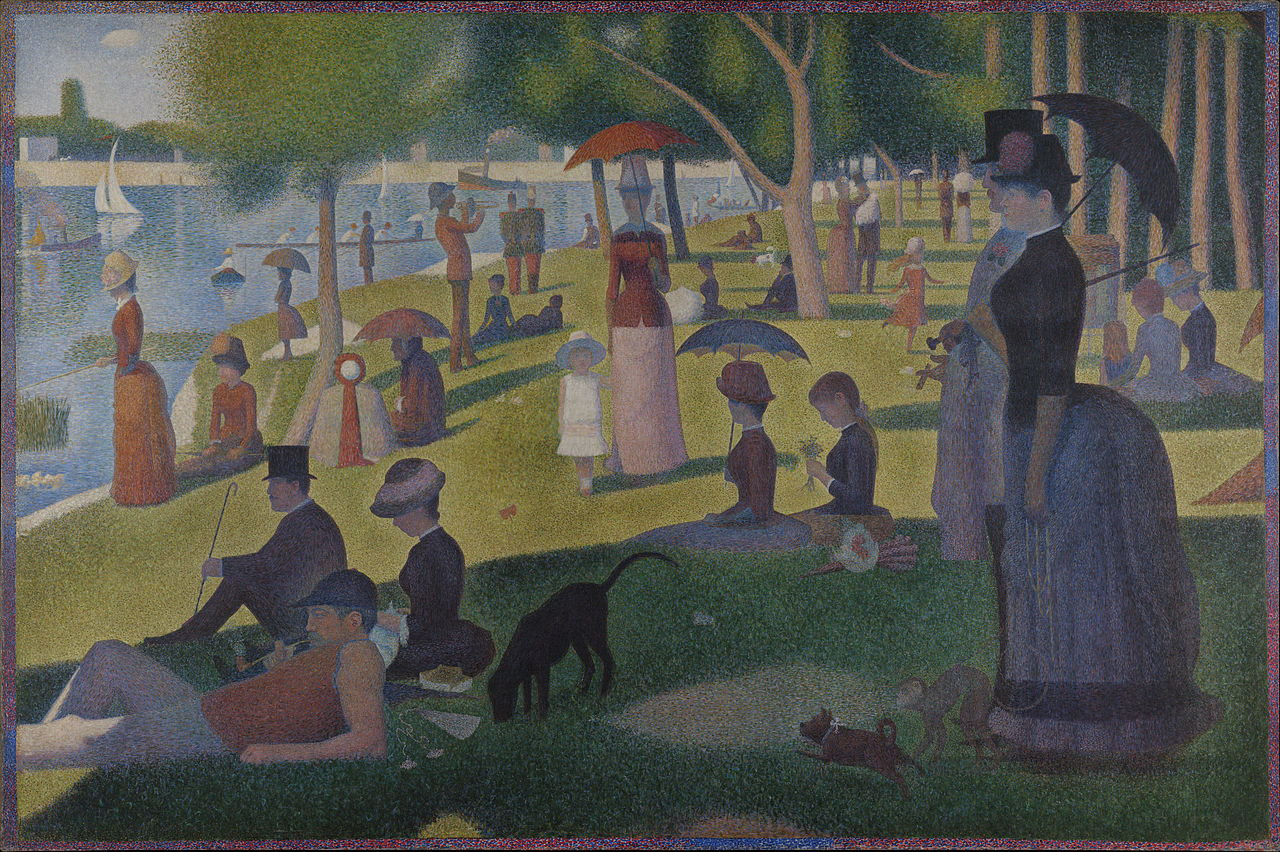 A Movement in a Moment: Pointillism
Discover how an upset at a tapestry factory gave rise to one of the most striking artistic techniques
What kind of a painter, in his late middle age, having exhibited at every Impressionist exhibition, would dismiss the style, adopting instead an avant-garde technique, based on novel scientific theories, and pioneered by a couple of twentysomethings? Someone like Camille Pissarro.
Though the 19th century artist had painted realist landscapes with Corot and Courbet, and encouraged a young Claude Monet's early development, in 1886, he changed the way he painted completely, adopting a scientifically minded approach to picture making. Here's how our book, Art in Time, describes the change.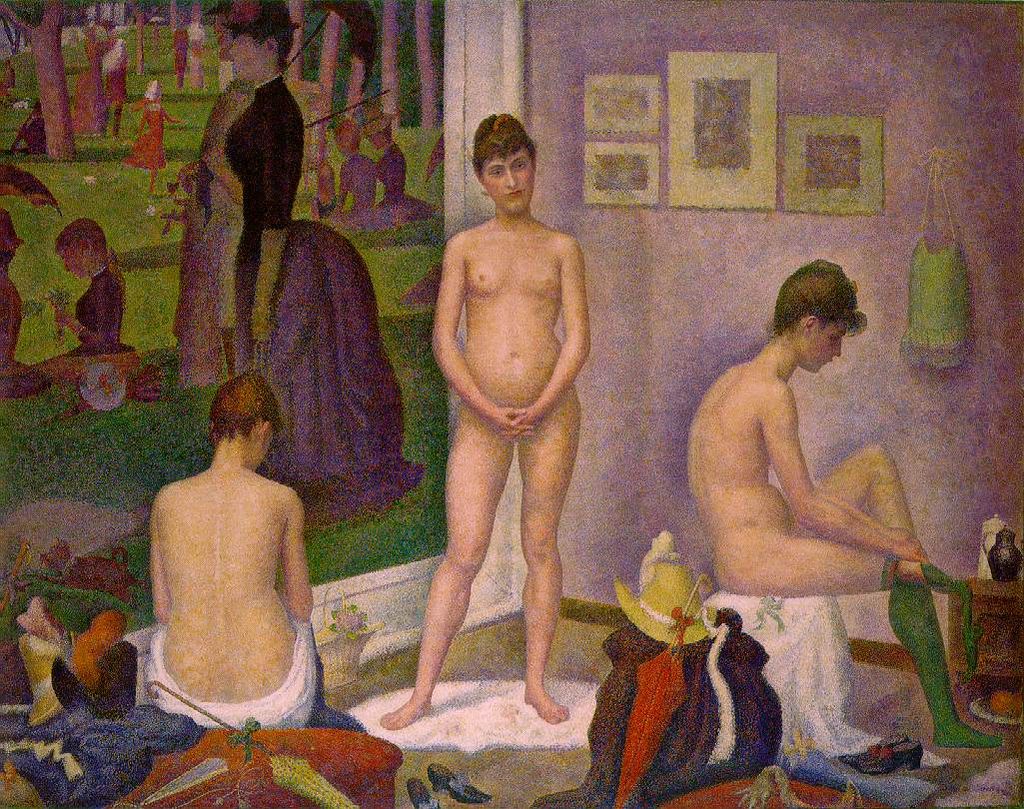 "At what would be the final Impressionist exhibition in 1886, Georges Seurat declared the style passé with his monumental Sunday Afternoon on the Island of La Grande Jatte," explains the text. "Perhaps the most radical innovation of the picture was the way in which Seurat translated the intuitive, comma-like brushstroke of Impressionism into a meticulously applied, regularised mark. Informed by scientific colour theory, Seurat developed a system of notation that juxtaposed pure colours and would theoretically yield a greater luminosity than could otherwise be achieved, because the collocated strokes of colour would fuse in the viewer's eye, avoiding the 'muddiness' of palette mixing or blending colours on the canvas."
This new style, which we recognize today as pointillism, was rooted in new scientific ideas popular in the French capital at this time. In particular, it drew on the work of the chemist Michel Eugène Chevreul. Chevreul had been asked to solve a problem at a Parisian tapestry firm. The company, Gobelins, thought its dyes were too weak. Chevreul showed that the dyes were fine, and, instead, the perceived weakening of colour occurred when bright colours were woven together. Looking into the matter more deeply, Chevreul discovered that "choosing the wrong adjacent hues will diminish a colour's brilliance," explains our book Chromaphilia: The Story of Colour In Art, "On the other hand, the right juxtapositions will mutually enhance each component and yield striking results." Seurat and his followers drew on Chevreul's discoveries, switching thread for paint, to create effective, striking works from dots or points of colour, to the delight of France's artistic community.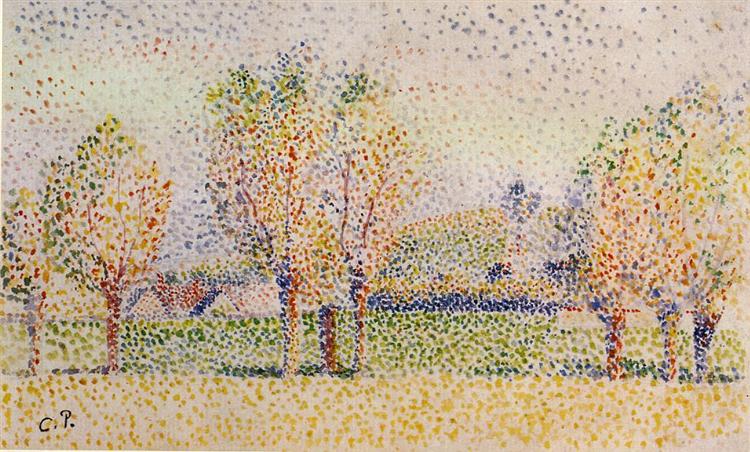 "The anarchist and art critic Félix Fénéon championed the new style and christened it neo-impressionism, signaling a new, more scientifically rigorous and methodical form of impressionism. In Sunday Afternoon, a screen of coloured dots partially masks a layer of varied brushstrokes beneath, but the overall effect is one of uniformity of mark-making that has come to be called pointillism," explains Art in Time. "Seurat himself called it 'chromo-luminarism', and Paul Signac preferred the term divisionism, emphasising the principle of divided colour more than the application of paint."
Pissarro tried this new style, partly because one of his children was keen on the technique. "Like Signac, Camille Pissarro and his son Lucien were drawn to the rigours of Seurat's new manner, and both contributed neo-impressionist paintings to the 1886 exhibition," explains Art in Time. "Camille Pissarro's watercolour sketch of the Eragny Landscape demonstrates the principle of divided colour and the pointillist brushstroke, though loosened up from the methodical dots that characterise many of Signac's paintings; it can be seen to full effect in Seurat's Les Poseuses ('The Models'). The touches of pure colour, often juxtaposed with their complement, produce an activated, pulsating surface."
Seurat continued to employ his pointillist technique throughout his life, while Pissarro later abandoned it for a simpler pictorial style. However, pointillism remains an important movement today, because it shows us how science changed art, and, how, in some sense, artistic picture making began to develop along the same lines as commercial reproduction.
Though they were invented quite independently of one another, pointillism emerged at almost exactly the same time as similar newsprint techniques, such as halftone reproduction and Ben-Day dots.
One was created in the ateliers of Paris, and the others in the news presses of the United States, yet both drew on hard science to reduce picture making to a series of artfully placed points of pigment - a technique that most screens still use today.
For more on Pissarro get this book; for more on Pissarro and Seurat's place within art history, get Art in Time; for more on Chevreul's colour theories, get Chromaphilia.