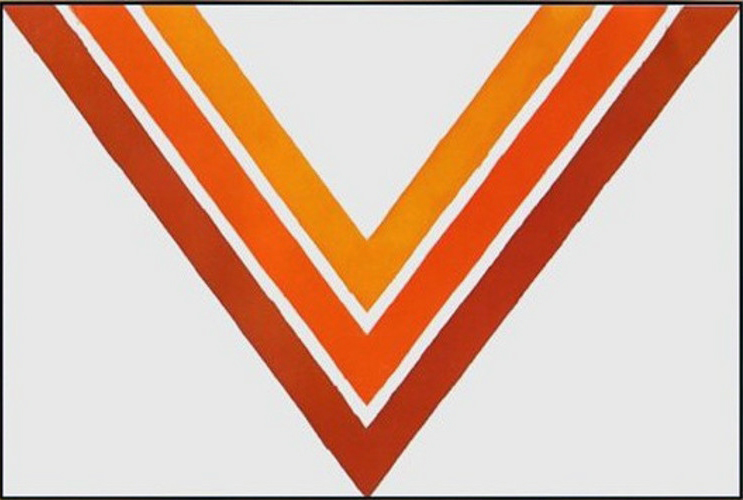 A Movement in a Moment: Colour Field Painting
On Kenneth Noland's birthday we look back at the abstract style that sought to rid art of superfluous rhetoric
"In the spring of 1953, two little-known artists living in Washington D.C., Morris Louis and Kenneth Noland, visited Helen Frankenthaler's studio in New York," explains William C. Agee in our book Modern Art in America 1908-68. "Both were promising artists, but they could not find their way out of Abstract Expressionism and into something personal of their own."
That difficult route towards a more personal style of painting lay within Frankenthaler's 1952 work, Mountains and Sea. This bare, colourful wash of a work "was a revelation for both, 'the bridge between Pollock and what was possible', as Louis later said," Agee explains. "They adopted Frankenthaler's technique, found their own directions and became central figures in the Colour Field school of painting of the late 1950s and early 1960s."
What did they see in Frankenthaler's works? A way to continue the work of the Abstract Expressionists without giving into the macho swagger of Jackson Pollock, Willem de Kooning and co., while also letting the simple beauty of colour into their paintings.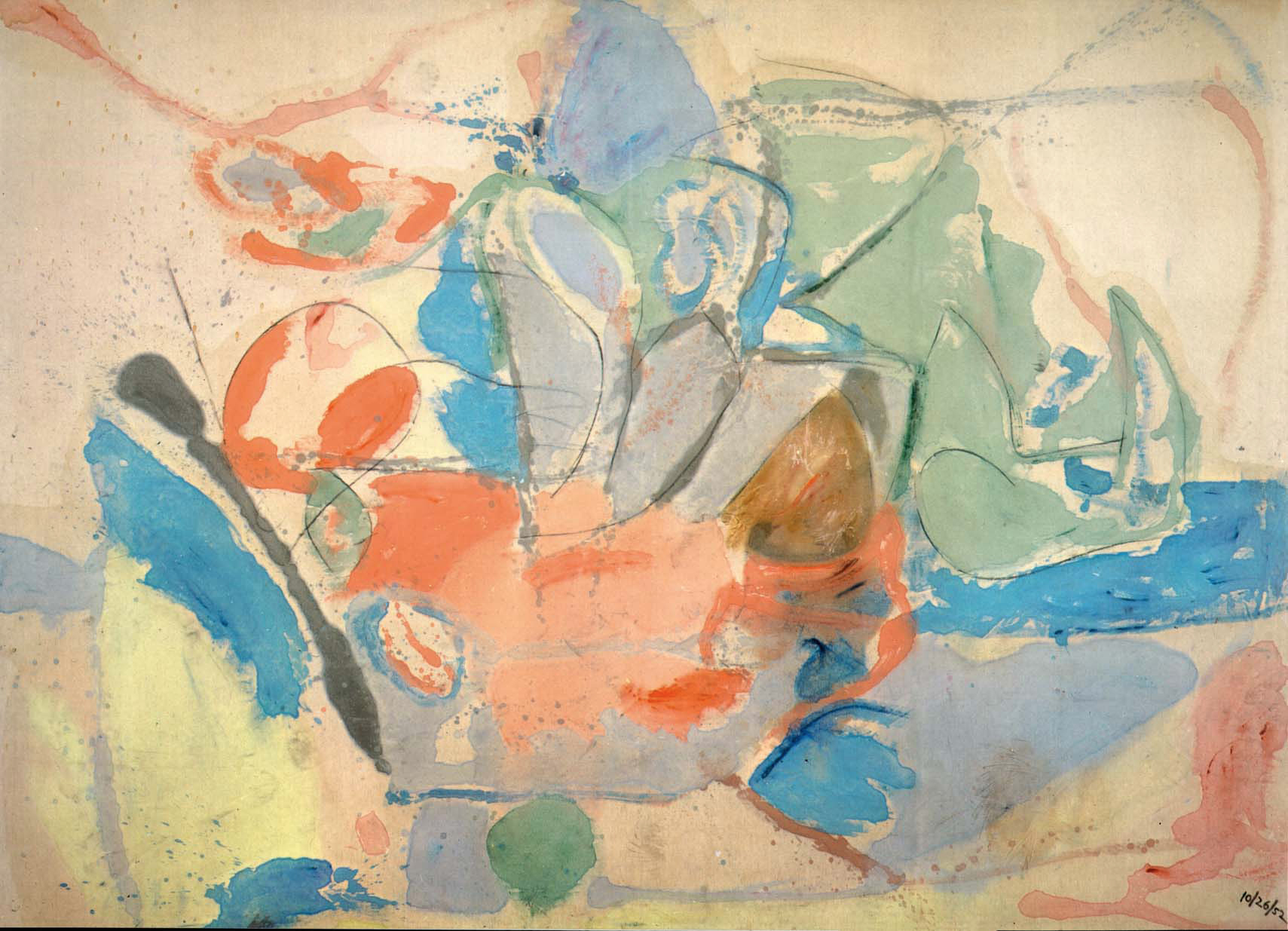 "Colour Field Painting, a term coined by the American art critic Clement Greenberg, was used initially to describe the work of Abstract Expressionists such as Mark Rothko and Barnett Newman who composed their paintings with broad expanses of saturated colour," explains the text in Art in Time. "Often considered a subset within Abstract Expressionism, Colour Field painters shared the movement's interest in pure abstraction, flat space and large-scale canvases. However, they rejected the active gesture of their counterparts in favour of large expanses of less emotive, more purely contemplative colour. This next generation of Colour Field Painting, sometimes called Post-Painterly Abstraction by Greenberg, stressed open compositions, limited painted gestures (through techniques such as pouring paint instead of using a brush), and drew attention to the relationship between the canvas and the forms painted within it.
"Helen Frankenthaler led the transition from the action painting of Abstract Expressionism to this later Colour Field Painting. Her landmark canvas, Mountains and Sea, marked a radical departure from most Abstract Expressionist work. She worked directly on unprimed canvas (as only Pollock had done previously) and stained it with thin washes of colour. Although Frankenthaler began her mural-sized composition by drawing a few charcoal lines, in the end the gesture of the artist became secondary to the fields of colour generated through pools of paint absorbed into the canvas. The final product is composed of equally powerful areas of paint and raw canvas, thus allowing the support to become part of the image."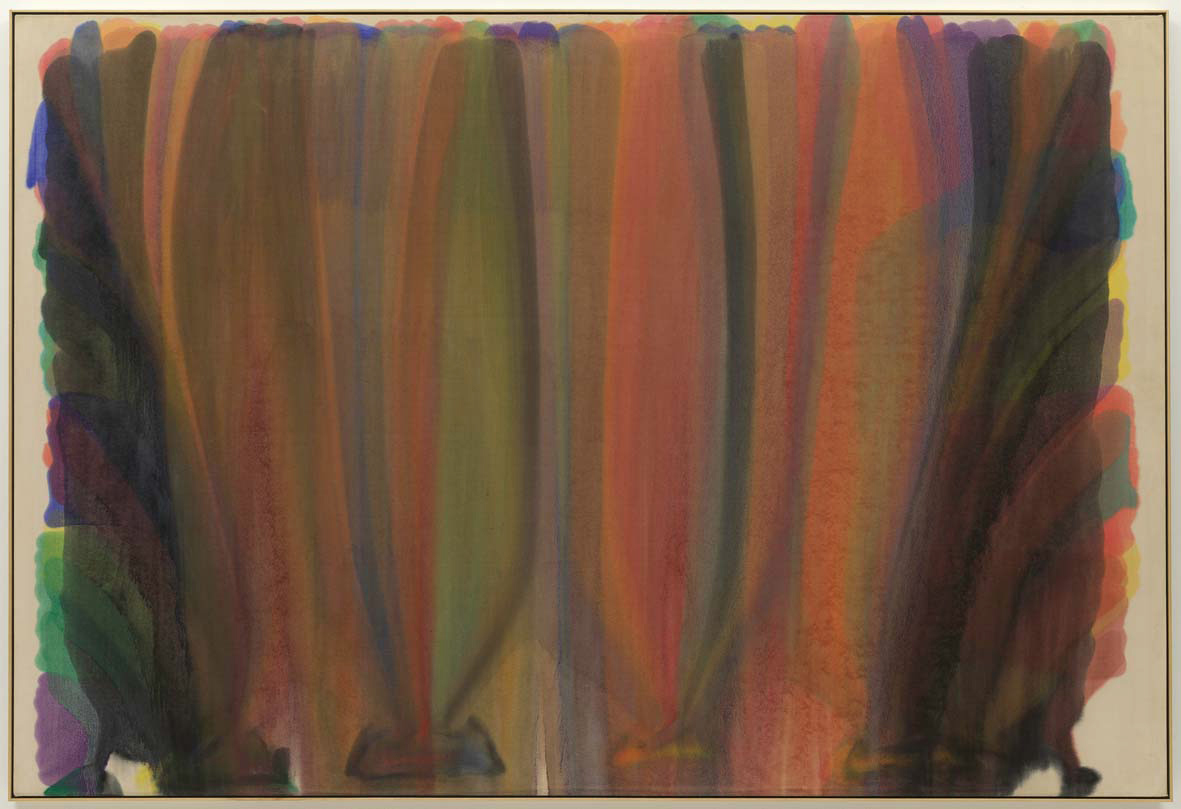 "Inspired, Louis henceforth experimented with pouring paint on unprimed and unstretched canvas," explains Art in Time. "He further liberated painting from gestural mark-making by allowing the qualities of the fluid paint to determine the form, as in Saraban. The layers of colours create areas of varying saturation, or intensity; highly saturated colours seem to emerge from between duller streaks.
"Kenneth Noland represents a move within Colour Field Painting towards pure geometric shapes. His concentric circles set into play both colour and spatial relationships. The light blue outer circle in Winter Sun creates a harmonious contrast with the darker green circle inside it, like sky and earth. However, that same green circle is in tension with the equally dark yet more intense blue circle inside it. The centrality of the circles and the wide expanse of negative space around them create a sense of compositional openness that had been initiated by Frankenthaler."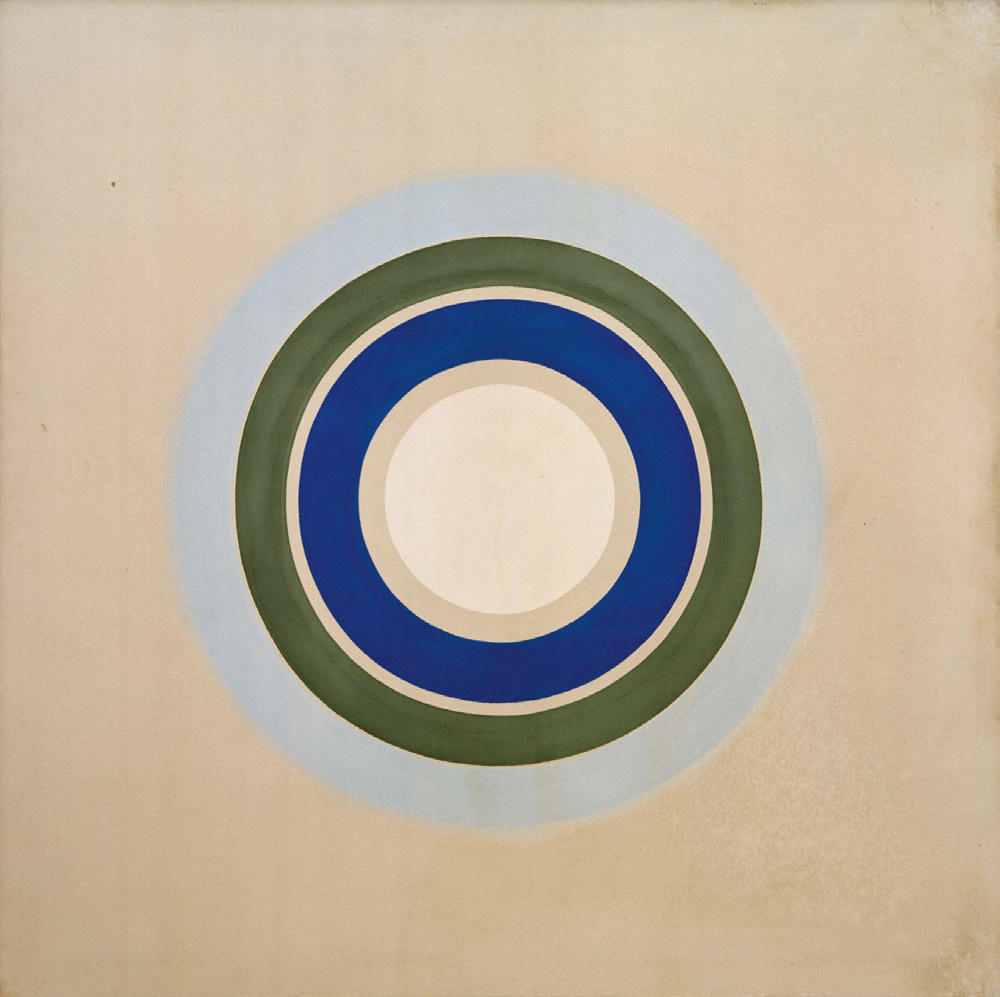 Although interested in Colour Field Painting lessened following the rise of Pop Art, the ideas developed by Frankenthaler, Noland and co. continue to inform abstract painting today, as Art in Time makes clear. Brutal brush strokes or pseudo-psychological dribbles weren't the only way to make an abstract painting, or justify its exhibition. Simple, well-composed fields of colour could be created and appreciated solely for their beauty, while the limitations of a picture no longer lay within the confines of a well-primed canvas stretcher.
"The bare canvas of 1950s and 1960s Colour Field Painting," explains Art in Time, "suggests an open space that continues beyond the edges of the painting."
For more on Colour Field Painting's place within art history get Art in Time; for more on its role within modern art in America get Modern Art in America 1908-68; for more on contemporary abstract art get Painting Abstraction.