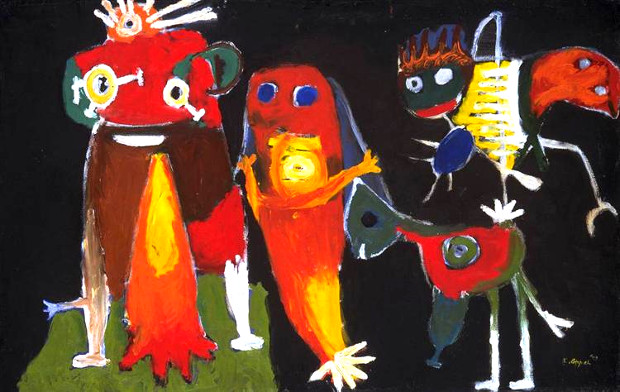 A Movement in a Moment: Cobra
How the first truly international post-war avant-garde movement was founded on this day 8 November in 1948
It can be hard to pin down the exact starting point of some art movements. That is not the case with Cobra, which was founded exactly 68 years ago today at the Café Notre-Dame, Paris, when a group of European artists signed a manifesto. Influenced by the horrors of war, the blunter styles of modernism and the hopes of a Marxist future, here's how our book Art in Time describes that early post-war art movement formed in that moment.
"Coined in Paris on 8 November 1948 by the Belgian painter and poet Christian Dotrement, Cobra (also written as CoBrA or COBRA) is an acronym for Copenhagen, Brussels and Amsterdam, the home cities of the collective's founders: Karel Appel, Constant Nieuwenhuys, Corneille, Dotrement, Asger Jorn and Joseph Noiret. Lasting formally through November 1951, this brief alliance of the Marxist-inspired 'Red Internationale of Artists', which included a vast network of contributors across Europe, sought new means of expression for a new society.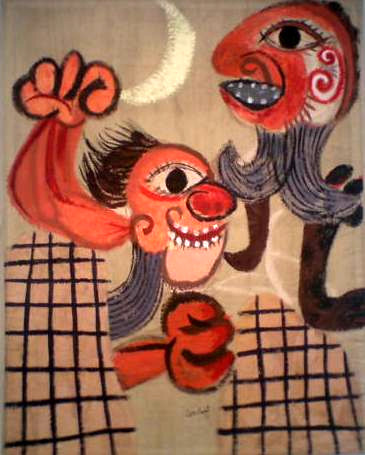 "A utopian amalgam of Surrealism and Marxism launched the group's endeavours. To build an egalitarian social order, these artist–activists believed that culture would have to reconnect with an uncensored, intuitive process of creation born in the individual's unconscious. Rejecting rational Western civilization, which they associated with the horrors of World War II, the group admired the spontaneous expression of prehistoric and 'primitive' peoples, folk and naive art, children, the mentally handicapped and all other untrained 'outsiders.' Both Karl Appel's Hip Hip Hoorah and Constant Nieuwenhuys' The Barricade tap into infantile drives to imagine grotesque creatures with combined animal and human attributes. The group's challenge to the status quo is evident in Barricade, a life-size painting of two bellicose figures shaking their fists, which greeted viewers at Cobra's exhibition at the Stedelijk Museum in Amsterdam in November 1949."
This preference for the primitive, as the great art historian E H Gombrich once put it, is shared by many other 20th century artists, from Picasso to Paul Klee, Joan Miró to the Art Brut founder Jean Dubuffet. However, the Cobra artists did not only want to break down and remake human creativity, but also the way we sign and attribute of creative endeavours. Here's Art in Time again.
"In a similar posture of dissidence, Cobra refused the modern regime of authorship and specialization and instead embraced collaborative projects and diversified individual practices beyond a single medium. Famously, at the Bregneröd gathering at a small cottage in the Danish countryside between August and mid-September 1949, Cobra artists, wives and children lived and worked together on poems, murals, photographs, paintings and sculptural objects. That same autumn, Appel, Nieuwenhuys and Corneille conceived of a 'collective Cobra work' depicting fantastic animals, plants and figures that they signed as an ensemble on the walls, doors and ceiling of a Danish farmhouse not far from Silkeborg. They also painted over an existing work by Richard Mortensen – the first 'Cobra modification' – a recurring strategy of appropriation that underlined their ethos of shared creativity and nonutilitarian ends."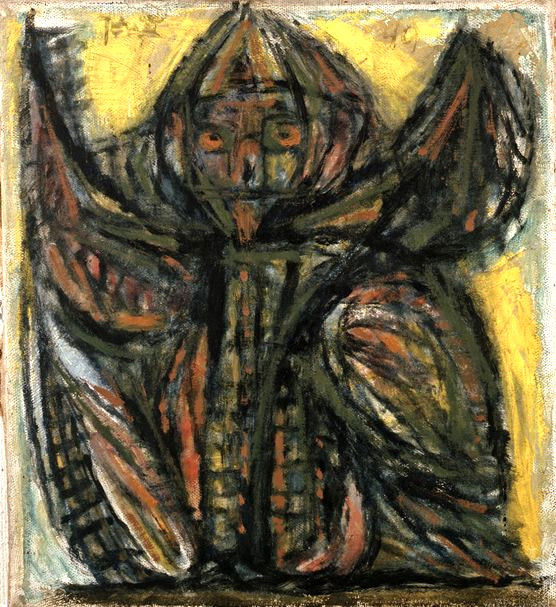 While Cobra artworks are valued today, the movement members found it hard to support themselves with such avant-garde artistic practices, which, as Art in Time explains, eventually led to the group's downfall.
"Experimental methods also fermented in the eight issues of the Cobra review, which included original engravings and lithographs, comic strips, literary and theoretical texts, calligraphic drawings, and reproductions of the members' paintings and sculptures. In the mid-1960s, editor in chief Dotremont had this to say: '… The poverty, then the illness! Think of it, Cobra published a score of reviews … in three years! Without any money! ... The vitality, the daring, the stubbornness, the hunger, as it were that created Cobra, that's what matters!'
"Cobra, the first truly international post-war avant-garde movement, died as heroically and impulsively as it had lived. In 1951, with both Jorn and Dotremont suffering from tuberculosis, Pierre Alechinsky used the back cover of the catalogue to their last group exhibition at the Palais des Beaux-Arts in Liège to publish this decree: 'Mourir en beauté' (Die in beauty)."
For greater insight into this group and its place in art history order a copy of Art in Time here. For more on primitivism in the visual arts order a copy of EH Gombrich's The Preference for the Primitive here.