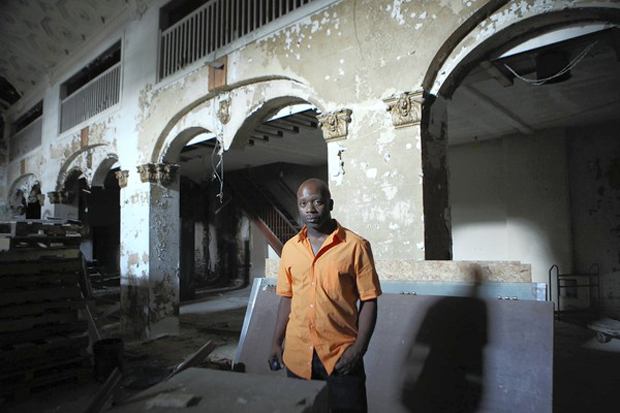 Theaster Gates creates new Chicago artspace
Chicago-based Documenta and White Cube artist takes over downtown bank "to be a good citizen"
American Installation and Social Practice artist Theaster Gates this week submitted planning permission to turn a Chicago bank he recently saved from demolition into a new art and library space. The American artist, who debuted at Documenta in June and will open his first solo show at London's White Cube in September, is trying to persuade Chicago officials to let him help the community in which he grew up by creating a new cultural hub. "I've always felt like it's important that artists be good citizens," Gates told the Chicago Tribune earlier this week. "Citizenship for me includes thinking hard about the cultural life of the place that I live in."
Gates's work deals with issues of urban planning, religious space, and craft.in 2010 he performed and exhibited at the Whitney Biennial and the Armory Show in New York; the Milwaukee Art Museum; Pulitzer Foundation for the Arts in St. Louis; and the Contemporary Arts Museum in Houston. Other recent exhibition venues include the Los Angeles Museum of Contemporary Art and the Seattle Art Museum. He's currently participating in dOCUMENTA (13) in Kassel, Germany, where his 12 Ballads for Huguenot House will be open until September 16, 2012.