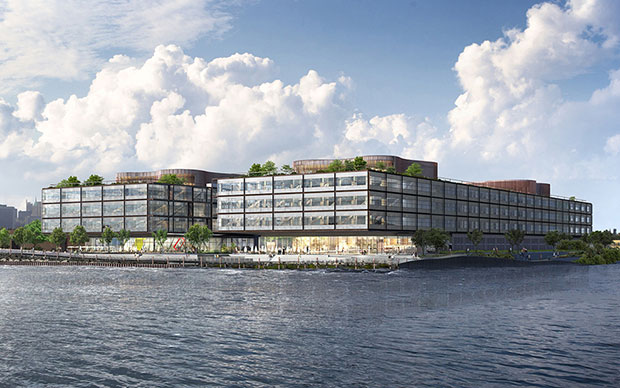 This is Norman Foster's first building in Brooklyn
Up and coming Red Hook gets a glossy, glassy waterfront office block courtesy of the British architect
Red Hook, the up-and-coming corner of Brooklyn which, in recent years, has become home to artisans, musicians, beekeepers and rooftop gardeners (alongside a number of creatives and entrepreneurs of course) is about to play host to a smart glassy waterfront office development, the first design in the neighbourhood by Foster + Partners.
The firm has made a nod to Red Hook's industrial heritage in its building's scale and materials. At just four storeys it's a low-rise box comprising a timber frame with plenty of glazing.
However, the scheme's real kudos comes from its position: it sits right on the water's edge on three sides. The architects have made the most of the location, by cantilevering the building out and creating a deep bankside walkway under the overhang. Restaurants and shops will move into the ground floor units, while offices will take up the top three floors. These are being aimed at the IT and creative companies which are flocking to Red Hook.
This new public esplanade will be designed by NYC landscape architects SCAPE. It will connect the natural surroundings of the 7.7-acre site with the Brooklyn Greenway, a planned 14-mile landscaped route – 6 miles of which are complete - for pedestrians, runners and cyclists that will join neighbourhood parks and open spaces from Greenpoint to Bay Ridge. SCAPE will also be responsible for the building's roof terraces.
"The design pulls its natural surroundings into the site with a promenade, roof terraces and a green courtyard bisecting two low-rise building blocks," says Nigel Dancey, senior executive partner at Foster + Partners. Building work will start on the site next month.
Want to know a little more about how landscape architecture can make or break a great building? Of course you do. So take a look at 30:30 Landscape Archtiecture. And if you're a fan of all things New York take a look at The High Line; and if you simply appreciate great architecture why not take a look at our great new architecture books: This Brutal World, Stephen Holl and Selldorf Architects Portfolio and Projects.