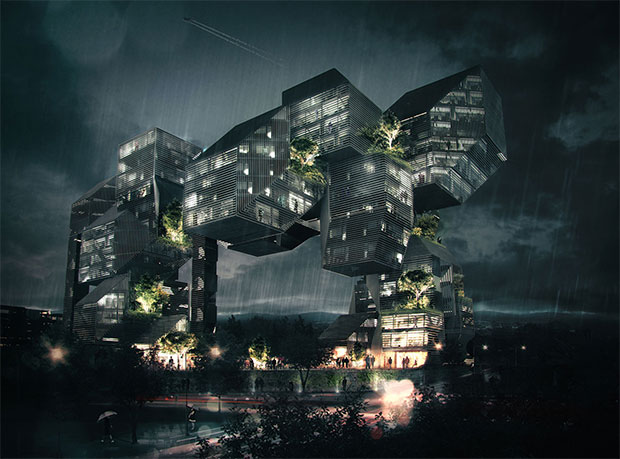 Will this cubist brutal building rise in Costa Rica?
Brooklyn architects CAZA propose new congress hall of enormous concrete cubes in the placid capital San José
The diminutive Central American country of Costa Rica has many things going for it, but contemporary architecture isn't one of them. Staggering biodiversity and an impressive literacy rate of 94.9% have been higher up the agenda than the built environment in recent times – unless one includes the extravagant 'villas' built by local celebrities and expats on lush hilltops.
Now, experimental Brooklyn architects CAZA are hoping to change things. Their proposal for a new congress hall in the placid capital San José (population: 288,000) comprises a series of enormous concrete cubes that are not only structurally dependent but interconnected. The concept, according to the team at CAZA: "demonstrates the precarious role of public buildings in today's wide-angled democratic environment".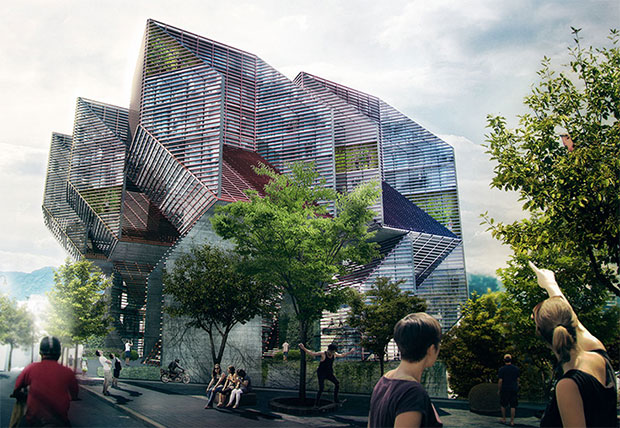 The tropical climate would be kept at bay by a cladding of steel louvres, supported by the roofs and walls of the cubes which would be planted with indigenous foliage as 'hanging sky terraces'.
Like all ambitious architects, CAZA founder Carlos Arnaiz has lofty aspirations for his concept: "The project's combination of geometry and nature revisits the legacy of tropical modernism in South America, inviting the citizens of Costa Rica to imagine that architecture can be a host for the meeting of social struggle and ecological fantasy."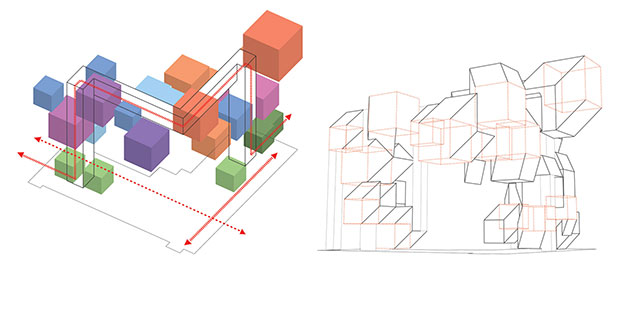 If Costa Rica's government were to actually go ahead and commission this competition entry, it would perhaps sit awkwardly among the capital's Spanish colonial architecture, such as Italian architect Ruy Cristóforo Molinari's National Theatre of Costa Rica. Nor would it necessarily chime with 20th century offerings such as the Art Deco National Insurance Institute building, and the rare late 20th century structure.
But that is the nature of many adventurous schemes – they're as much a wake-up call to citizens as concrete proposal. For some incredible buildings that also broke the mould but ended up being created check our the forthcoming Nanotecture for infinitesimally small buildings, Jutaku for small but perfectly formed houses and This Brutal World for whopping great structures that dominate their surroundings yet have an undeniable stoic beauty.