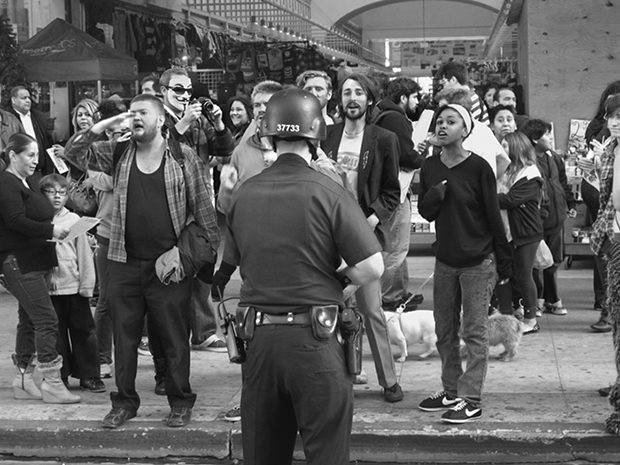 What happened when Danny Lyon joined Occupy?
Right from his earliest days with the Outlaws motorcycle gang The Seventh Dog photographer has never flinched from documenting society's rebels. Here's what happened when he spent time with the Occupy protest movement
Brooklyn-born Photographer Danny Lyon has always combined the opportunistic eye of a good lensman with a radical idealism, forged in the Sixties when he first emerged as a major figure, producing the "New Journalism" with a camera. His appetite for the frontline has remained undimmed throughout his career, which he documents in The Seventh Dog, a magnificent, personal overview of his life and work.
So it was perhaps no surprise that when the Occupy movement sprang up in major cities across the United States in 2011, that Lyon, by now almost 70, hastened to the thick of the action. With Lyon telling his story in chronological reverse, the images he captured are among the first you'll come across in the book.
The most prominent and striking of these is one taken on Broadway in Los Angeles. We see a small knot of protestors, including a skinny, bearded guy staring mockingly into the eyes of a helmeted police officer and a young African-American girl pointing angrily to herself, simultaneously conscious of Lyon's camera pointing in her direction. Other pedestrians seem semi-detached from the proceedings, making us wonder if they are sympathetic or unsympathetic to the demonstrators, and maybe like Danny, secretly enjoying the spectacle.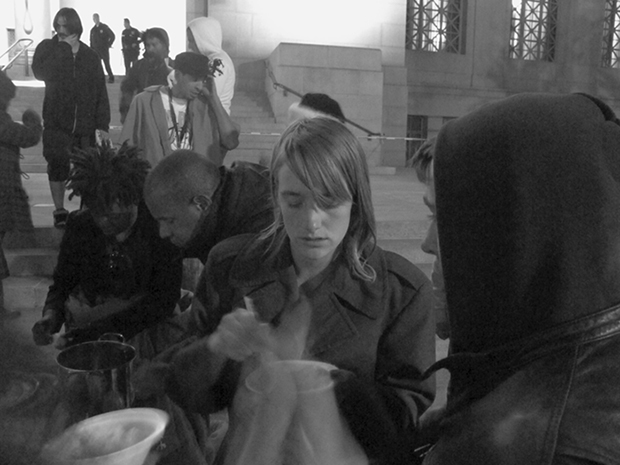 Typically though, Lyon doesn't merely offer this as a neutral image, as if he himself is an impartial observer. As his accompanying text explains, in order to get shots likes this, he had to depart from the "designated press area", get in behind the police line (which is why we see the policeman from the rear).
In doing so, he apparently incurred the wrath of a senior officer, unimpressed when Lyon brandished an expired, New York press pass at him. "Go ahead," jeered Lyon. "Arrest me. You'll get more publicity than you want." Finally, Lyon agreed to move on - but only once he'd got his pictures.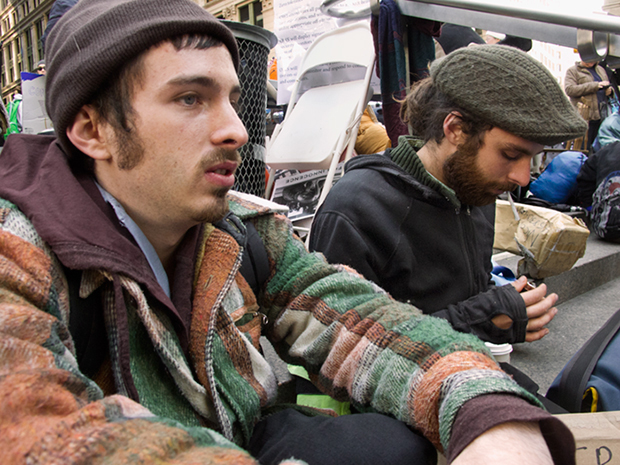 You can find many more fascinating stories - and of course, many more momentous photographs - in the The Seventh Dog which takes the form of an original artist's photobook featuring Lyon's own writings, collages, letters, documents and colour and black-and-white-photographs – many published for the first time.
This is Lyon's personal story of his photographic journey; starting in the present day and moving back in time, as well as recent work such as Occupy (2011) and Indian Nations (2002), it features classic series from the 60s and 70s, such as Bikeriders and the Texas Prisons. It also includes a new essay by Elisabeth Sussman, a Curator at the Whitney Museum of American Art.
Take a look at, and learn more about, The Seventh Dog in the online store, browse our other Danny Lyon online stories and if you like what you see join Phaidon Club for outstanding offers, discounts and the chance to get closer to the creatives you admire.