Phaidon.com readers will need no introduction to the work of Steve McCurry. The Magnum photographer is the recipient of hundreds of photographic awards and the creator of a portfolio of incredibly powerful images that astonish, inspire and draw admiration from pretty much everyone who looks upon them. In this week's Editors Introduce story, Phaidon's publisher and editorial director Amanda Renshaw previews Steve McCurry Untold, a look behind the scenes of the work of a truly legendary photographer. Amanda brought Steve to Phaidon 16 years ago and here she tells us about a special relationship that has resulted in some of some of the greatest photography books Phaidon has published. The latest, Untold, features a vast array of Steve's personal effects and story-related ephemera which he's kept over the years and which is presented as authentically as possible along with 14 newly commissioned essays and some exquisitely reproduced photo galleries of his most iconic work.
First of all, a bit of history: how did Phaidon's relationship with Steve McCurry begin?
I first met Steve in September 1997. He had a small show in a festival in Perpignan, France. At that time he was known by other photographers, but not really by a wider audience. The photographs in the show were mostly of India. They were sumptuous, very accessible and beautiful images. I noticed that there was a press conference the next day so I went along. It was a small conference with a few people asking questions about colour, but otherwise not really much activity. When I got home I did some research – he'd published a book on the Monsoon that I think was no longer available. He was known by his peers – he was after all a member of the prestigious photo agency Magnum. But he was hardly known at all by the general public and it became clear that you only recognized the now iconic photograph of the Afghan girl if your parents had subscribed to National Geographic magazine. We asked him if he'd like to make a book with us. Since then we've made I think 9 books together. This, I believe, is our tenth.
What was it you saw in the pictures?
They're uplifting. The colours are extraordinary and the imagery is beautiful – everything is sumptuous. There's also a certain exotic feel to his pictures and that's only partly because they're shot in exotic places. How, what and where he shoots is the McCurry magic.
So fast-forward 16 years, how did the idea for Steve McCurry Untold come about?
Phaidon had organised for him to speak at the Royal Geographical Society in London. After the talk, he and I went upstairs, probably through some door that you're not supposed to go through, and we found some vitrines of artifacts. In them were things like a sailor's cap that had belonged to Livingstone and a pith helmet that had belonged to Stanley, Mallory's altimeter - things like that. And Steve got excited and we started talking about explorers. I realised that Steve, and many photographers, are like today's explorers. They're adventurers, people who get to go to different parts of the world that we don't normally go to and they investigate them for us. They're trying to immerse themselves and understand these other cultures. When I talk to Steve about other photographers he never gets super excited but talking to him about these explorers, well, they were like his heroes. And, hearing him talk about these explorers sparked an idea. It suddenly dawned on me that every time he'd done a story it was an adventure, a moment of discovery or journey of discovery, and we should describe these journeys and ventures and explorations that he'd been on. So we decided to choose the 10 to 15 most important photo stories he'd taken and tell the backstories behind those adventures. How did you get there? Why did you go there in the first place? Who instigated the whole thing and what were the obstacles and administrative problems that you had to overcome on the way? What did you discover when you got there? It was the explorer in him that I wanted to explore.
How did you begin to track down all the ephemera?
I'd often been to his studio and knew that he had all this material – cupboards and cupboards of boxes filled with notes, ticket stubs, press passes, letters. It took months and months, sifting through his wardrobes, his desks and pulling out all this ephemera - there was so much of it. Touching the things that he'd touched when he'd been on these explorations was like touching history. It's not always easy to get the information out of Steve he's a very private individual. And it took this 10-year relationship to enable him to loosen up and feel confident that he could tell these stories. So many creative people are frightened of sharing their background stories with other people. They're nervous they might be copied. But if you are exceptional you can tell everybody anything - it doesn't matter. Only people who carry the exceptional gene can make exceptional things. You can try all you like, but without the exceptional gene, what you copy won't be exceptional. So in the course of making the book Steve was able to open up and tell us things that he'd never told anybody else before.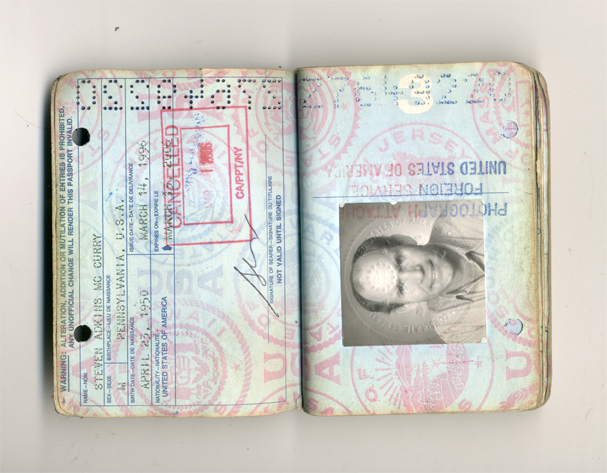 You really get a sense from some of his notebooks that you are witnessing the birth of a particular element of his style – often an element that came to define some of his best work
Absolutely. In a way Steve is a very literal person and he has these certain rules that he follows – the idea, for example, that if you're taking a portrait you always have to speak to the person. He's done that for 40 years and he will continue to do that. It's a way of engaging with the person and it works. He believes you have to immerse yourself - whether it is in the person or in the monsoon water!
That perseverance and single-minded determination is where his work approaches the realms of art isn't it?
Yes. He is an artist that perseveres with the same approach. Think of somebody like Lucien Freud who made portraits for 60 or so years. He had a single major shift in style, but he kept going back to the same subject, portraiture, skin, the body. Or Robert Mangold, who's painted different shaped canvases for the last 50 years with a line here or a line there, he hardly changes what he does but he consistently pushes the medium to its extremes.
The photo stories are accompanied by 14 newly commissioned essays, which are the ones you're most fond of?
Tough question! Personally, for me the best story in the book is the one on Mumbai. Many of these pictures were in that first show I saw back in 1997. Steve has been going back to India for so many years - that's where his career started. And you really feel in that Mumbai story that he has immersed himself in that culture, you almost feel that you're there when you look at those pictures. And that's what Steve is great at. He's gone back so many times, he knows the people so well, the culture so well, the light, the streets – he's brought it to life in a way that always reminds me of Vikram Seth's A Suitable Boy - it's almost like his photographs are the lives of Lata, Arun and Kabir brought to life in technicolor.
And revisiting the stories again after a number of years what's the one that really surprised you?
The first story in the book (Shooting Under Fire, Afghanistan 1979-82). This is the best kind of photojournalism. I think this was the story that got him into Magnum. First, it's a surprise because the photographs are all black and white and you expect colour from Steve McCurry. Secondly the photos demonstrate what a crazy, mixed up world we live in. The pictures were taken in the late 1970's, early 1980's in Afghanistan. It was the world's fighting ground then and it still is today. Afghanistan had just suffered a Soviet-backed coup. The anti-Soviet Mujahedeen – Taliban – rebels smuggled Steve into the country to travel and spend time with them and to document their cause. Steve was an American – anti Soviet – so he was considered a friend to the Taliban. Now, in the second decade of the 21st century, there's no way an American photographer would be chosen to document this cause! Politics and political interest – turned upside down – a crazy world.
Can you tell us a little bit about how you picked the journals, tickets and hotel vouchers? Were there stories within each story you wanted to tell with those?
Well for every story we wanted to choose the ephemera that would bring that story alive as much as possible. Steve has a lot of similar material and we wanted to keep it as varied as we could, so for some stories we focused on the administrative material, the visas and letters of introduction and for others we focused on the material he collected when he was there. Really, it was trying to make each story as different as possible. I think the most interesting things were his handwritten thoughts: his lists of what he's got to do, things like 'Steve's maxims' – the rules he sets himself – because you feel you're getting inside his mind, understanding how he works. They're in his handwriting, and they're something that he carried around with him. They give you a real insight.
What insight do you think the reader gets into Steve as a photographer and as a fellow human from Untold?
That his success was hard won. That he did an enormous amount of research on the places that he went and that he really tried to understand the culture that he was immersing himself in. He never went anywhere unprepared. He would speak to every single person he possibly could to work out where the right places to go were, what time of the day he should go there and how he could find the right people who could give him the inside track. He would really try and get under the skin of the places he went to and that took research, hard work and perseverance. Steve McCurry is a very hard working photographer. Achieving what he's achieved is not luck. It takes a hell of a lot of hard work and it's a real grind. I think that's one of the things that make Steve McCurry great. He does not give up. He's like a dog with a bone. He's this unassuming person who's very charming but who is absolutely determined to get his story and he will work like crazy until he comes away with it. He'll shoot and reshoot and he'll go deeper and deeper into the place that he's in to get the picture and the story. It's the epitome of that Robert Capa saying: "If your pictures aren't good enough you're not close enough."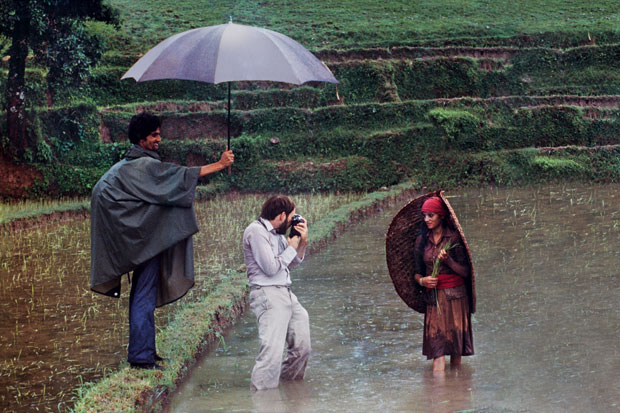 So are you any closer to his secret, how he gets these incredible shots?
I have walked round the streets of Jaipur with Steve and I forgot that he was there. We left the hotel together. He's got his baseball cap on, he's wearing his flak jacket, his pockets were stuffed with film and he carried his camera. He was heavy laden. And you think boy, everybody's going to notice him. But as you walk through the streets he disappears. He's ephemeral. He's very light-footed; he moves in a certain way. He's almost like a dancer moving around the town. His feet hardly touch the ground. I'll give you an example: He loves dogs, and he saw these two dogs, playing, sniffing at each other. He didn't touch them but he played with them and encouraged them to do what they were doing and danced around them and shot them from different angles. Somehow he moved like they did so that he was in the same rhythm as them. It was really interesting to observe. It was as if he was a shadow, not really a person. He doesn't get in the way, he's not aggressive, he's got this kind manner but it's more than that. It's not just being a nice person on the street or just being kind and polite, he moves in a certain way. I think that's one reason that his pictures are so immediate. When you look at the photography, you forget Steve was there. It's just you and the person in the picture. Steve's not looking at them. You are.
Finally, the vast array of imagery and content in a book as unusual as this – the galleries, the essays, the ephemera itself - must present a huge publishing challenge

Well to take one of those elements, when you reproduce ephemera if it's an object you're reproducing rather than a flat piece of paper you want to make it feel like an object – like something the reader could reach out and hold. So you have to take time over deciding how you photograph it. In the chapter on Kashmir, for example (In The Vale Of Sorrow) there are pictures of Steve's passport. We wanted to show that as a three-dimensional object so we photographed it in a certain way, open so that you can see the pages on either side which gives it that special three-dimensional quality. You don't want to present these things by just cutting them out and presenting them flat – what publishers call squaring them up – because that's uninteresting. So you have to try harder. In the chapter A Country Apart where Steve's in the Yemen, we've included the corner of a letter turned over; we didn't want to lose things like that. It's about making it as real as it can possibly be, making it as close to the history as possible and, above all, allowing the reader to feel as close to the story as possible.