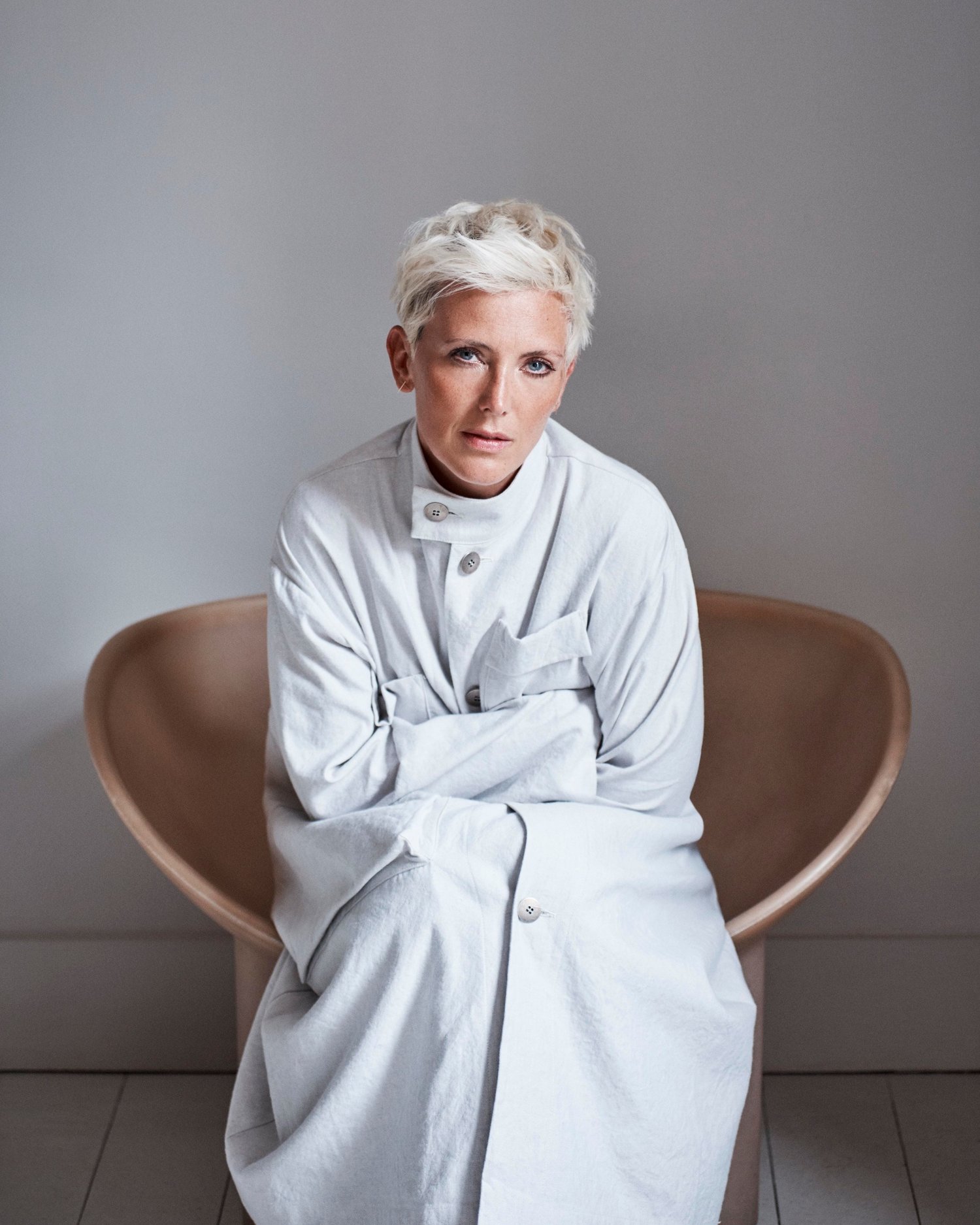 Woman Made: Faye Toogood
Faye Toogood's practice works across sculpture, furniture, and fashion for clients such as Carhartt, Hermès, and Comme des Garçons. Here she tells us about the intricacies of great design
Brought up in the English countryside, Faye Toogood would forage for natural materials from her surrounding landscape, cultivating what she describes as her "cut and paste" style, which reflected an early interest in juxtaposition and contrast.
This approach resonates throughout her design work, which uses both precious and lowly raw materials. She studied Art History at the University of Bristol, and was Interiors Editor at The World of Interiors for eight years before branching out into design. Despite being untrained, Toogood has excelled in creating contemporary classics such as the Roly-Poly Chair, as well as high profile, larger-scale commissions, overseeing residential and retail projects for clients including Mulberry, Carhartt, Hermès, and Comme des Garçons.
Toogood doesn't overwork her designs; instead they remain playful, yet deeply serious. Her furniture, for example, embraces heavy industrial materials such as fiberglass and metal, while natural fabrics like raw denim, linen, or silk are prominent in her clothing. Toogood describes her studio's designs as "deeply human" – a comforting admission from such an accomplished designer. She is also one of the female designers featured in the new Phaidon book, Woman Made: Great Women Designers. In this interview she reveals the thinking behind her most satisfying design, her work with textiles and pattern, and offers some advice to young women designers.
What was the design of yours that was the hardest but ultimately the most satisfying to create?
The Roly-Poly Chair was the hardest piece to create. I wanted to create a collection with curves, which are notoriously difficult to make in furniture. I had to find a way of doing it without large and expensive moulds and embarked on a process using fibreglass, which I'm very proud of. The Roly-Poly Chair came after a few of my collections with a more angular, hard, more 'male' attitude to design. I had previously been working with welding, steel and security mesh and other materials usually associated with male furniture design. Roly-Poly came about after the birth of my first child, a real departure for me expressing the soft, plump enveloping aesthetic which I've moved forward with.
Are there aspects of the design process that women are better suited to? Or is it wrong to think of hard differences between male and female design?
I don't think women are better suited to a particular area of design, but I do believe women come with a different approach to materials, function and form. I believe that women design with a more human ethic, taking into account environment, social situations, aesthetics and humanity. Interestingly, when I started working as a young female designer, there were very few others, and I chose not to work with the decorative arts - by that I mean textiles and ceramics in particular. I did this because I wanted to be taken seriously in a male dominated environment. Today I'm working with textiles, color, pattern and ceramics but from my starting point of sculpture, form and geometry.
As a female designer, do you have to work harder for certain commissions, or turn down certain requests, in order to avoid gender bias?
Regrettably I do think there are times I have missed out on larger commissions due to us being a female-led practice, but this is happily not the norm. What I do find frustrating and what I tend to shy away from is conversation around gender when it comes to my own work as I don't believe gender is relevant in today's society.
What is the one thing that still hasn't been designed correctly for a woman?
It's interesting to know that most scientific studies related to product design are done on males rather than females because of the inconsistencies around the female cycle. In the history of sports performance, in large sportswear companies, all research is performed on men. I believe sportswear could cater to women's bodies and performance in a more rigorous way if studies included women as well as men.
What advice to you give young women designers?
I don't officially mentor or coach or teach female designers, but obviously, over the years, I've imparted some knowledge based on my own experience. My one piece of advice is to not ignore your gender and femininity, which was the approach I took back in the 90's, but to embrace femininity, in order to harness creativity. When I was a young woman I was sold the impossible dream of having children and a career, but I feel now young women are more aware of the impossibilities around this and will find the right balance.