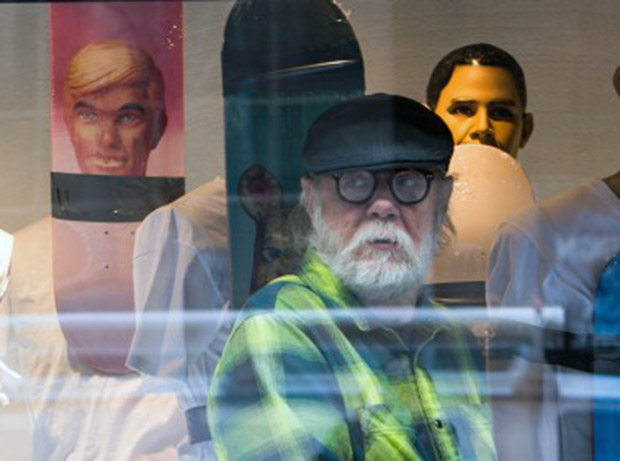 Paul McCarthy joins the skateboard economy
Baldessari, Ballen, Warhol and Wool all have trucks on their designs - now the Phaidon artist does too
What sort of old junk do you have in storage? In all likelihood, it isn't as filthy the stuff Paul McCarthy once had in his trunks. "Between 1972 – 1983, I did a series of performances that involved masks, bottles, pans, uniforms, dolls, stuffed animals, etc." explains the 69-year-old American artist. Though 'performances' is perhaps too mild a term to describe these scatological, pop-culture freak-outs, which saw the artist copulate with raw meat and insert a toy doll in a place not in keeping with its design parameters.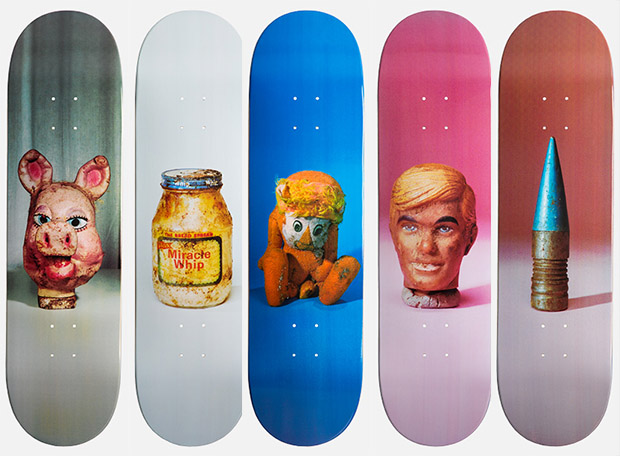 "After the performances, these objects were either left behind or they were collected and stored in suitcases and trunks to be used in future performances," McCarthy revealed in his artistic statement. "In 1983, the closed suitcases and trunks containing these performance objects were stacked on a table and exhibited as sculpture. In 1991, I opened the suitcases and trunks and photographed each item. The group of photographs in their entirety was titled PROPO."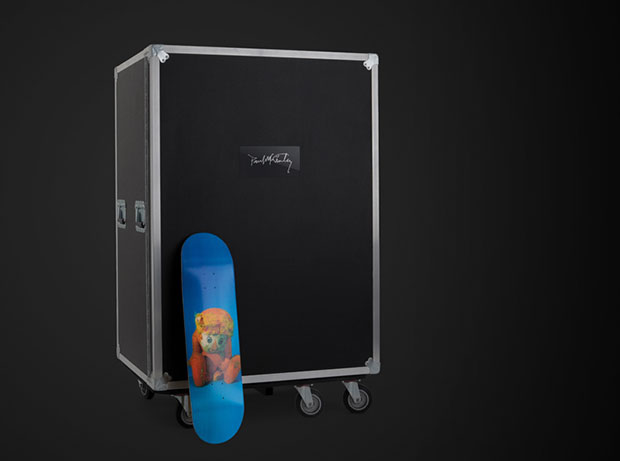 PROPO was shown at Hauser & Wirth in Zurich back in 2012. Now the series is set to reach a wider audience, thanks to a European skateboard manufacturer. The Belgium fine-art skate company, The Skateroom has reproduced 10 PROPO pictures in a series of 10 limited edition skateboards. Each board design is limited to 250 editions, with the first 35 in the set reserved for a signed collector's set, presented in a custom-made flight case.
The Skateroom don't provide wheels or grip with each board, though the producers, who have also made Warhol, Ai Weiwei and Takashi Murakami boards, do include the appropriate equipment to hang the deck on your wall, indicating the kind of collectors the boards are being marketed to.
It's not known whether McCarthy has attempted any 'backsides' (look it up non-boarders) himself to test out the offering, though fans of the art in his great Phaidon book will know he's sure been no stranger to them as part of his artistic practice over the years.
Prices for the boards start at €320 and $350, which might sound like a lot for a 32-inch long piece of Canadian maple plywood, yet The Skateroom say that sales from the collection will finance the building of a skateboard school, in Johannesburg in South Africa. Called Skateistan, the facility "will use 'the hook' of skateboarding to connect vulnerable youth to educational and leadership opportunities," apparently.
If you've a little cash for a dirty board that aids a good cause, you can buy the PROPO series directly from Theskateroom.com, or from The Museum of Modern Art's shop. Meanwhile, for more background on McCarthy and his props consider pre-ordering our newly updated Contemporary Artist Series book, due out next month. And you can see plenty more collectible artist skateboards over at Artspace.