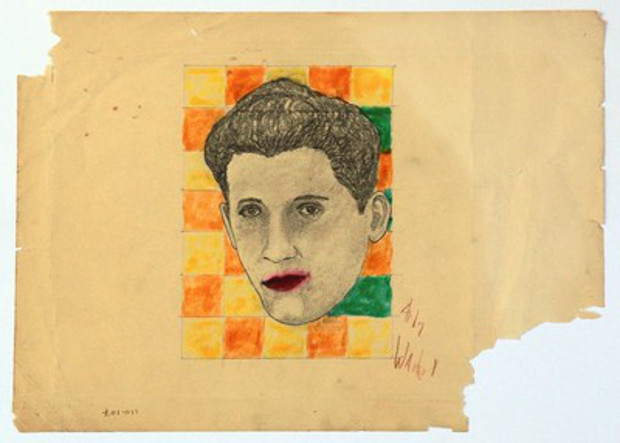 Is this really Warhol's first piece of pop art?
A British man is trying to sell this drawing, which he claims is the work of an eleven-year-old Andy Warhol
For Warhol collectors, the big news this month is Christie's pop-up sale in Aspen, organised to coincide with the resort's art fair. Yet there's another sale that has gathered quite a lot of attention in Britain's popular press. Andy Fields is a Devonshire entrepreneur, poker player and wildlife art enthusiast. He claims to have acquired a very early artwork by Andy Warhol and is currently trying to sell it on Ebay, for £1.25m. Fields says the work depicts the pre-war radio star, Rudy Vallee, and was drawn in 1939, by a bed-ridden, eleven-year-old Warhol.
Fields says he acquired the work at a Las Vegas garage sale for a few dollars, alongside other pieces of artwork as part of a group sale, including, Fields claims, some Hollywood caricatures drawn by the 20th century modernist writer, Gertrude Stein.
No reputable art expert has authenticated Fields' finds, and a few commentators – including Stein scholars, Gary Comenas from Warholstars.org and Warhol's own brother – have rejected Fields' claims. Others have simply pointed out that Andy Warhola did not drop the final 'a' from his surname until 1949 - ten years after Fields says the piece he owns, signed 'Warhol', was completed.
All in all, it doesn't seem like the safest place to park £1.25m. Nevertheless, a work of this provenance garnering so much international attention, attests to Warhol's ongoing appeal. Bold bidders, and curious window shoppers, can take a look at the Ebay listing, which comes to an end this Thursday. For a more thorough grounding in the artist's work, please take a look at our Warhol books including our compact Phaidon Focus volume, and our ongoing Warhol Catalogue Raisonné.