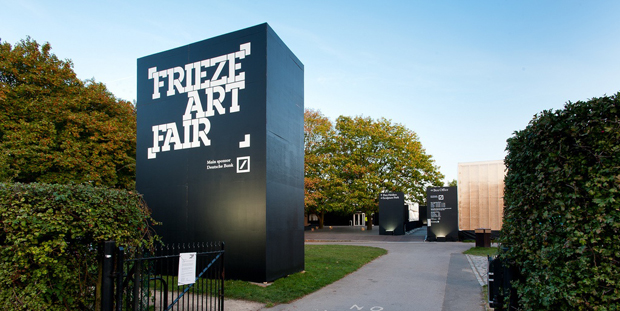 Frieze art works fly off the walls
Brisk trading marks preview days as Tate Gallery and new Brazilian collectors buy big
While this year's Frieze may, in places, be missing the kind of left-field Christian Jankowski yacht-selling, eyebrow-raising exploits of 2011, this year's show looks set to be the most commercially successful yet.
Galleries have reported strong sales ahead of today's official public opening. Collectors snapped up works ranging from Pablo Picasso's Buste d'Homme for £5.9 million at New York's Acquavella Galleries to a new Damien Hirst , Destruction Dreamscape, for a reported £500,000 at White Cube. Hauser and Wirth saw the sculpture White Snow Head by Paul McCarthy sell for £812,000 within 10 minutes of opening. Nicholas Logsdail, founder of London's Lisson Gallery, said they had seen "excellent" results both at Frieze and Frieze Masters. "We've gotten off to a good start - excellent sales on the first day with significant acquisitions across both fairs," he said.
On the whole, galleries have opted for a restrained curatorial approach, favouring crafted pieces over big conceptual statements. Bombast is out, and art on a thoughtful scale is in. The resulting sales have included a £150,000 work on canvas by the late British conceptual artist John Latham and a Ryan Gander Perspex work sold to the Tate for an undisclosed sum. Thomas Dane Gallery had almost completely sold a whole wall of nine works by British painter Caragh Thuring, again, one of them also to the Tate. Thuring interprets environments such as New York subway stations by isolating symbols and patterns in architecture and arranging the forms onto linen. Tate curator Tanya Barson said the institution had been watching Thuring for some time before buying the work titled Arthur Kennedy. "She is a young artist, towards the beginning of her career, but the gallery has looked at her for a while. This was the right piece to add to the collection."
Thuring painted the five-by-seven foot canvas while on a residency in New York. "It was the view outside my window, which is not something I tend to do," she said. The Tate buys from Frieze every year with funds from Outset, a philanthropic organisation founded nine years ago to support new art. A total of 86 works by 57 artists have been bought in the years since. The Tate also bought a 1963 work by Hideko Fukushima, an artist who was a founder member of the Experimental Workshop in Japan in the 1950s, and South African artist Nicholas Hlobo. Epsilon Group II, a 1977 oil painting by Jack Whitten, was also among the four acquisitions.
Naturally, the stars were out in their droves for the opening two days. At the private view yesterday Dasha Zhukova was spotted along with sculptor Marc Quinn. Other attendees included new Radio 1 breakfast host Nick Grimshaw, Richard Bacon, Zaha Hadid and Jeremy Deller. Duran Duran's Nick Rhodes (who told us he'd once bought a Warhol on his Amex) , ex-Chelsea star Michael Ballack, Grayson Perry and Neil Tennant from The Pet Shop Boys. Nicholas Serota and Chris Dercon from the Tate were also in attendance. At Harry's Bar in Mayfair, Jay Jopling celebrated with a private dinner. Guests at the members' club included Laura Bailey, Gillian Anderson, Sam Taylor-Wood and husband Aaron Taylor-Johnson, and artists Jake and Dinos Chapman.
Amid the air-kissing and designer-handbag-wars of the VIP queues, one collector was overheard saying: "There are more Brazilians in this queue than there are in São Paulo." The comment bore out auctioneer Simon de Pury's remarks to Phaidon last week that Brazil is a strong entrant to the global art market following that of China, Qatar and Russia. White Cube is set to open a branch in São Paulo this autumn and Márcia Fortes, of Sao Paulo's Galeria Fortes Vilaça, said, "We used to have 10 good Brazilian collectors, but now there are people I barely know that are clients of the gallery."
The last word should go to the ever astute Adrian Serle who noted in the Guardian "All art fairs are much the same. Frieze is a bit more fun, and better organised than most. But there is the same sense that, apart from schmoozing, a critic's only role here is to witness the collisions of taste, and to stare appalled at things no serious adult ought to want to own." The fair runs in Regent's Park until this Sunday. Buy tickets here.