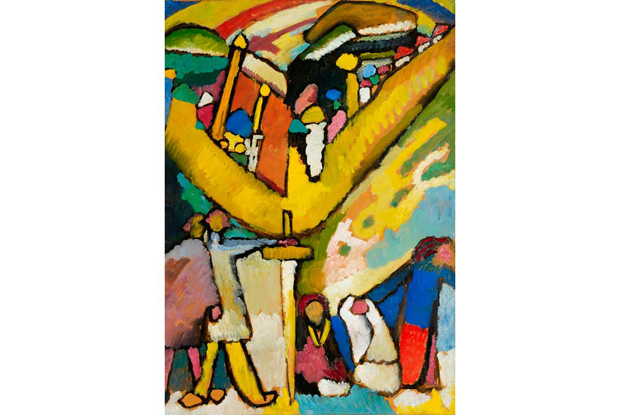 Kandinsky painting set for new auction record
Studie für Improvisation 8, recognised for its contribution to abstract art, could sell for $30 million at Christie's
Wassily Kandinsky's Studie für Improvisation 8, widely recognised for its significance to the advancement of abstract art, is expected to set a new world record for the artist when it's auctioned at Christie's Evening Sale of Impressionist and Modern Art on November 7.
The painting is a study for the last of the eight numbered paintings Kandinsky created in 1909 as part of a pioneering series he called "Improvisations." The art work has been estimated at $20-30 million, potentially setting a new record for the artist at auction. The current record of $20.9 million was set in 1990.
The estimate assigned to the painting reflects both its exceptional museum provenance - it's been featured in major museum shows organised by Tate Modern, Kunstmuseum Basel, the Fondation Beyeler and the Musée des Beaux-Arts in Montréal - and its rarity. Studies from Kandinsky's landmark "Improvisation" series of 1909 have come to auction only twice in recent years from private collections and nearly all of the known finished versions of the studies are housed in museums.
"From a collector's perspective, Kandinsky's Improvisation series is at the nexus of some of the most compelling innovations of the avant-garde era," says Brooke Lampley, Head of Impressionist and Modern Art at Christie's. "Through these paintings, Kandinsky was pushing the traditional limits of artistic expression in order to advance radical new theories about form, colour, subject matter and most of all, artistic impulse. It is remarkable to look at this exceptionally beautiful modern painting today and see that all of our contemporary notions of abstract art evolved from pioneers like Kandinsky, who truly blazed the trail for so many to follow."
As the new edition of The Art Book points out, Kandinsky became aware of the power of abstract art after he saw "extraordinary beauty, glowing with an inner radiance" in an abstract painting, before realising that it was one of his own, seen upside-down.