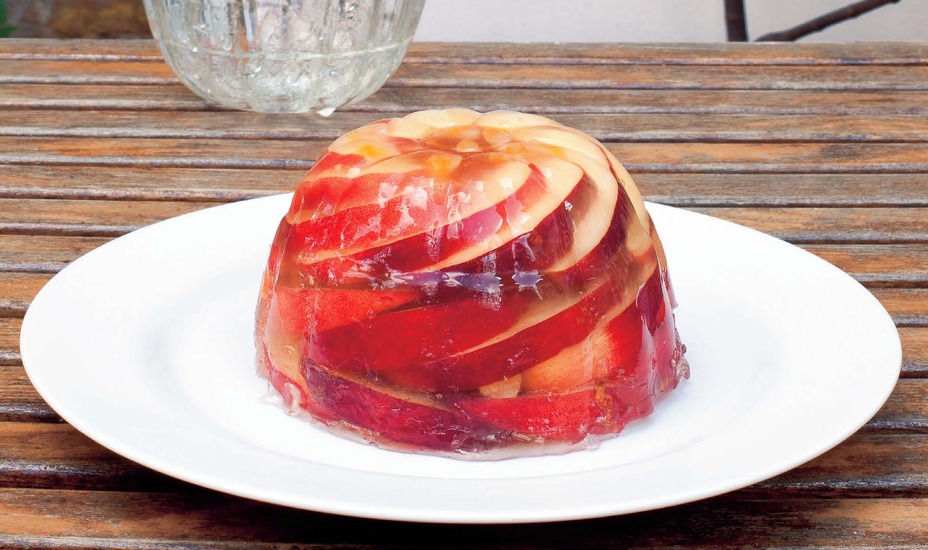 Peach aspic
A recipe from Recipes from an Italian Summer
Preparation: 2 1/2 hours (including chilling)
Cooking: 20 minutes
Serves: 4 people
Ingredients:
3 leaves gelatine
3 ripe yellow peaches, stoned and cut into eighths
120ml (4fl oz) (½ cup) Amaretto or other liqueur
200g (7oz) (1 cup) caster (superfine) sugar
150g (5oz) (scant 1 cup) candied fruit, chopped (optional)
Method:
Put the gelatine leaves into a small bowl of cold water to cover and leave to soak for 10 minutes.
Meanwhile, put the peaches into a bowl, sprinkle with the liqueur and chill in the refrigerator.
Pour 500ml (18fl oz) water into a small pan, add the sugar and bring to the boil, stirring until the sugar has dissolved. Squeeze out the gelatine and add it to the pan, then add the water from the bowl. Bring to the boil, stirring to dissolve the gelatine, then remove the pan from the heat.
Stir in 120g (4oz) of the candied fruit, if using, and leave to stand for 5 minutes.
Pour one-third of the mixture into a glass bowl and chill for 30 minutes, until it begins to set.
Remove the bowl from the refrigerator, arrange half the peach slices on the gelatine, cover with half the remaining liquid and return to the refrigerator for 30 minutes.
Repeat with the remaining peaches and liquid, return to the refrigerator and chill for 1 hour, until set.
To serve, turn out onto a serving dish and decorate with the remaining candied fruit, if using.