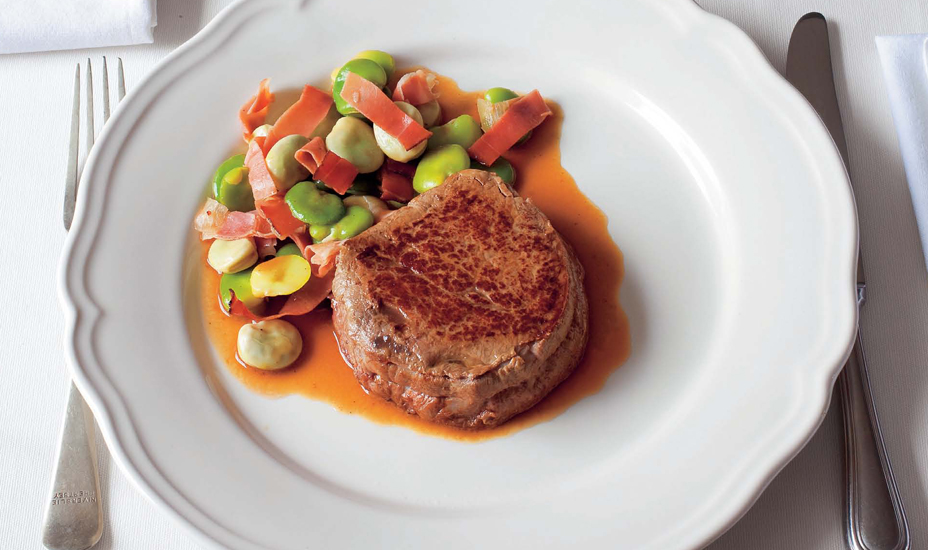 Fillet of beef with broad beans
A recipe from Recipes from an Italian Summer
Preparation: 20 minutes
Cooking: 25-30 minutes
Serves: 4 people
Ingredients:
100g (3½oz) (scant 1 cup) shelled broad (fava) beans
8 thick slices beef fillet (tenderloin)
plain flour, for dusting
3 tablespoons olive oil
juice of ½ lemon
100ml (3½fl oz) (scant ½ cup) dry white wine
40g (1½oz) speck or other dry-cured smoked ham, cut into strips
salt
Method:
Cook the broad beans in a pan of salted boiling water for 5 –10 minutes, until tender, then drain.
Pop the beans out of their skins with a thumb and forefinger. Dust the slices of beef with flour, shaking off the excess.
Heat the oil in a frying pan, add the slices of beef and cook over medium-high heat, turning once, until lightly browned and cooked to your liking.
Sprinkle with the lemon juice and wine and cook for a few minutes until the alcohol has evaporated. Add the broad beans and strips of speck, mix carefully and cook for a further 5 minutes.
Serve immediately.