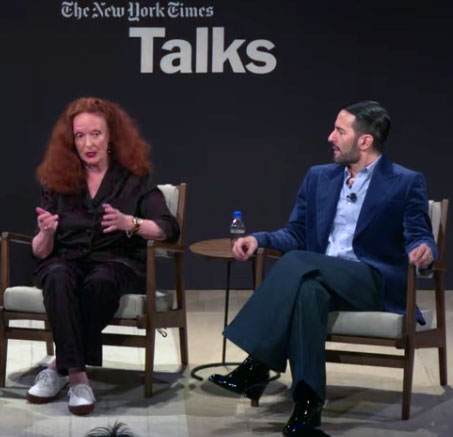 Grace tells Marc how he helped her beat a 'fashion nightmare'
The Vogue creative director recalls the designer's grunge collection and how it finished off '80s power dressing
When Grace Coddington moved to New York City in the mid-Eighties, she wasn't in love with the prevailing, big shoulder pads, power-dressing fashion of the day.
"That whole Working Girl period was a nightmare for me," she told the audience at last Friday's Times Talk, a specially arranged discussion between Grace and her long-standing friend, the fashion designer Marc Jacobs, to celebrate the publication of their new book, Marc Jacobs Illustrated.
Grace credits Jacobs' grungy, gamine spring/summer 1993 collection – created back when Jacobs still worked for Perry Ellis – as giving her hope for a life beyond pastel shades and shoulder pads.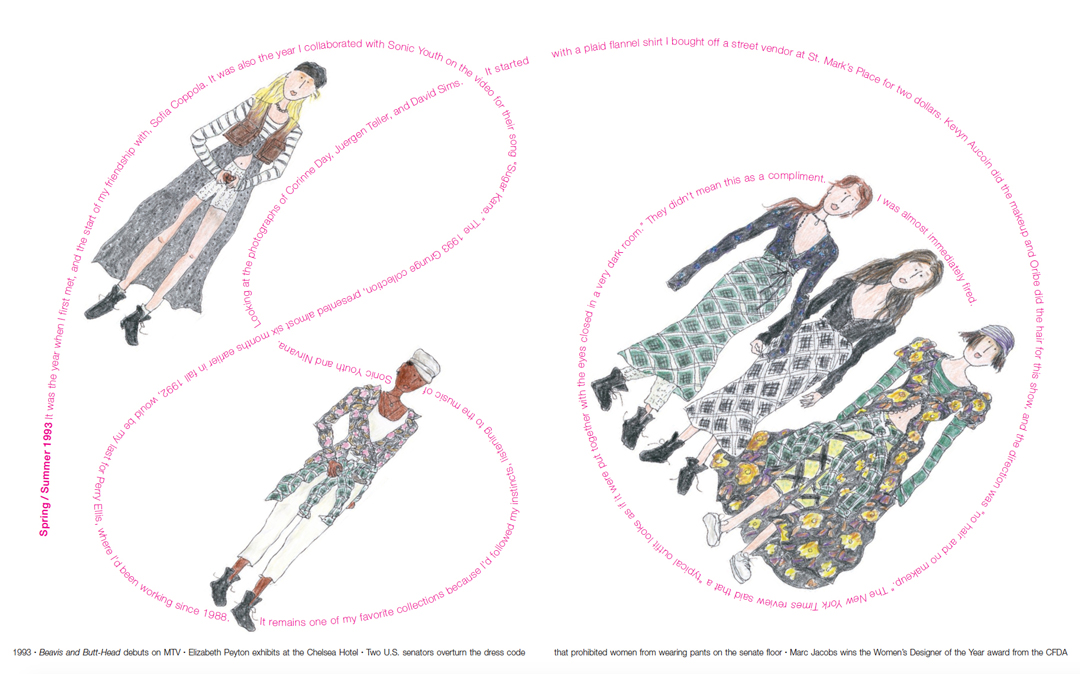 "It came along and changed everything for me," she told the New York Times' Matthew Schneier, who chaired the discussion. "I found my feet again."
Jacobs, who was fired from Perry Ellis for that collection, agrees that the work, which was first shown to buyers and critics towards the end of 1992, heralded a pretty significant change.
"It brought in photographers like Juergen Teller and David Sims and Corinne Day," he recalled. "and it also said, 'glamour is not what you thought it was; it's not a face full of paint, its not hours in the hairdresser, it's looking like Kate Moss. Which, of course most women can't achieve. So it frustrated people and it scared them."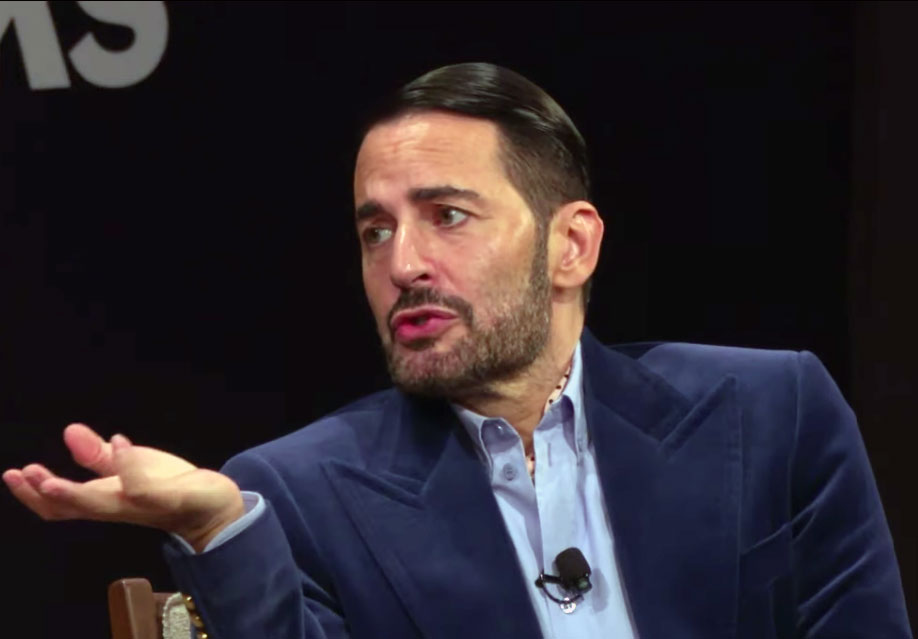 Over a quarter century later, both Grace and Marc are facing similar inflection points, as the online world alters the way we admire, buy and wear clothes.
"I didn't ask for the internet," said Jacobs. "I liked it when people wrote thank-you notes, and when they weren't attached to their devices all the time. I liked magazines being around; I waited around for a new magazine to come out.
"I like shopping, hanging out, looking at clothes, touching them, trying them on," he went on. "I've never bought anything online. But you can either adapt and embrace change, or you can be resistant and bitter; life is going to do what it does anyway."
Grace, who worked at Vogue for most of her career, expressed a similar ambivalence towards the online world. "If my pictures appear on Instagram, it doesn't count," she said "I have a hard time with what's happening online."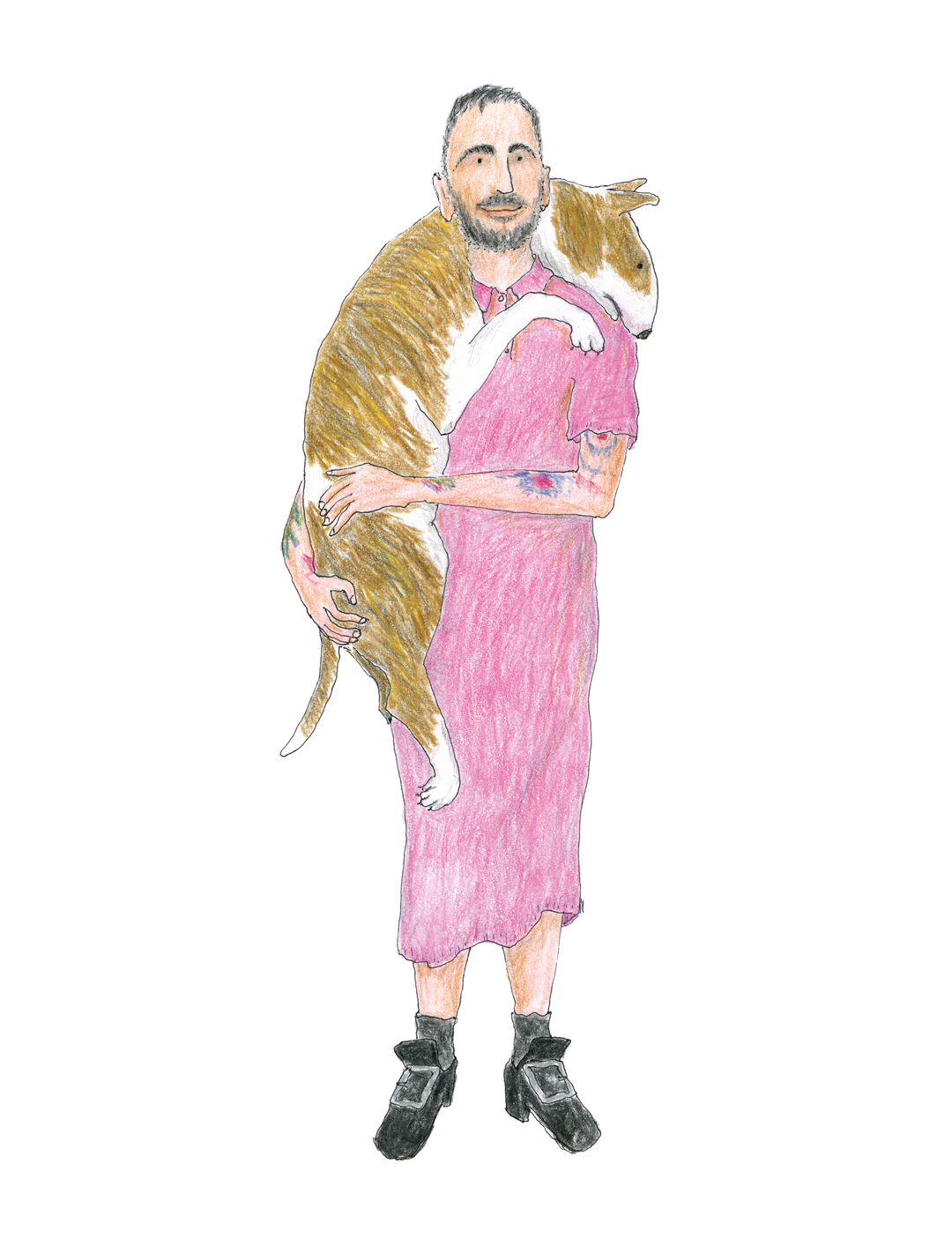 Nevertheless, she did produce a charming, hand-drawn cartoon of Jacobs and his dog, Neville, for Instagram. The work features the designer in a half-length polo-shirt style dress – "it's a dress, but for anyone who's bothered by that I call it an elongated polo shirt" – paired with pilgrim shoes and glittery socks.
Jacobs said he wore the outfit to an exhibition opening in Paris, just days after the Queen Mother was photographed wearing an outfit of a similar shade of pink, leading the fashion press to ask 'who wore it best?'
Surely it was Mr Jacobs?, suggested Schneier. "Well," said Marc, quite generously, "it depends who you are."
You can watch the whole talk above, and to see more of Marc's collections, as illustrated by Grace and accompanied by the designer's own thoughts and recollections, order a copy of Marc Jacobs Illustrated here.