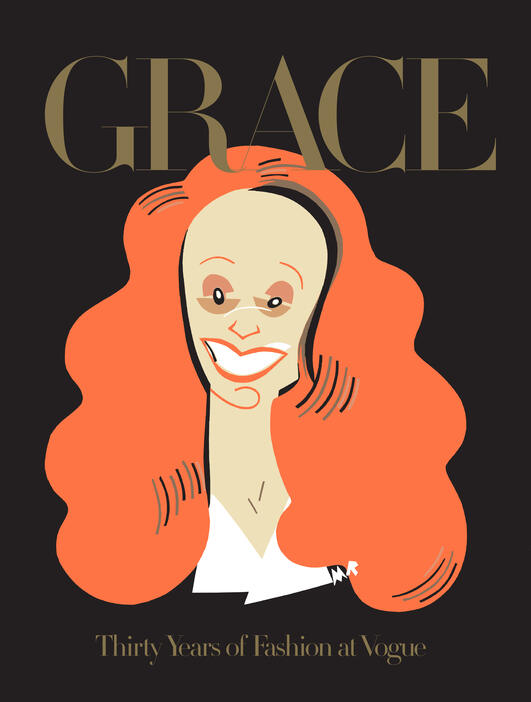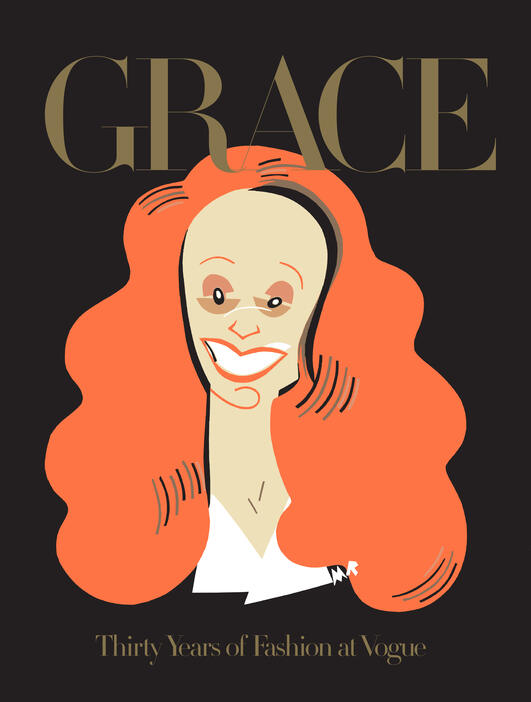 Grace: Thirty Years of Fashion at Vogue
A celebration of the work of legendary fashion stylist Grace Coddington in her first 30 years at Vogue UK and US
With the reissue of Grace: Thirty Years at Vogue, Phaidon Press publishes the first of two volumes showcasing the definitive collection of work by the legendary fashion stylist Grace Coddington. The edition includes a special, illustrated and autographed letter by Grace.
The 408-page collection of Grace Coddington's greatest work as a fashion stylist and sittings editor is not just a monograph of her first 30 years at Vogue, it is also a visual reminiscence of 30 years of British and American Vogue's best work. The photographers whose work is included: Irving Penn, Cecil Beaton, Helmut Newton, Guy Bourdin, Snowdon, Horst, Norman Parkinson, Ellen von Unwerth, Bruce Weber, Mario Testino, Steven Meisel, Arthur Elgort, Steven Klein, Annie Leibovitz, Hans Feurer, Sarah Moon, Peter Lindbergh, Patrick Demarchelier, Peter Knap, Clive Arrowsmith, Sheila Metzner, Terence Donovan, Barry Lategan, Sacha, Alex Chatelain, Duc, Paolo Roversi, and Herb Ritts.
An introduction by Michael Roberts, former fashion editor for Tatler, Vanity Fair, and The New Yorker is included as is a foreword by Anna Wintour.
Specifications:
Format: Hardback
Size: 353 × 273 mm (13 7/8 × 10 3/4 in)
Pages: 408 pp
Illustrations: 310 illustrations
ISBN: 9780714870595
Grace's extraordinary talent and fierce dedication to her work as creative director of Vogue have made her an international icon. Known through much of her career only to those who work behind the scenes, she might have remained fashion's best-kept secret were it not for The September Issue, the acclaimed 2009 documentary by R. J. Cutler that turned the publicity-averse Grace into a sudden celebrity.
The daughter of an hotelier in Wales, as a teenager Grace won a modeling competition and moved to London. She enjoyed a lucrative career as one of London's leading models on the 1960s scene. In 1968, following a car accident, she took a job as a junior fashion editor at British Vogue. She quickly established herself as a master stylist and creative director for fashion photography, whether she was transforming studio portraiture into beguiling tableaux, reinterpreting fashion photography classics, or by introducing a sweeping narrative epic style—story telling with clothing that is the hallmark of Grace Coddington's work.
Named one of Fall 2015's Best Coffee Table Books by Bloomberg Pursuits
'Getting the shot is everything in the fashion world, and it's something that Grace Coddington has always been pretty adept at. How adept is best judged by taking a look at her forthcoming book, an outsize tome titled Grace: Thirty Years of Fashion at Vogue, which samples some of the visual treats she has concocted in her 30-plus years as a fashion editor.' – New York Magazine
'If you're a fashion enthusiast, you're going to want to read (and see) this.' – Interview
'If [Anna] Wintour is the Pope, Coddington is Michelangelo, trying to paint a fresh version of the Sistine Chapel 12 times a year.' – TIME Magazine
'Die-hard fashion fans will rejoice when Phaidon reissues this 2002 cult coffee-table classic.' – Bloomberg Pursuits
'Genius is a word that gets thrown around a lot. But when it's applied to Grace Coddington, creative director at US Vogue, who has shaped the look of the magazine (and therefore your wardrobe) for three decades, it doesn't go far enough. We refer you to new book Grace as proof.' – Sunday Telegraph
'Grab it while you can.' – Country & Town House
'[For the] woman who has everything.' – Daily Telegraph
'A collection of incredible images.' – Independent
'Trust us when we say that any discerning fashionista will be leaping around in their Manolos with delight if they find this under the Christmas tree.' – Stylist
'A celebration of Vogue's revered – and indefatigable – Creative Director's epic fashion essays.' – Vogue
'It's no secret that Grace Coddington is hailed as the "greatest living stylist", and the reissue of this highly sought-after fashion book is testament to her talent.' – Jaeger
'A mighty and absorbing coffee table book ... Coddington was making art while also selling fashion.' – Cheshire Life
'Beautiful fashion books to gift this Christmas ... A beautiful collection of the British stylist's most breath-taking shoots.' – Telegraph
'The chicest coffee-table tome of the season.' – Vogue (UK)
'The mammoth 408 page book has finally been reissued by the folks at Phaidon, answering the silent prayers of those who missed out first time around ... A perfect present for anyone living and loving the fashion world.' – 1883 Magazine
'[T]his book is a fashion collectible and a true classic.' – Haute Living
'A must-have.' – FASHION