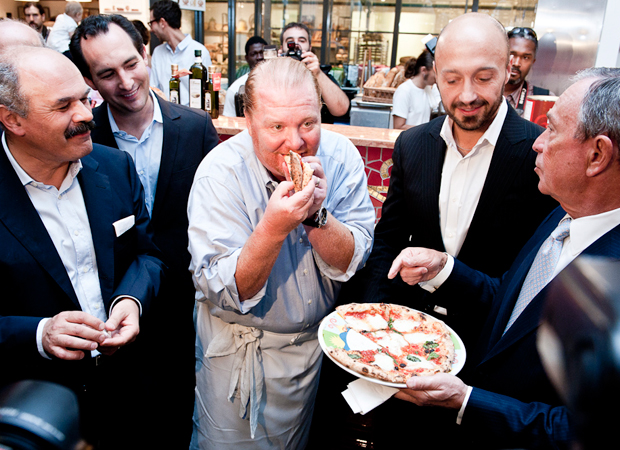 'The food's the thing' - Eataly, New York
Bonnie Tsui reviews the latest enterprise to come out of the Slow Food emporium
The food's the thing at New York's Eataly, the latest location of the immensely popular Slow Food emporium and Italian marketplace first opened by Oscar Farinetti in 2007 in Turin, Italy. The original enterprise was founded upon the principles of the Slow Food philosophy, with its emphasis on local, artisanal producers, food education, accessibility and affordability, and sustainable sourcing and production.
The New York branch, which opened in August in partnership with powerhouse chefs Mario Batali and Lidia Bastianich, is certainly dazzling in size, with numerous themed eating stations, including Il Pesce, which has a raw bar and features the seafood specialist Dave Pasternack of Esca, and Le Verdure, which centers on fresh produce. (Just one of the restaurants - a meat-centric paradise called Manzo - takes reservations). But on a recent visit I made to the new Slow Food superstore - if the scrum of shoppers intent on getting a table in the jam-packed eating areas was any indication - some of the movement's more thoughtful values seemed to have taken a backseat to the sheerly secular and gluttonous pleasure of tasting everything in sight.
The new Eataly occupies the historic Toy Building on Fifth Avenue, on the west side of Madison Square Park. Upon entering its 50,000 square feet of real estate, be prepared for sensory overload; if nothing else, the restaurateurs have succeeded in creating a truly magnificent culinary wonderland. Meticulously arranged aisles showcase nearly a hundred varieties of olive oil (so many shelves!); dried pastas; aged balsamics; honeys and jams; and jarred sauces by Batali, Bastianich, and others. Almost everything is imported from Italy. There's a fresh pasta counter, a gelateria, and a macelleria that offers 'Italian-American' beef from 'cows of Italian ancestry grazing in the grasslands of Montana'. There's a laboratorio della mozzarella, where fresh mozzarella is made daily, and a pasticceria helmed by acclaimed pastry chef Luca Montersino. Three wood-burning ovens (one for bread and two for pizza) were shipped from Italy and installed on-site - along with six pizzaioli from Naples to man the ovens.
Its owners say that Eataly is designed to challenge the idea that quality products are only available to a select few, and that is a laudable goal. But it's hard to erase the large environmental footprint involved in flying hard-to-find Italian products to New York, and the social justice component present in the original Eataly - where coffee was roasted locally by prisoners in a Turin training program started by Slow Food - isn't immediately apparent in its sister site. But there's time yet. A cooking school by Bastianich, La Scuola di Eataly, aims to introduce guests to the people behind the food; the calendar includes a class in responsible butchery with premier Manhattan meat purveyor Pat LaFrieda, and a farm-to-chef series with local producers that is set to launch in the spring.
In the end, there's no denying the deliciousness of the enterprise. If you're lucky enough to score a reservation at Manzo, you can escape the madness around you for the luxury of being able to focus on the food itself: gorgeous gulf shrimp with broccoli rabe, capers, and a bracing walnut pesto, fresh pappardelle with rich sausage and radicchio trevisano, carne cruda. It's all exquisitely prepared, and servers are well-versed in the lengthy Italian wine list. The flavours may well transport you to Italy for the evening -- right up to the moment you muscle your way out of Mario's megalopolis and back out into the New York night.
Bonnie Tsui lives in San Francisco. She is a frequent contributor to The New York Times and the author of American Chinatown.