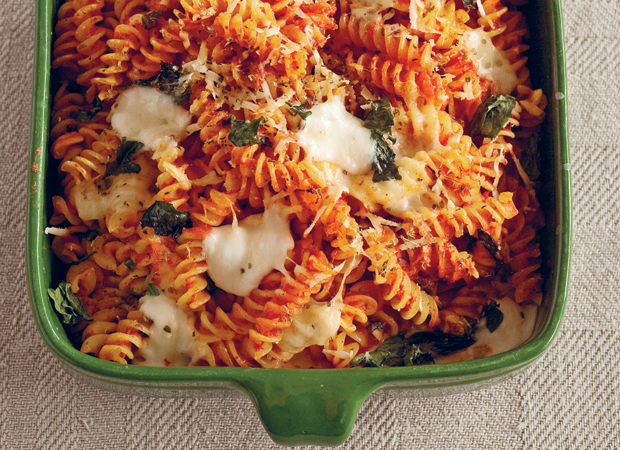 Fusilli pizza
A recipe from The Silver Spoon
Preparation: 20 minutes
Cooking: 30 minutes
Serves: 4 people
Ingredients:
butter, for greasing
400g (14oz) tomatoes, peeled and chopped
1 tablespoon olive oil, plus extra for drizzling
pinch of dried oregano
1 tablespoon chopped fresh basil
350g (12oz) fusilli or other short pasta
40g (1½oz) Parmesan cheese, grated
100g (3½oz) mozzarella cheese, diced
salt
Method:
Preheat the oven to 180°C/350°F/Gas Mark 4 and grease an ovenproof dish with butter.
Process the tomatoes to a purée in a food processor or blender.
Heat the oil in a saucepan. Add the puréed tomatoes and cook over a low heat, stirring occasionally, for 10–15 minutes until thickened. Stir in the oregano and basil and remove from the heat.
Cook the pasta in plenty of salted boiling water until al dente. Drain, return to the pan and pour the sauce over.
Sprinkle with the Parmesan and toss well to mix.
Spoon the mixture into the prepared dish, top with the diced mozzarella and drizzle with oil.
Bake for about 10 minutes until the mozzarella starts to melt. Serve immediately straight from the dish.