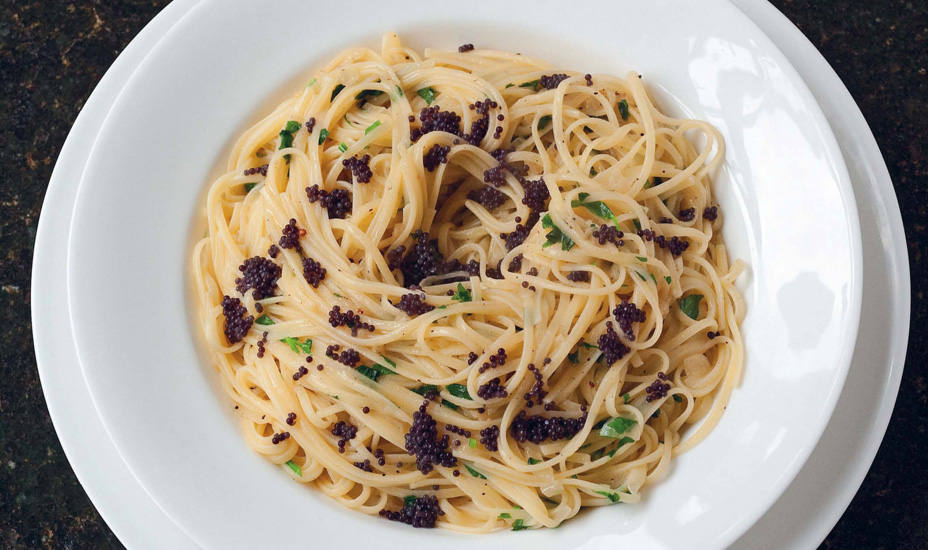 Linguine with caviar
A recipe from The Silver Spoon
Preparation: 15 minutes
Cooking: 25 minutes
Serves: 4 people
Ingredients:
50g (2oz) (4 tablespoons) butter
1 small onion, thinly sliced
100ml (3½fl oz) (scant ½ cup) vodka
350g (12 oz) linguine
25g (1oz) (2 tablespoons) caviar or lumpfish roe
finely chopped fresh flat-leaf parsley, to garnish
salt and pepper
Method:
Melt the butter in a shallow saucepan. Add the onion and cook over a low heat, stirring occasionally, for 5 minutes. Drizzle with the vodka and cook gently until the alcohol has evaporated, then season with salt and pepper.
Cook the linguine in plenty of salted boiling water until al dente. Drain, tip into the pan with the sauce and stir well.
Transfer to individual warmed plates, form a 'nest' in the middle of each and add a heaped teaspoon of caviar or lumpfish roe.
Alternatively, you can mix the caviar or lumpfish roe in the pasta. Sprinkle with the finely chopped parsley and serve immediately.
Tip: Fresh caviar should never have a fishy smell or piquant taste. The eggs should be whole and individual, not sticky or dry.