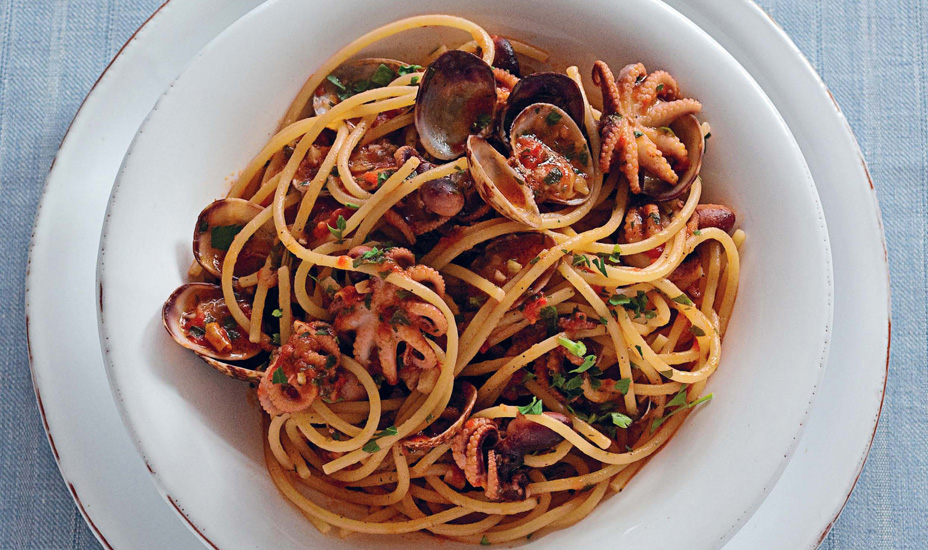 Fisherman's vermicelli
A recipe from The Silver Spoon
Preparation: 35 minutes
Cooking: 30 minutes
Serves: 4 people
Ingredients:
2 tablespoons olive oil
1 garlic clove, crushed
½ dried chilli, crumbled
300g (11oz) tomatoes, peeled and chopped
1 teaspoon sugar (optional)
100g (3½oz) live clams
200g (7oz) baby octopus, cleaned and cut into pieces
200ml (7fl oz) (scant 1 cup) dry white wine
350g (12oz) vermicelli
1 tablespoon chopped fresh flat-leaf parsley
salt
25g (1oz) (⅓ cup) Parmesan cheese, grated
salt and pepper
Method:
Heat the oil in a shallow saucepan. Add the garlic and chilli and cook over a low heat, stirring frequently, for 2–3 minutes. Add the tomatoes, season with salt and simmer for 15 minutes.
You can add 1 teaspoon sugar to remove any acidity.
Meanwhile, scrub the clams under cold running water. Discard any with damaged shells or that do not shut immediately when sharply tapped.
Put the clams into another pan, cover and cook over a high heat, shaking the pan occasionally, for 3–5 minutes until the shells open. Discard any that remain shut and remove the remainder from their shells.
Add the octopus to the tomato sauce, pour in the wine, stir well and simmer for 10 minutes. Add the clams and stir.
Cook the vermicelli in plenty of salted boiling water until al dente. Drain, tip into a warmed serving dish, pour the sauce over and sprinkle with the chopped parsley.
Serve immediately.