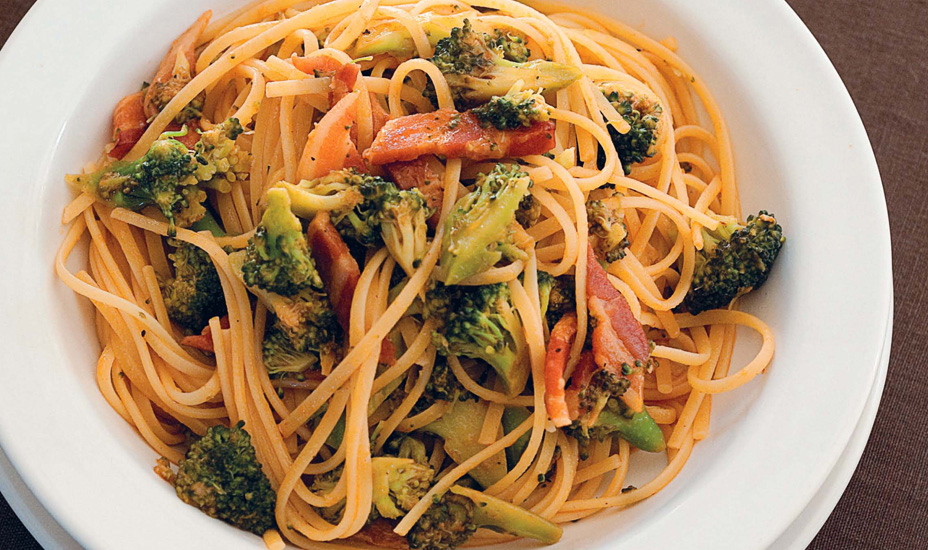 Linguine with broccoli and pancetta
A recipe from The Silver Spoon
Preparation: 30 minutes
Cooking: 30 minutes
Serves: 4 people
Ingredients:
2 tablespoons olive oil
120g (4oz) (⅔ cup) pancetta or bacon, diced
1 garlic clove, finely chopped
600g (1lb 5oz) broccoli, cut into florets
1 tablespoon concentrated tomato purée (paste)
150ml (¼ pint) (⅔ cup) vegetable stock
350g (12oz) linguine
40g (1½oz) (½ cup) Parmesan cheese, grated
salt
Method:
Heat the oil in a saucepan. Add the pancetta or bacon and cook over a medium-low heat, stirring occasionally, for 4–5 minutes. Stir in the garlic and half the broccoli and cook, stirring occasionally, for 5 minutes.
Stir in the tomato purée and stock, lower the heat and simmer for 10 minutes until the broccoli is tender but firm.
Cook the pasta with the remaining broccoli in plenty of salted boiling water until al dente. Drain, tip into the pan with the sauce and toss over the heat for a few minutes.
Transfer to a warmed serving dish, sprinkle with the Parmesan and serve immediately.